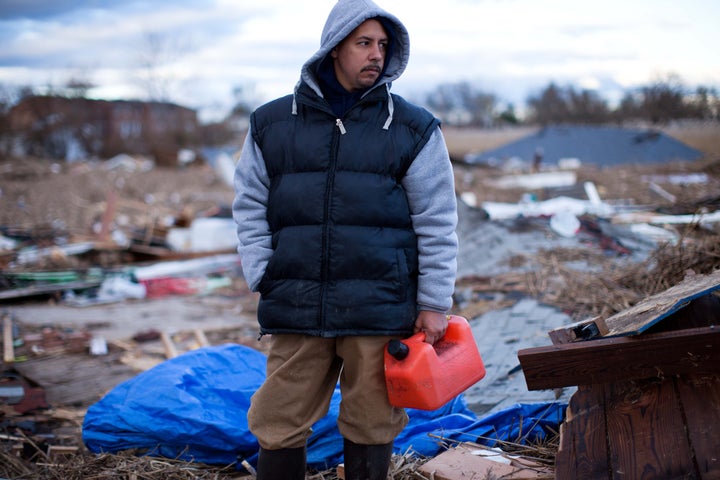 STATEN ISLAND, N.Y. -- When the storm hit, Philip Ferrante's house was spared. But his neighbors down the street weren't so lucky, so he bought a vanload of supplies with his own money and began driving around.
At an evacuation shelter at a local high school, the staff was made up of a janitor, a few teenagers and a school administrator. "There was no plan," he said. So he began giving people jobs and blasting out help requests on Facebook. "The community was unprepared, and so were the state and the federal government," he said. "Nobody knows what to do and how to do it efficiently."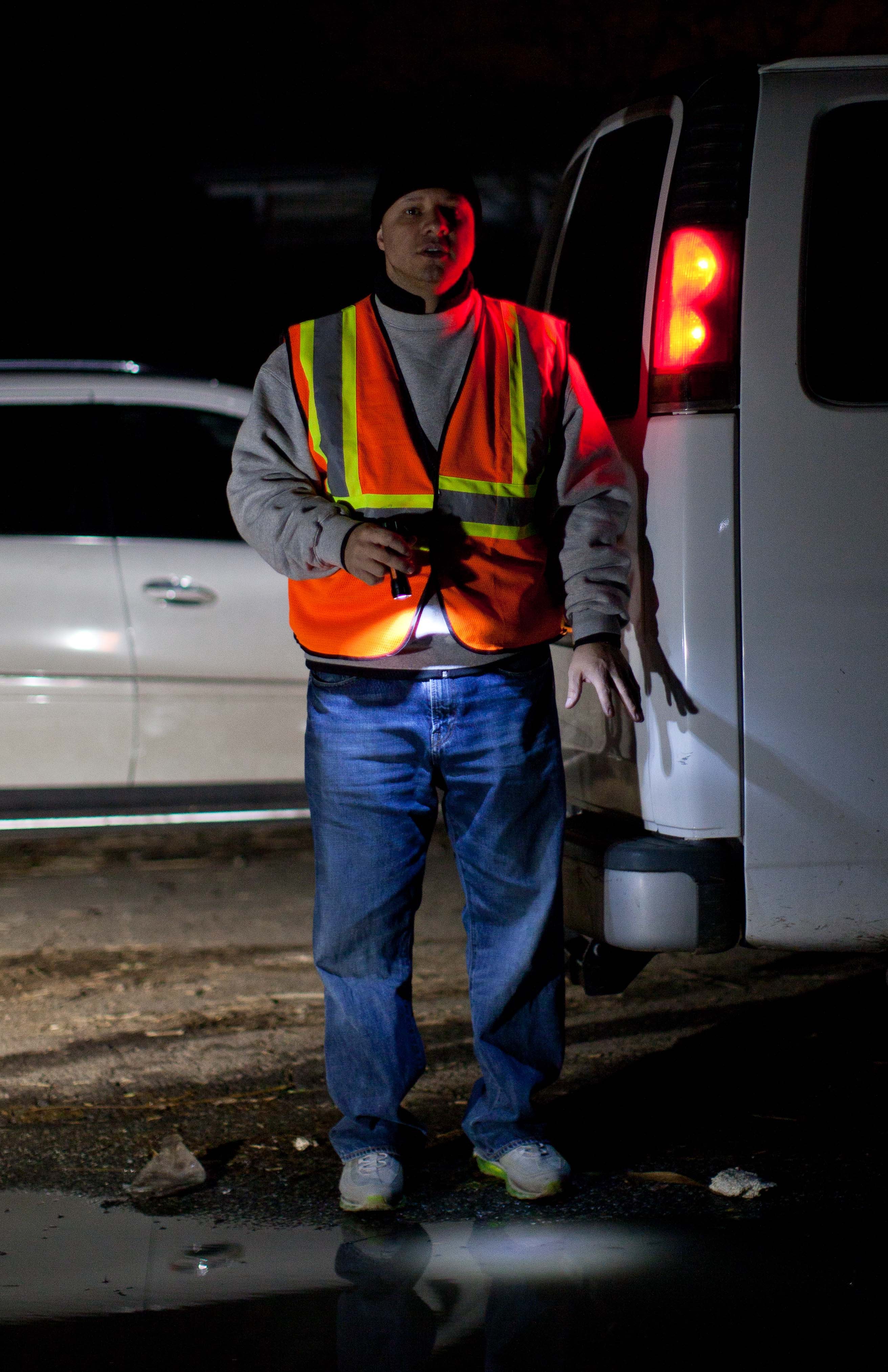 Philip Ferrante has been delivering supplies door-to-door throughout the south shore of Staten Island for days.
Ferrante is one of many who have taken the rescue and recovery efforts into their own hands, and he feels that the official response to the storm has been slow and inadequate. On the south shore of Staten Island and in other areas of the borough where the storm has destroyed houses and taken lives, most people seem to share this view.
Official help has arrived in the last couple of days, but many residents say it's not enough and poorly organized. (Ferrante said he recently saw someone from FEMA holding up a map and asking a police officer where the disaster was.) Staten Island is only 20 miles by car from Manhattan, but information about what's happening in this devastated section of New York City has only recently begun to emerge. According to the last official count, at least 19 people have died in Staten Island and hundreds of families are without homes. Seemingly on every block, there are harrowing stories of survival.
Five days after Sandy hit, Pedro Correa stood in a field of reeds and debris, careful not to trip over the remnants of his ruined home. All around him were decks, sheds and roofs that had been ripped apart and flung into the empty marsh. He motioned to the recognizable bits of his neighbors' houses: "That roof is Adam's; over there, my buddy Pete; and that's my friend Vinny."
Correa and his lifelong best friend, Robert Gavars, had evacuated but went back home Monday evening to refill the generator, which they had hoped would stay on to pump out floodwaters from the basement of Correa's house.
At 7:30 p.m. it was barely raining, Correa recalled, and there was about an inch of water on the ground. Within 15 minutes, the two were knee-deep in water; in a half hour, they were soaked up to their chests.
They quickly realized the house was starting to buckle under the pounding from the ocean, so they ripped the legs off the dining room table and used it as a raft, paddling away from the house. When the table started to sink, they grabbed onto a piece of the neighbor's roof, which had come dislodged under the surge.
They rode the roof toward higher ground, as pieces of siding and refrigerators floated by them. When the roof got tangled up with debris, they ferried one another to dry land using beams of wood that floated by. A half hour later they made it inside a nearby home, shivering and exhausted.
A few miles away, in Midland Beach, a young man from Montenegro came home the day after the storm to caved-in walls, a wood floor that squished under his weight, and mud that spattered every surface of his apartment within a foot and a half of the ceiling.
Frank, who didn't want to give his full name, said that he and his wife had bought the home for $300,000 seven years ago. Just this year, they put on the finishing touches, furnishing the entire living room and painting the little bedroom pink for their first child.
Frank, along with his wife, daughter and his parents, all fled their home last Sunday afternoon. But on Monday, his parents -- like Correa -- went back to see if the property was okay. As the water began to rise, they tried driving away, but the car stalled in the flood.
Frank was on the phone with his mother and told her to get out of the car and walk to higher ground. Then the line went dead. Frank called 911, but said the dispatcher told him there was nothing they could do to save his parents.
The next morning, as he swam down what used to be his street, he found his parents alive in the apartments of two different neighbors. As it turned out, his parents had taken his advice and left the car. But just at that moment, a wave came and swept his father away.
His mother, who does not know how to swim, managed to cling on to the car door as the water lifted it off the street. Forty-five minutes later, a neighbor pulled her out of the waves.
His father was swept all the way down the block, where another neighbor tore off a curtain and dangled it out the second-story window. Frank's father climbed up to safety and spent the next 15 hours wondering if his wife had somehow survived.
A few days after the storm, Frank walked through his ruined home with a paper dust mask on his face. "Nothing exists," he said. In the baby's room, the crib was in pieces and the pink walls were streaked with muck. "I wanted to do it perfect," Frank said. "It was my first child."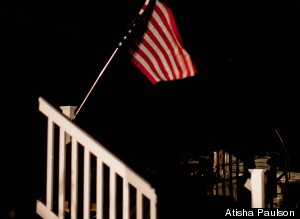 A staircase is all that remains of a home on the south shore of Staten Island. An upside-down flag signals distress.
Across the street from the marsh where Correa surveyed the remains of his house, Ferrante pulled up to a row of apartments. A middle-aged woman came out and said she was in need of some pillows.
A hundred feet away, a concrete slab was strewn with debris. The homes were gone, but an outdoor swimming pool and a wooden stairway had survived. Flying from the stairway in the dark was an upside-down flag, a signal of distress.
Popular in the Community