On the southern shore of Staten Island, the remains of a street called Kissam Avenue stretch across the marshland, a trail of ruins leading to the sea. When Pedro Correa first drove down the street six years ago with his wife, their young son and a real estate agent, he was amazed that a street so secluded and serene still existed in a city of eight million people. It was early spring, and a cool, salty breeze was blowing in from the ocean, rustling the 6-foot-tall curtains of grass that lined both sides of the road. The house the Correas had come to see was about 50 feet from the beach, and it was a wreck -- it had been ordered in parts from a Sears catalog in the 1950s -- but Correa was a practiced carpenter and he allowed himself to fantasize about "the possibilities." He'd never imagined that his corrections officer salary could afford him a third of an acre, a deck with ocean views and an in-ground pool.
It wasn't until Correa began paying off the $375,000 mortgage on the house that his neighbor Charlie, a retired ferry captain, told him about the history of floods in the area. In 1992, a nor'easter had filled the homes around Kissam with more than 3 feet of black sludge, destroyed furniture and appliances, and pounded away at an old, wooden sea wall that ran along the shore. The storms of '94 and '96 did still more damage, and then there were the countless smaller floods caused by nothing more than the combined force of a high tide and a full moon.
Still, Correa wouldn't contemplate selling. When he was 15, he had quit high school for a job at a butcher shop to support his mother and three younger siblings after his stepfather died. In 2001 he drove his car into downtown Manhattan as the first tower fell, and in 2003 he drove a tank through Baghdad as insurgents mined the roads. When he came home a year later, some of the men who fought beside Correa in Iraq confided that they were taking medications to combat post-traumatic stress, but he didn't want to see a psychiatrist. He took a job as a corrections sergeant at Sing Sing, where he trained to be able to protect his prison staff in the event of a riot or a fire. Correa felt he could handle whatever came at him.
On Oct. 29, a wave crashed over Kissam Avenue and ripped 13 of the block's 17 homes off their foundations.
On the evening of Oct. 29, about three hours before a wave crashed over Kissam Avenue and tore 13 of the block's 17 homes from their foundations, Correa and his best friend, Bobby, stood in the kitchen cooking spaghetti and a sauce made from crabs they'd caught in the marsh the day before. Earlier that day, most of the people on the block, including Correa's wife, Jen, and two children, PJ and Alyssa, had followed the city's mandatory orders to evacuate, leaving only Correa and Bobby behind. At about 5:30 p.m., Correa looked out his kitchen window and realized that this storm was going to be worse than any he'd seen before. About 100 feet down the beach, whitecaps were curling over the top of the seawall. High tide would not arrive for another three hours, and already one of the block's only defenses against the weather was failing. So he and Bobby decided to finish dinner and leave.
They stayed just long enough to haul a generator into the basement and secure Correa's tool collection. When they got back upstairs, Correa saw his car rolling past the window and wondered if he'd parked it in neutral. Then he realized that the car wasn't rolling, it was floating. Correa had always made it a point of pride never to run from danger, but as the surge ferried his car away, he knew that running was no longer an option.
That night, the storm that had killed at least 11 people in Cuba and 54 in Haiti spun into the wedge of water formed by Long Island and the northern coast of New Jersey and struck the southern shore of Staten Island head on. Between 7 and 8 p.m., the wind pushed a 13-foot surge down the streets of the shore-facing neighborhoods and up the creeks that spread through them like veins, submerging them in seawater and slime. At least 23 people died on Staten Island, more than half of the city's total deaths in the storm. The only other time in recent memory that a disaster of comparable magnitude struck the borough was on Sept. 11, 2001, when 274 residents, many of them cops and firefighters, died in the World Trade Center attacks.
In the wake of Hurricane Sandy, people on the south shore began referring to Oakwood Beach, where Correa lived, as Ground Zero. Volunteer crews and government workers fanned out through the streets and picked through the debris, and snowplows created forlorn monuments to people's personal lives (piles of mud-spattered gym equipment, baby cradles, a broken cello, an upright piano). Meanwhile, residents in Oakwood Beach were surprised to find themselves coming to a consensus that would have struck many of them as unimaginable on Oct. 28, the day before the storm.
For almost half a century, two generations of Staten Island's generally conservative, independent and anti-government residents had petitioned the government to build and maintain a variety of barriers to defend them from the sea -- and although elected officials had promised, on many occasions, to protect residents and their homes, authorities never delivered safety measures that the government's own Army Corps of Engineers deemed worthy of serious consideration. The population simply continued to boom, and as real estate developers and their political allies pushed for growth, Oakwood Beach, like many other shoreline neighborhoods, morphed from a bungalow community into a modern suburb.
Jonathan Peters, an urban planning expert and economist at the College of Staten Island, described the south shore as "the wild west of city development." A fourth-generation Staten Islander, Peters is among a small circle of professors at the college who have repeatedly warned about the dangers of overdevelopment and flooding. Through his research, Peters determined that the city allowed developers to build throughout the borough with little consideration of the risks at hand. "The rules are very loose. Why? I don't know. It could be the developer community," he said.
Randy Lee, a prominent Staten Island developer, dismissed the notion that development has trumped reason on Staten Island. "Everybody's looking for a villain," he said.
In any case, Peters placed the lion's share of the blame on the city government, not the builders. By allowing developers to do more or less as they pleased, he said, the city had basically behaved like an "absentee landlord."
Peters and some of his colleagues at the college also believed that Staten Island's political culture propped up an attitude toward the environment that some residents are now beginning to question. Like the Republican Party in general, many local leaders have rejected the scientific consensus about climate change, and they've routinely voted against measures meant to combat it.
Year after year, storm after storm, residents voted in relative lockstep for those leaders, and insisted on staying put, hoping that the government would make good on its promises to provide aid, even as a real estate sprawl brought Staten Island ever closer to the Atlantic Ocean's embrace. After Sandy's onslaught, though, amid corpses and wreckage, many of Staten Island's survivors have come to accept that they were living in a potential death trap.
"Should I have bought a house there, should I have built there, should have I put all that money there?" Correa wondered recently. "This kind of event makes you question everything you've done in life."
Like nearly all of his neighbors, Correa now wanted out.
Staten Island is still the least city-like of New York City's five boroughs, and until the 1960s, it was made up mostly of farmland and vacation homes. But after the Verrazano Bridge opened in 1964, thousands of working-class people arrived from crowded neighborhoods in Brooklyn, enticed by opportunities unavailable back in Bensonhurst and unaffordable in Long Island or on the Jersey Shore. On Staten Island, you could buy a home of your own, and if the home wasn't big enough, you could expand it. By the 1990s, Staten Island was the fastest growing county in New York State, and even as the flow of Brooklyn Italians slowed, a new wave of settlers poured in from Brooklyn's Russian areas. Decade after decade, new Staten Islanders built thousands of homes on wetlands that once had served as a natural buffer against the storms that blew in from the sea.
As the houses went up, residents of Oakwood Beach pressured elected leaders to help protect them. The most recent of these efforts goes back to the winter of 1992, when a December nor'easter destroyed parts of the seawall, which the government had built in the 1950s. That storm led to the formation of the Oakwood Flood Victims Committee, a group of mostly young, middle- and working-class parents who tried to push the city, the state and the federal governments to do something. One afternoon, about a month after Hurricane Sandy destroyed the neighborhood, possibly for good, Jackie Nielsen, the former head of the committee, walked into Gennaro's Restaurant and Pizzeria in Oakwood Beach and dropped a pile of newspaper clippings and documents on the table. "It's all in here," she said.
A second-generation Oakwood Beach resident who, at 53, still had the wiry build and tough manner of a former star softball shortstop, Nielsen said that the neighborhood didn't flood at all when she was a kid. A berm, or a mound of rock and sand, ran along the beach, and a wooden seawall sat at the water's edge, and that was enough. It was only after the '92 storm knocked down parts of the berm and tore planks out of the seawall that she and her neighbors became accustomed to the sight of water creeping across their backyards and seeping into their homes. Nearly every week for four years, the Oakwood Flood Victims Committee met at a veterans' post to petition the government for help, and every week, elected officials and their aides would come listen.
Some might have seen the group's courtship of the government as ironic. Staten Islanders have a long history of conservative-minded independence and have considered seceding from greater New York City on occasion. Through their elected officials, they've urged the government to be less present in their lives, and yet they were now seeking government subsidies to protect them from the consequences of the personal risks they took by living in a potential disaster zone. Nielsen, for her part, mostly voted for Democrats, she said, but if she had any objections to her neighbors' political beliefs, she rarely brought them up. "We never talked about politics," she said. "We just wanted to get the job done."
Her group had two basic demands: First, repair the damaged seawall and berm, and second, come up with a long-term solution that would make not just Oakwood Beach, but the whole south shore of Staten Island, a safe place to live. Residents had been asking for a long-term solution since before Nielsen was born, and in 1965, when she was 6, the Army Corps of Engineers agreed to study the problem. Forty-seven years later, the agency's experts are still studying it. Nielsen likes to say that if they printed out all of their studies and built a wall with them, they could do more for the neighborhood than they have done in all those years of studying.
There was one big drawback to this more comprehensive approach: No one wanted to pay for it. Although Susan Molinari, Staten Island's Republican congresswoman at the time, convinced Congress to set aside $330,000 for a study of the coastline in 1995, that study didn't get started until 2000, and after a few years it ran out of money. Nielsen thought the difficulties came down to class issues. A few days after Sandy, she pointed out, city crews began rebuilding the dunes on the beach in Belmar, N.J., where a 20-block boardwalk, restaurants and tourist attractions brought in millions of dollars last summer. But nearly a month after Sandy, people in Oakwood Beach still didn't know if they'd ever be able to return to their homes. "Who cares about protecting the homes of a teacher, a plumber, a guy who works for the Parks Department?" Nielsen asked. "I don't know."
Then there was the short-term fix, which had its own problems. In 1993, the city repaired the most badly damaged part of the berm, and the next year, Molinari got the city, the state and two federal agencies to agree to sharing the cost of fixing the seawall. But half a year after that, the Army Corps scrapped the seawall plan, saying it was too expensive. As an alternative, the army proposed building a system of levees, mounds of earth and rock, which would guide water into a marsh a few blocks inland.
This revised plan called for a 10-foot levee and a floodgate to be installed at the mouth of a creek that ran along the southern edge of the beach and emptied out into a 70-acre marsh wrapping around Kissam Avenue. When it rained, the creek would often overflow, joining the rush of water pouring in from the sea. By building the floodgate and the levee, the Army Corps hoped to divert water away from the homes, toward the inland marsh. It planned to build a second levee at that site, to keep the water from overflowing the marsh there. But the Army Corps never fully followed through on that plan. By the time the agency broke ground on the project, in 1999, developers had begun building a complex of townhouses in the marsh. According to Nielsen, this may have had fatal consequences.
Leaving the pizzeria, Nielsen drove through the neighborhood and stopped in front of a bungalow-style home on Fox Beach Avenue, one of the streets that leads through the undeveloped marshland all the way to the shore. She pointed to the plywood boards covering the blown-out windows of a basement where her friend Leonard Montalto drowned on the night of the storm. Nielsen had assumed he'd gone down there to pump water. Bunches of flowers still rested on the stoop.
Farther down the street she stopped in front of another modernized bungalow, where John Filipowicz Sr., a 51-year-old school bus driver, and his son John Jr., a 20-year-old student at Staten Island College, were found dead in the basement the day after the storm, clinging to each other. There, too, plywood covered a large section of the basement wall.
To an unsuspicious eye, there would have been nothing particularly unusual about either of the homes, situated as they were in a flood-zone filled with plywood-covered properties. But Nielsen felt that something about them warranted suspicion. In both cases, the damaged walls faced away from the sea. "If the water came from the ocean, how could it strike the walls with enough force to break them?" By her own reasoning, and by the accounts of several residents who stayed behind during the storm, the water rushed down the street from the area where the Army Corps had planned to build that second levee, before developers put up townhouses on the property.
Nielsen now lives near Rutgers University, in N.J., at the top of the tallest hill she could find in the area; she went to the county clerk's archive and took out a prospector's map to research the local elevations. In 2000, right after the Army Corps finished building the levee system, she found a buyer for her Staten Island home. "We took a beating on it," she said, "but we wanted to get out of there as fast as we could."
Staring at the dark street from his back door on the night that Sandy landed, Correa could see something massive moving toward him on the waves. The storm had swept his next-door neighbor's home off its old foundation and sent it hurtling toward the side of his house. He heard a boom and felt a jolt as his house slipped off the concrete platform beneath it and tipped backward into his yard. The back of the house began filling with water. Within minutes the water was up to Correa's chest. Correa and Bobby fought their way to the front of the house, where the water hadn't yet climbed to their waists. Correa called Jen, his wife, at her friend's house, but she didn't pick up. He left a message: "I love you with all of my heart." He and Bobby spent the next few minutes trying to figure out how to escape.
When he'd trained as a corrections sergeant, one of his instructors told him that if should ever find himself trapped in a flood, he should always remember to "stay with the structure." But now the structure was falling apart around him. For a few minutes he and Bobby considered taking refuge in the attic, but they weren't sure they'd be able to swim out if the water got that high. So instead they decided to take their chances outside.
As a roof floated past his door, Correa jumped for it, breaking a rib as his chest smashed into the edge. He clambered up the side, and then reached down to help Bobby out of the water. As the current carried the roof into the marsh, Correa's home faded into the night.
In abandoning his home, Correa was doing something he'd never done before, despite having had good reason to do so on at least three previous occasions. In 2009, on Easter Sunday, Correa and his wife woke up from a nap to the sound of a fire roaring in the dried grass across the street. A wall of flames filled the view from their bedroom window. Jen grabbed the kids and drove away, and Correa and a neighbor broke into a third neighbor's apartment to rescue a terrified rottweiler and pit bull. After driving the dogs to safety, Correa returned to his home and climbed onto the roof with a garden hose. He and a few other men on the block stayed behind to spray down their roofs with water as the fire spewed embers at them.
A year later, Correa stayed behind to pump out his basement while a nor'easter flooded his street. And the year after that, he defied the city's orders to clear out in time for Hurricane Irene.
Like almost all of his neighbors, Correa had invested most of his life's savings into his home, and except for a few trips to Disney World with his family, he spent all of his vacations improving it. Whenever he and Jen had an argument, she would throw on a pair of running shoes and take off down the street, and he would carve another railing for his deck or bang together another cabinet. In the past six years, he has built a front porch, a big deck overlooking the ocean, a kitchen, a bathroom and an apartment for his mother in the basement. Last spring, he built a chicken coop for seven hens and a rooster, attracting the attention of an eagle that perched on a neighbor's tree.
In his passion for home improvement, and in many other respects, Correa was a lot like all the other men on the block, and that was one of the things he liked most about living there. Adam down the street was a cop; Vinny was a mailman. They all had kids, and they all had tools. They all helped build each other's decks and tile each other's bathrooms, and they all subscribed to an ethos that Vinny would later sum up by saying, "We took care of each other and we took care of ourselves." What Vinny didn't say at that moment, but what he and Correa and many others felt, was that they couldn't count on the government to take care of them.
Staten Islanders often attribute their political loyalties to the borough's limited representation in the city government: Of the 51 members of New York's City Council, only three represent Staten Island. And while that number is proportional to the borough's population of about 500,000, Staten Islanders often point out that their borough differs from most places inhabited by half a million people -- Atlanta, Sacramento, Tucson -- in that most of those places get to create their own policies.
On Staten Island, one policy in particular explains why residents view the city as the oppressor. In 1947, the city gave Staten Island the gift of the world's largest landfill, spawning a secession movement that came to a head in 1993, when Staten Islanders voted by a measure of two-to-one to break away from New York City's government. They were prevented from doing so only by a ruling of the Democratic leadership in the New York State Assembly.
So the residents there tend to have little enthusiasm for what Correa politely called government "entitlements," and yet as the vicious winds pelted Correa's makeshift raft with pieces of his neighbors' homes, he thought for one gloriously hopeful moment that two specific government departments had come to his rescue. Staten Island's resentment of government has rarely, if ever, extended to police officers and firefighters, and for that one moment, Correa imagined that the lights blinking on and off across the marsh belonged to rescuers. Then he realized with a sickening feeling that the SOS flashes came from people trapped in their homes. They must have thought he was a rescuer, too. As they signaled their distress, the roof drifted farther and farther into the marsh.
By the time Jackie Nielsen had left for New Jersey, John LaFemina, another Oakwood Beach community activist who had worked closely with her group, was one of the few people in the neighborhood still fighting for government help. After the Army Corps installed its temporary protections in 2000, concerns about flooding "faded away" from the public agenda, LaFemina said. But when LaFemina saw what happened to New Orleans in 2005, he tried to resurrect the fight. He said he held two meetings to discuss the issue and invited all of the government officials who represented the area to attend. Only one showed up, he said -- a man named Anthony Licciardello.
Licciardello was a low-ranking official in Mayor Michael Bloomberg's first administration -- his title was "Staten Island director of the Mayor's Community Assistance Unit." Before joining the Bloomberg administration, Licciardello had worked as a crime victims investigator for New York State. "If you look deeper, things turn up," he said of the experience.
In 2003, as a member of a City Hall task force, he and other officials had looked into the problem of overdevelopment on Staten Island, and they'd come up with a series of guidelines aimed at relieving traffic and preserving the borough's suburban character. They required builders to raise living quarters above a certain elevation level, but they didn't adopt measures that would have kept builders out of the flood plains altogether.
After his meeting with LaFemina, Licciardello arranged for a group of city and state officials to accompany him on a tour of Kissam Avenue -- where the Correa family had just settled. As the delegation walked down the street, Licciardello was shocked by what he saw. From the contrasting patterns of lawn and marsh, it was obvious to him that people had defied a New York State rule restricting them from filling in wetlands. But when he confronted a state official about this, the official told him that you couldn't penalize transgressors unless you caught them in the act.
Licciardello dug into the history of flooding in Oakwood Beach, and discovered a memo from the Army Corps saying that it had run out of money to pursue that long-term study first proposed in 1965 and later commissioned in 1993 -- the one that Jackie Nielsen had unsuccessfully pushed it to complete. With the help of LaFemina, Licciardello assembled some documents detailing the residents' failed attempts to get the protection they felt they needed. In 2006, Licciardello says, he sent a memo to his bosses in the Bloomberg administration urging them to take "immediate action" to help the neighborhood. He never got a response.
Licciardello says he doesn't have a copy of this memo, which he claims to have sent from a city email account that no longer exists. A draft of an email that Licciardello says he later sent to a supervisor while preparing the memo cited a 1999 report in which the Army Corps had determined that federal protection of the area was "warranted." But as Licciardello pointed out in the email draft, the study had run out of money.
"There may be heightened concern among residents if the details of the Army Corps of Engineer reports become public knowledge," Licciardello wrote.
The Bloomberg administration replied to a request for the Licciardello memo by saying that if a record exists, a copy would not be available until after the publication of this story. A spokesman for the Bloomberg administration didn't respond to multiple requests for a confirmation of the memo's existence, or to any other questions about Oakwood Beach. Vanessa Friedhoff, an attorney in New Jersey who worked as Licciardello's intern at City Hall, said she remembers typing up the memo and recalled that it shed light on the fact that there could be "problems for the city in the case of a storm" and offered "some proposals to help fortify the infrastructure."
Some community advocates, echoing LaFemina, say they thought the study ran out of money because residents became complacent after the construction of the temporary flood barriers in 2000. The local congressman at the time was Vito Fossella, who served from 1997 to 2009. In a recent interview, Fossella said that the study had for some reason hit a roadblock, and claimed that he'd urged the Army Corps to "go back and figure out what the deal is." The Army Corps, for its part, said that the only roadblock it encountered was a lack of federal funding.
The funding came to "a complete grinding halt" in 2006, said Chris Gardner, an Army Corps spokesman. In 2008, the funding resumed, though at lower levels than before, and in 2009, Democratic councilman Michael McMahon won the borough's congressional seat amid anger over Fossella's involvement in a sex scandal, and helped persuade the Obama administration to devote $550,000 of stimulus funds to the project. That was enough to put the Army Corps employees back on the job, but by then the study had been dormant for nearly three years and much of the data had to be reevaluated.
Throughout those years, LaFemina, a long-time builder, watched with a growing sense of apprehension as multi-family homes continued to spring up all over the wetlands. One of the projects that troubled him most was the complex of townhouses built in the marshy area where the Army Corps had considered building a levee. In 1992, almost a year before the nor'easter hit Staten Island, developers had submitted an application to the city asking to buy the land, which the city owned. LaFemina says he raised objections to the sale in community meetings, arguing that if developers were allowed to build on that marsh, the community would lose another important buffer against flooding. But in 1997, after the Army Corps identified the area as a possible site for the levee, the City Council approved the deal. (Gardner, the Army Corps spokesman, played down the significance of this decision, saying that the Army Corps raised roads in the area as an alternative to building a levee. He also noted that the levee might not have done much to protect the neighborhood from a storm as big as Sandy.)
Even after the City Council adopted the zoning guidelines recommended by the mayor's 2003 task force, the city continued handing out waivers that allowed builders to go around the new rules. LaFemina had little trouble coming up with an explanation for this. "If you check out all the politicians that run around here and look where the campaign contributions come from, they all come from builders," he said.
One Staten Island political player, Lawrence J. Hanley, a former Staten Island bus driver who now leads the Amalgamated Transit Union, put it even more bluntly. "There's only one party on Staten Island, and it's the real estate party," he said.
In the years that LaFemina and Licciardello were trying to get the government to help the neighborhood, the political establishment in Staten Island was dominated by two men, Fossella and Guy Molinari, both of whom remain influential in the borough. Molinari, who served as borough president from 1990 to 2001, has been described as the "Karl Rove" of Staten Island, a master strategist who essentially runs the borough's branch of the Republican Party to this day. For years, aspiring politicians from all over the island sought his blessing, but in 2004, he had a falling out with one of his protégés, Fossella, and ever since then Molinari's camp and Fossella's have been at odds. Although Fossella left office in 2009, several of his associates continue to hold influential political offices, and there are rumors that Fossella is considering a run for borough president in 2013.
Despite their ongoing feud, both Molinari and Fossella, along with many of their associates in Washington, Albany, and City Hall, have close ties to the real estate industry, which is one of the few sources of economic growth on Staten Island. By his own account, Molinari has personally invested in real estate -- in fact, as a young man he gambled on an Oakwood Beach property investment that ended, like many other investments there, in a storm -- and since leaving office he has lobbied elected officials on behalf of real estate and construction companies. In a phone interview, he denied that he and his political allies had ever catered to their friends and funders in the industry, but he offered the opinion that Fossella was a "different story." Fossella's father was a powerful architect and developer. "There was a kind of thing where you had to go through the father to be able to get your projects approved," Molinari said.
Fossella disputed Molinari's characterization of him. "I think he needs a check on reality," he said, noting that many of his family members were personally affected by Sandy and that he had pushed for the rezoning process that led to the formation of the mayor's 2003 task force.
Although the idea of developers running rampant on Staten Island may bring to mind Donald Trump or Bruce Ratner, politicians and voters on Staten Island are more likely to be subjected to "the tyranny of small developers," as a political scientist at the College of Staten Island put it.
One Staten Island developer, Anthony Tucci, sits on the cabinet of the Staten Island Economic Development Corporation, an organization that promotes business interests on Staten Island and whose 11 person executive committee includes James Molinaro, the borough president. Tucci, a tax attorney, was involved in the construction of some of the townhouses built in the marsh area where the Army Corps had planned to erect that second levee back in 1996. Asked to respond to the concerns of some Oakwood Beach residents about the possibility that the complex could have contributed to the destruction caused by Sandy, Tucci first tried to distance himself from the project. "You've got the wrong guy," he said, before putting the phone call on hold.
When he got back on the call, he was angry.
Asking him questions about real estate development on Staten Island amounted to a "witch hunt," he said. The project in question "was lawfully constructed" and its developers complied "one thousand percent to every rule that's out there." He argued that "everybody is being hurt" by Sandy and said, "If you're going to go ahead and develop a story like that, I'm putting you on notice." After about 15 minutes, he asked where the concerns about overdevelopment on Staten Island originated. Told that various community leaders had brought them to light, he replied, "Community leaders have been creating problems from day one."
'I NEVER LIKED COLD WATER'
Stranded in the marsh on their improvised raft, Correa and Bobby faced a fresh dilemma. The remains of people's homes were piling up against the edge of the roof where they had hoped to ride out the rest of the storm, and Correa could hear the roof creaking and buckling under the pressure. Correa was afraid that the roof would crack and sink. He and Bobby thought about jumping, but the silhouettes of the closest houses seemed far away and they weren't sure they could make it through the churning debris.
Later, when Correa recounted how they managed to get out, he specifically noted that salvation came in the form of a bundle of 2-by-6 planks. His neighbor Eric had been in the midst of yet another round of home repairs, and like any carpenter who cares about his work, he had chosen the finest materials. The planks proved strong enough for Correa and Bobby to construct a makeshift gangway from the roof almost all the way to dry land.
Nearly an hour after they'd deserted Correa's home, Correa and Bobby were just a few yards from the houses on Mill Road, a street that ran parallel to the marsh. But a channel of swiftly moving water separated them from the nearest doorstep and Correa's arms were so cold that it took all of his effort to swim. Making matters worse, about 20 pounds of firearms were hanging from a satchel around his neck. In his rush to get out of the house, Correa had grabbed them from his safe so that they wouldn't wash up on a nearby street where anyone could find them.
At about 9 p.m., Jen Correa received a call at her friend's home in Brooklyn. Pedro had made it to higher ground, though not before running into a team of police rescuers who asked him to go back into the water to help them save an elderly woman from her house down the road. Correa gamely accepted the assignment, but he did not relish the prospect of going back into the waves. Just a year before, he had used a home equity loan to buy a $3,000 water heater for the pool. "I never liked cold water," he later confessed.
After the storm, help was slow to arrive on Staten Island, and residents felt that their "forgotten borough" had been forgotten again. More isolated than ever from the rest of the city, with the majority of cars in the flood-zone rendered useless, residents banded together to pump out each other's basements, to provide the newly homeless with food, clothing, water and blankets, to rescue those still trapped, and to spread the word of their suffering on the Internet. One anonymous message making the rounds on Facebook invited outsiders to keep pretending that Staten Island didn't exist. "We tell adversity to shove it and we take care of our own."
When he wasn't helping his neighbors pick through their ruined belongings, Correa made repeated trips back to Kissam Avenue, where he surveyed what was left of the house. The front steps now led to nowhere (Vinny called them the "stairway to heaven"), but the backyard deck had survived almost completely intact, which Correa attributed, half-jokingly, to his superior carpentry skills.
The home itself was gone. One day, Correa and Bobby commandeered a rowboat that the police rescuers had left behind and carved a path through the tall grasses to the middle of the marsh, where they found the house sitting at an angle in a forest of weeds. Sludge covered every surface and filled the house with a nasty stench. Correa rescued his wife's wedding dress and their children's baptismal pictures from the top shelf of a closet.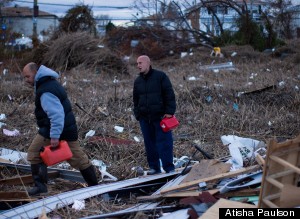 After the storm, Pedro Correa and his best friend, Bobby Gavars, sifted through the wreckage near Kisssam Avenue.
Three days after the storm, Correa saw his first newspaper reporter. On the fourth day, he was interviewed on Dateline. Over the following weeks, he and Jen met supermodel Christy Turlington and flew to Chicago to tape a segment for the "Steve Harvey" show.
Like Correa, the "forgotten borough" had suddenly become something of a celebrity, and thousands of dollars poured into the online account that Jen and Pedro had set up for donations. Correa shaved, borrowed a suit, and met with a landlord who agreed to let him sign a three-month lease on an apartment. Every day, he went back to the plot of land where his house had been and contemplated his future. He thought about rebuilding. "With the carpentry skills I have, I could make it beautiful again," he said a week after the storm. What he refused to do was place blame on anyone but himself.
One recent day, as the sun sparkled across the calm surface of the sea, a white, six-seat Ford F-150 pickup truck made its way along Staten Island's notoriously congested roads toward Correa's street. Inside were three professors from the College of Staten Island, the borough's branch of the City University of New York. On a block full of cops and contractors, the professors were like visitors from another world. One of them, geologist Alan Benimoff, wore a navy suit, rimless glasses, and a neat white mustache. Richard Flanagan, a public policy expert, had on a navy sports jacket and an old-fashioned wool cap, and Jonathan Peters, an economist and fourth-generation Staten Islander, looked less like a professor than an FBI agent gone rogue. He wore a black suit and black wrap-around shades, and referred to the white truck as his "military vehicle" and the south shore as a "war zone."
The three had been working together on various studies for about a decade, and in the last several years they'd turned their attention to Staten Island's shoreline. Using an advanced computer mapping system, Benimoff had shown that thousands of homes had materialized over the decades in flood zones designated dangerous by the New York State Office of Emergency Management. Peters' research showed that the city had allowed most of this development to take place in a pell-mell way, regardless of risk. Flanagan had supplied research on the political culture that enabled the development.
As they drove toward Kissam Avenue, Peters and Benimoff shouted over each other, arguing about everything from whether to rebuild in those areas to whether to make a right turn at the next intersection. Flanagan sat quietly in the back, chiming in every now and then to issue some bleak observation about the state of affairs on Staten Island and in society at-large.
As they turned onto Kissam, Benimoff, whom Peters had described as the "worm cutter and the rock breaker" of the bunch, gaped at the remains of what he considered the inevitable convergence of economic and geological forces.
"This was a house, look," he proclaimed, staring out the window at a square of exposed concrete blocks. "A gallon of water weighs 8 pounds! It was like putting hammer to them!"
They made their way down the street, passing Correa's old property, and Benimoff continued to riff on an argument that he'd been pushing all afternoon. "They don't think there's a threat," he said of the invisible residents, snapping pictures on his phone of the remnants of their homes. He did an impression of a naïve home-buyer: "'Its not going to happen to me!'"
Peters cut him off. "It's not that, it's what else can they afford?" The low-lying areas of Staten Island are New York City's "9th Ward," he said. "This is an area where people can be homeowners. The question is: Does the housing go to the lowest common denominator? The city has to say what's safe, what's appropriate."
Flanagan spoke up from the back seat. "If you look at the public agenda, the flashpoint has been, 'Man, that house just got torn down and those S.O.B. developers put up four townhouses in the spot.'" As a result, he said, the dangers of flooding have all but disappeared from public discourse. He waved his hand dismissively. "Getting hit by an asteroid is just as big a factor."
In the years before the storm, the professors had tried to raise alarms, but they struggled to capture the attention of anyone except for a handful of fellow scholars in their fields. Peters said their Staten Island status sometimes made it hard for them to earn the respect of high-up academics and administrators in New York City's public university system. He also felt that his colleagues at other university systems had more opportunities to communicate with the city officials responsible for shaping policies.
The College of Staten Island sits on the former grounds of the Willowbrook mental institution, the state hospital that was shut down after an investigation by a young Geraldo Rivera revealed widespread abuse, and as the professors pulled into that iconic site of civic failure, the conversation turned to what they, and Staten Islanders more generally, could do with all the attention they were suddenly receiving. In the past few weeks, the island's politicians had found themselves in the rare position of speaking to a national audience, and yet, as they debated the merits of rebuilding and mulled over the question of who should foot the bill, one topic rarely came up.
When it did, it was mostly treated as a bizarre or overly complicated footnote. "Me, personally, I don't want to get into climate change," said James Oddo, a Staten Island councilman. "Climate change is slow," said the borough president, James Molinaro. "When I first heard about it, it sounded wacky, and it still sounds wacky," said the Republican power broker Guy Molinari, adding, "Maybe there's something to it."
Thomas Matteo, the official Staten Island historian and a Molinaro appointee, dismissed the scientific consensus on humankind's role in climate change even more directly: "That's total bullshit."
"The Republicans should wake up one morning and realize that you should be prudent," said Peters, who describes himself as a Staten Island conservative. "And the prudent thing to do is to minimize your carbon footprint. Whether or not you're buying in yet to global warming, whether or not you have your head in the sand, the reality is it can't hurt to be prudent."
Benimoff interrupted: "Can I just say something? What do we do about China and India? Can we tell them to reduce--"
Peters ignored him. "I believe that Republicans should be green," he said. "I think it's the right place for the future. Does Staten Island now lead that conversation because people are frustrated and they feel that they need to be greener to protect their community? Maybe. Maybe that's the next step in all this. That might be a good outcome of this." He turned to Flanagan in the back. "Are the political winds changing that way yet, Rich?"
Flanagan thought for a few moments before articulating his response. "I'm not sure," he said. "I think that this issue will get lost in the weeds."
With Jackie Nielsen exiled to New Jersey, one of her neighbors, Tina Downer, joined John LaFemina in campaigning for those long-awaited, long-term flood barriers. By the time Sandy hit, she'd come to believe that those barriers would never arrive. And by the time she gathered her neighbors in a church auditorium three weeks after the storm, she'd concluded that there was a better option than staying put.
"This has nothing to do with government, this has nothing to do with politics," she said at the outset of the meeting -- a welcome assurance, perhaps, to anyone in the crowd who shared her enthusiasm for the libertarian politics of Ron Paul. She'd brought the neighborhood together, she went on, to share ideas and perhaps come to some kind of agreement about how to move forward. She then invited the crowd to consider a term she holds dear. "A lot of people don't realize what anarchy really means," she said. "It doesn't really mean chaos. It means a group without rules or rulers. A team needs players and everybody has to work together."
This opening elicited no audible reaction from the hundreds of people in the audience. But after she'd ceded the floor to some community leaders who said they could help residents get power tools and bleach to restore their homes, the crowd grew restless. One by one, the citizens began exercising their right to free speech. "I want to talk about the berm!" one woman shouted to cheers. "There is no berm!" a man shouted back. A city sewer-worker in overalls stood up and delivered a passionate plea. "Anybody who thinks that there's a solution to this is out of their mind. I personally don't want no bleach, no sheetrock, that's not what we're here for," he said. "I've been told from guys high up there's nothing you can do. That area was meant for doing what it did a hundred years ago: to take water."
Just as the room seemed on the verge of breaking out into the kind of anarchy that does not involve teamwork, a woman in tears stepped to the front of the room. "Everyone is saying walk away! You just can't walk away with nothing!"
"Do you think I can just pick up and go?" asked Downer -- and then she cast aside any intention she may have had of speaking only for herself. "We're looking to be bought out. We want to be bought out. We want pre-storm value to our homes." Applause filled the auditorium. Several people demanded a vote: Did anyone want to stay and rebuild? Of the hundreds of people in the room, three or four raised their hands.
Some in the crowd later said they believed they were in in a better position to sell their homes than people in other hard-hit communities, thanks to some of the same factors that had made it so difficult for them to get help when they wanted to stay. The neighborhood was small and cheap and surrounded by a complicated patchwork of lands under a variety of jurisdictions, and the city had already made plans to incorporate parts of the neighborhood into a network of ponds and creeks that serve as the borough's natural drainage system.
Among those who felt otherwise was Correa, who left the meeting halfway through. The confidence that had fueled his desire to live on a street surrounded by water, and that had kept him going on the night of the storm, had faltered. He'd never expected much of the government, and he didn't think the government would swoop in to save him now. He'd come to the difficult conclusion that he'd watch his kids grow up in an ordinary apartment with none of the magic that he'd glimpsed when he first drove down Kissam Avenue. "I just don't see it ending in any way except bankruptcy," he said.
A week later, in the hopes of cushioning the inevitable financial blow, he put on his waders and led a group of men from the insurance agency into the tall, yellow grass along his old road. They followed the winding path that he and Bobby had cleared with the rowboat after the storm, and when they finally got to the house they climbed inside through a hole in the wall. Two of the insurance men took out cameras and measuring tools, and the third pulled out a clipboard and began taking notes.
Correa slipped into his daughter's room.
A few years ago he'd painted it pink, and he'd stocked it with everything a little girl would need to imagine she was living in a Disney fairytale. Now the sea had painted the walls and the bed with sludge, and it had thrown her toys on the floor. Correa reached down and picked up a Tinkerbell doll and stood there looking at it for about a minute. He teared up and breathed in sharply through his nose. Squaring his shoulders, he returned it to its proper place on the dresser. Then he went back out into the hall to tell the man with the clipboard how much he'd paid for the family's possessions.
Daniel Lippman contributed research to this article.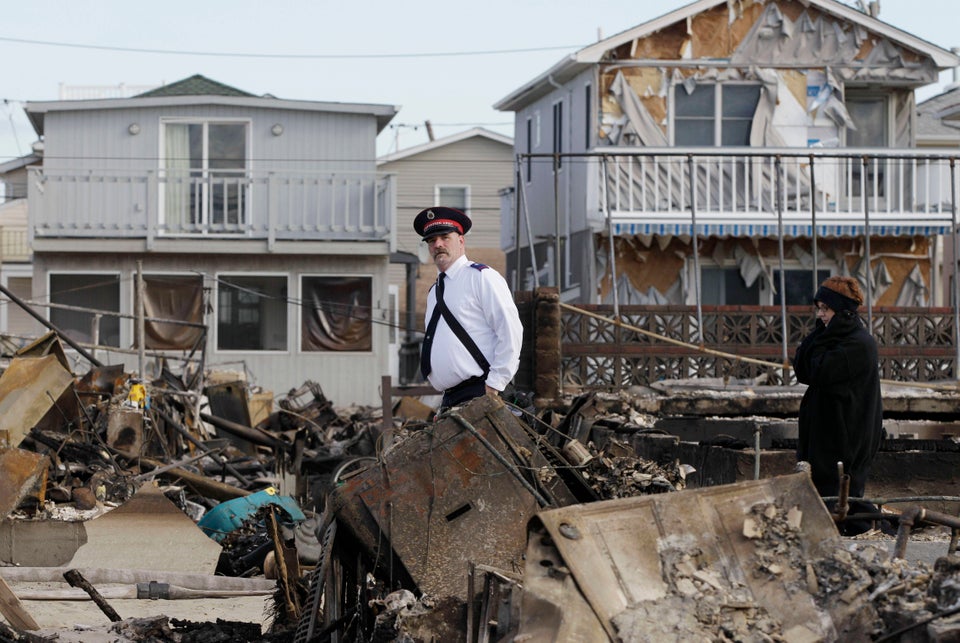 Hurricane Sandy
Popular in the Community