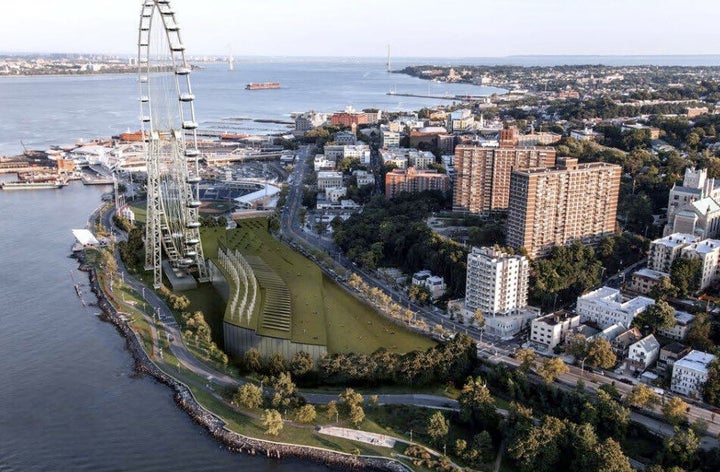 NEW YORK -- If Staten Islanders reeling from Hurricane Sandy have any objections to the city's plan to build an outlet mall and the world's largest Ferris wheel in hurricane evacuation zone A on the island's North Shore, they will have to send a letter. The New York City Economic Development Corporation is rejecting calls to postpone a meeting on the massive waterfront project scheduled for Tuesday night.
Local activist Beryl Thurman said she had begged local officials for the scoping meeting to be "postponed until after the holidays, just to give people time to absorb what has happened and deal with it as best as they can in terms of getting their lives together."
"But apparently EDC's schedule does not permit such things," she said. "They're moving forward ... Maybe we've forgotten what it is just to be just decent toward one another."
Councilman James Oddo, meanwhile, said he had only learned that the meeting was proceeding from The Huffington Post.
"I think it's beyond ridiculous that it's still on," Oddo said. "We're working every day now for two weeks to try to stabilize people's lives … The notion that we've had time to think about the Ferris wheel and to go and articulate our concerns is irrational."
The New York City Economic Development Corporation, a non-profit that is not technically a city agency but acts as the city's official representative on big development projects, said that it had only decided to go forward with the meeting after thorough consultation with Staten Island Borough President James Molinaro, area City Councilwoman Debi Rose, and the local community board.
"Their preference was to keep the meeting so the project can stay on track," wrote EDC spokesman Benjamin Branham, who said Oddo was aware of the meeting from the start.
The scoping meeting is the first step in creating a critical environmental impact statement for the project, but it is primarily a place for thoughts from the public to be aired, not for project plans to be laid out. Branham said that the EDC had extended the written comment period until Dec. 10.
The proposed 625-foot New York Wheel, which has the enthusiastic backing of Mayor Michael Bloomberg, would tower over the modest Staten Island skyline. It is only one part of a larger plan which includes a 350,000-square-foot mall and a 120,000-square-foot hotel that would sit right next to the ferry terminal in the St. George neighborhood.
Borough officials like Molinaro have expressed excitement at the projected potential economic benefits from the plan, which is supposed to rely entirely on private financing.
Attitudes could change, however, in light of the widespread destruction caused by the Hurricane Sandy storm surge on Staten Island. As an EDC document acknowledges, parts of the site are in 100-year and 500-year FEMA floodplains.
Oddo has expressed openness to the wheel in the past. He and his colleagues on the City Council will need to approve it before it can proceed. But after hearing about the scoping meeting, he said, "that's a great way of engendering good will and respect."
Calling all HuffPost superfans!
Sign up for membership to become a founding member and help shape HuffPost's next chapter