 A 15-year-old, braces-wearing sophomore spends roughly eight hours a day answering eager volunteers' questions. A cigar-puffing retired NYPD lieutenant serves as the unofficial site manager. Local kids pass off heavy supplies on assembly lines. A grandma sifts through garbage, helping identify what's salvageable.

Residents in towns across Staten Island -- called "the forgotten borough" by many after suffering major destruction and nearly half of all New York's hurricane-related casualties -- are taking relief efforts into their own hands.
There, retired service members and students have organized complex cleanup operations, supply drives and counseling efforts to help breathe life back into the area. Though the swarms of people seen rebuilding around the clock include a few uniformed relief workers, most are just T-shirt and jeans-wearing locals.
"Communities will always take care of themselves, and if you wait for government or huge nonprofits to come in, most of the time it's too little, too late," Councilman Vincent Ignizio told HuffPost. "We will heal from within."
Ignizio said that he has all the help he needs, with city dump-trucks and loaders, a brigade of local sports teams, church members and families all joining in the cleanup effort.
"I think the Red Cross, for at least my community, has been too little, too late, and quite frankly I don't need them," Ignizio said.
Tottenville, an area comprising about 3.3 square miles, saw a total of nine collapsed homes and at least a dozen that had to be demolished. Most of the homes are valued at more than $500,000, according to Ignizio's office.
The total cost of the damage to this six by three-block neighborhood has yet to be determined. But as is the case in most areas of this hard-hit region, heavy debris and lifetimes of memories are scattered along front lawns, and many of the intact houses are dark and dank.

While the most devastated parts have been shut off to cars, hundreds are still toiling in the closed off area –- hauling garbage into dumpsters, bringing water to isolated residents, and digging through dirt for jewelry and photos that may have survived the storm.

The rebuilding efforts in Tottenville come as residents are fuming at what they see as a lack of response from major aid and government organizations. During a press conference on Thursday, Borough President James Molinaro went so far as to urge donors not to give money to the Red Cross because he felt his borough had been so neglected.

"All these people making these big salaries should be out there on the front line, and I am disappointed," Molinaro said at the press conference. "And my advice to the people of Staten Island is: Do not donate to the American Red Cross. Let them get their money elsewhere.'"

But a Red Cross spokesperson told HuffPost that all 323 of its emergency response vehicles had been deployed to areas hit by the hurricane -- possibly a first for the nonprofit -- and Sandra White, a Red Cross volunteer from Mississippi, said Sunday that she's been on the ground helping in Tottenville all week.

"We're doing all that we can," White said while taking a break from doling out meals from a Red Cross truck. "We're here."

But residents are telling a different story. They're saying that the aid organization had been, for the most part, nowhere to be found until a truck arrived over the weekend.
Joe Caldarera, a 55-year-old retired NYPD lieutenant serving as the neighborhood's volunteer site manager, said he had not seen any emergency response professionals in the area.

"I'd like somebody who does this for a living so I know we're doing what needs to get done," he said.

Still, the resilient community is set on moving forward -- with or without help from relief workers -- even if that means relying on local youngsters, residents who have lost it all, and retirees with no prior disaster relief experience.

"People are all in the same boat," April Taddeo, 42, said of the community. "If it wasn't for the regular people, I don't know how we would get out of this."
Click through the slideshow below to see photos of Tottenville residents working to rebuild their community.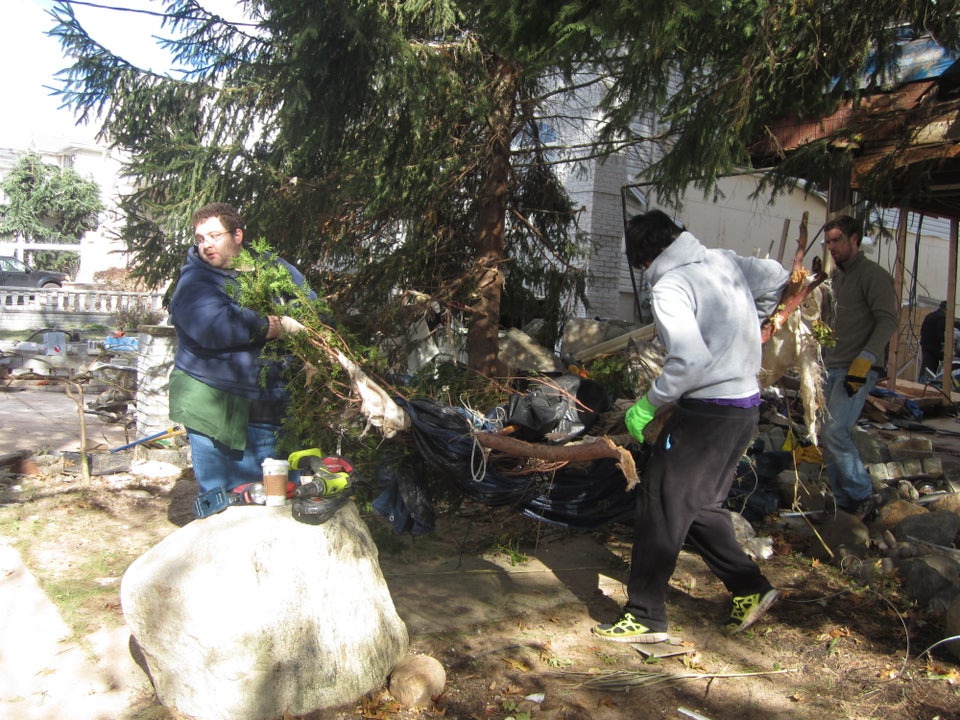 Tottenville Comes Together After Sandy
Photos: Eleanor Goldberg/The Huffington Post
Popular in the Community