ON THE ARTHUR KILL, N.Y., July 10 (Reuters) - Bright colored kayaks bobbed around the rotted hull of a World War II submarine chaser that was rusted into a ghostly shell and lapped by water as salty as tears.
The kayaks paddled by tourists then glided a few feet away to a decayed, partly submerged ferry, part of the "Graveyard of Ships" tour, which winds through a marine salvage yard in New York City that is the final resting place for dozens of working boats and military vessels.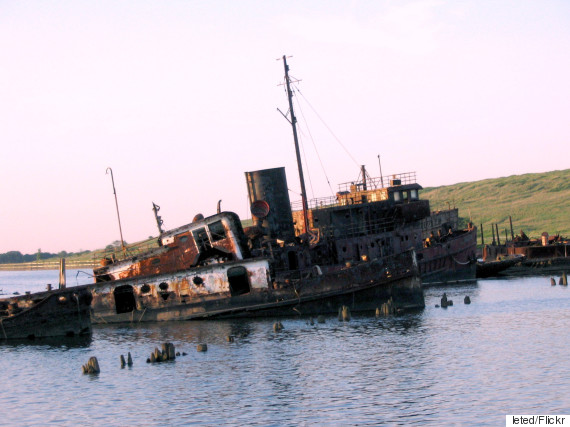 Once considered eyesores to steer clear of, some junkyards, underwater scrap yards and landfills are being recast as sight-seeing attractions.
Sometimes dubbed "ruin tourism" or even "ruin porn," dramatic photographs online showing deteriorated boats emerging at low tide or automobile carcasses swallowed up by lush moss are enticing the public to see the decaying sites for themselves.
"These sites are often appreciated for their authenticity or novelty value as a contemporary ruin," said Karl Kullmann, who teaches landscape architecture, environmental planning and urban design at the University of California at Berkeley.
Ruin tourism draws visitors to such famously dilapidated landmarks as the Michigan Central Train Depot and the former Packard plant in Detroit. In White, Georgia, a crumbling repository of more than 4,000 discarded automobiles encased in trees and kudzu vines known as Old Car City USA draws paying crowds from around the world. In Hot Springs, Arkansas, cycling enthusiasts flock to a re-purposed landfill that features mountain bike trails known as "Tour-de-Trash."
"This type of tourism attracts people interested in the detritus of capitalism," said Rebecca Kinney, assistant professor in the Department of Popular Culture and School of Cultural and Critical Studies at Bowling Green State University.
The Detroit structures are "decades-old reminders of the precipitous rise and fall of industry," she said.

The Graveyard of Ships tour on the Arthur Kill, a waterway separating New Jersey from the New York borough of Staten Island, often sells out and is far more popular than other paddling trips to nearby bucolic rivers and lakes run by Kayak East tour operator John Pagani.
What makes one man's trash another man's tourist destination seems to be its ability to spark the imagination, he said.
"One thing people like about the Graveyard of Ships is that it is old and rusted and you can see the wear. You imagine back to when it wasn't in that state and just kind of think about how time takes over things," Pagani said.
"That appeals to a lot of people... You imagine back to the day when this ship was on the water just doing what it did," he said.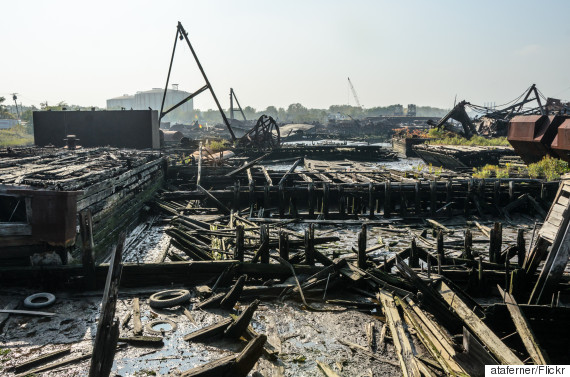 In the case of the PC-1264 submarine chaser, its role was to hunt German U-boats in an effort to protect allied merchant convoys crossing the Atlantic Ocean. It was one of two U.S. Navy ships in World War II to be manned by a largely African-American group of enlisted sailors, according to NavSource.org, a naval history website.
Nearby sits the rust striped shell of YOG-64, its middle eaten away by corrosion that chewed a lacey pattern into its metal sides, long removed from its heyday as a World War II gasoline barge muscling its way across the Pacific Ocean for the U.S. Navy. After the war, YOG-64 participated in nuclear weapons tests at the Bikini Atoll in the South Pacific in 1948.
Ravaged by storms and the passage of time, some boats that Pagani saw on earlier trips are now rotted beyond recognition. For instance, searching for the Abram S. Hewitt, a coal-fired fireboat used by the Fire Department of New York from 1903 until 1958, Pagani struggled to find an identifiable porthole or smokestack among the wrecks sinking below the surface.
The draw of the marine scrap yard seems irresistible, even to kayakers who initially contact Pagani with their hearts set on paddling through serene, unspoiled channels and creeks.
"When they see the pictures of the Graveyard of Ships, they're interested," he said. "All of a sudden that beautiful scenery just kind of takes a back seat."
(Editing by Ellen Wulfhorst and Marguerita Choy)

Related
Before You Go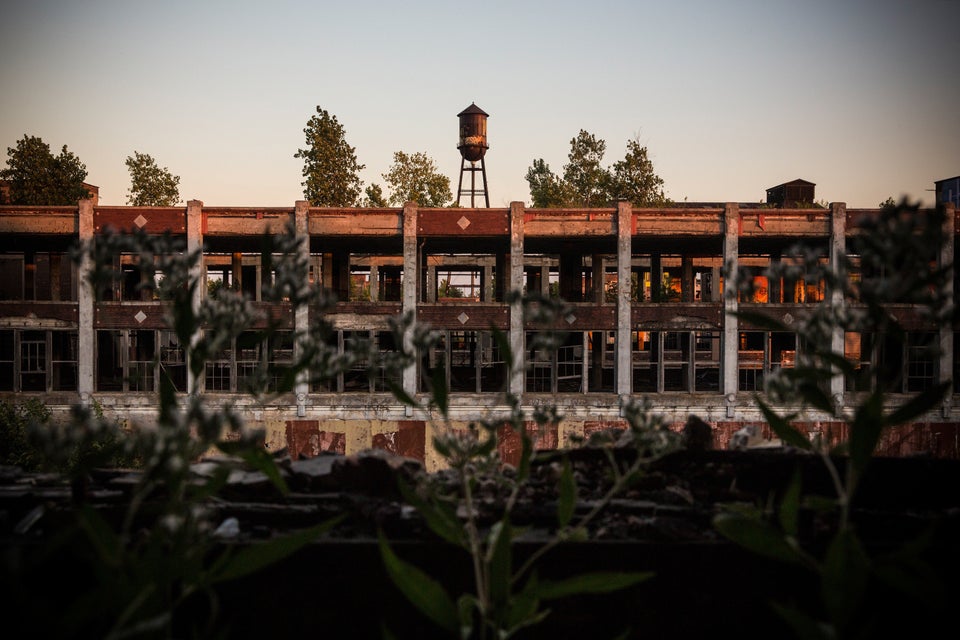 The Ruins Of Detroit
Popular in the Community