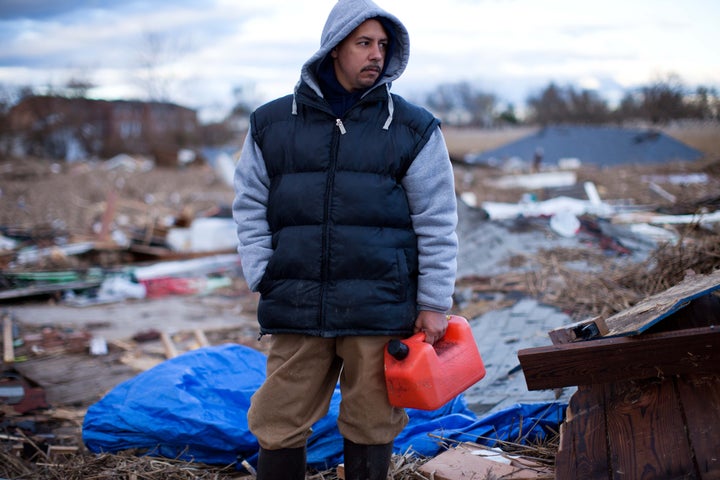 Five of us went to Staten Island on Saturday, and I'd like to report back. I can only relate the small picture we got from the ground, hopefully it will inform people who want to help out.
Four things to know:
They don't need canned goods right now, at least where we were. Food distribution outlets were overflowing cans and perishable cooked food. They need trash bags, shovels, wheelbarrows, masks, work gloves, and other implements for clearing out houses.
There is work. You will not be a bother to anyone or interfere with efforts if you arrive in a car and start asking to help. Be creative and persistent. The main (and most important) work to be done is gutting houses and removing drywall before it grows mold.
This map is a good starting point, but use your own ingenuity.
Come early! It's a dawn to dusk workday.
We drove in over a Verrazano Bridge that was virtually empty due to New York's gas shortage. To our shock, the $13 toll was still being levied. We dropped some supplies at the Crossroads Church and walked to the water.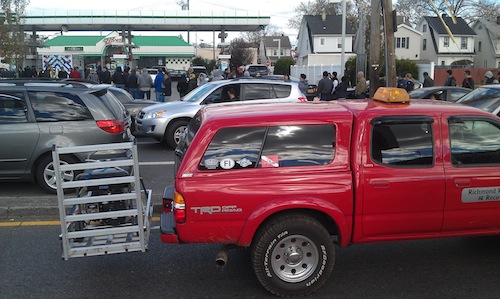 Line for gas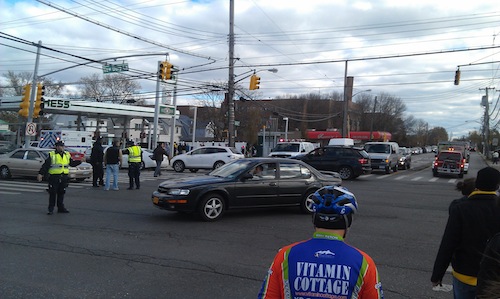 Intersection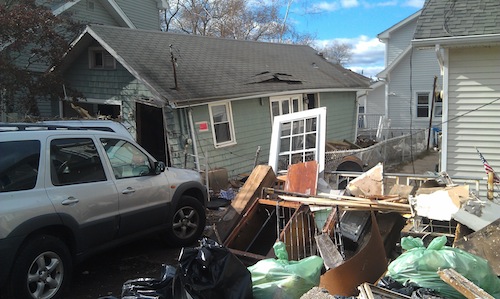 The area around New Dorp Cedar Grove is a middle-class neighborhood at sea level, and what we saw there was pretty bad. Not nearly as bad as the worst of Katrina, but it rivaled the devastation in many parts of New Orleans. Some houses had caved in and some were blown as much as 150 feet away, while others looked sturdy and unaffected. There is no electricity, so residents arrive at the crack of dawn and work until evening, trashing soaked drywall, insulation, and possessions before they grow molds. Yesterday spirits remained incredibly high, and there was a tremendous feeling of community and collaboration.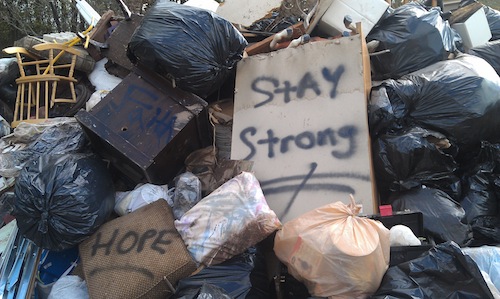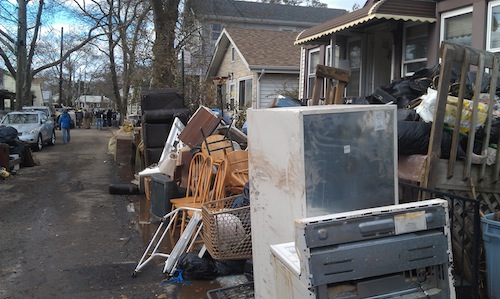 Possessions on the street
We encountered a vast, semi-organized tangle of aid. Some groups were very well-organized: churches, army trucks filled with soldiers. Mostly, efforts seemed independent; one group we met called themselves the "people with silver tape on their arm group."
Our first task, assigned by someone who may or may not have been in charge of something, was to fill a shopping cart with food and walk it to people who could not get to the food distribution tables. Only one person took a hot meal; everyone else had already been fed or was racing against the sun to finish work.
We dropped the shopping cart at another food distribution center five blocks away and walked door to door, asking people if they needed our help. An older Russian couple and their son enlisted us in ripping out drywall and throwing it away. Parts of the insulation were dripping wet, even days after the flooding. The conversation dipped (descended) into politics for a while and we had a healthy (long) political discussion. The family was touched by the help, and we found it surprising that they hadn't been offered any yet given how many crews were there working.
We walked further down the street past a giant overturned hot tub and a dumpster entirely full of drywall and furniture ("that's my basement," said a man to us). We joined the People With Silver Tape on their Arm Group in clearing out a basement.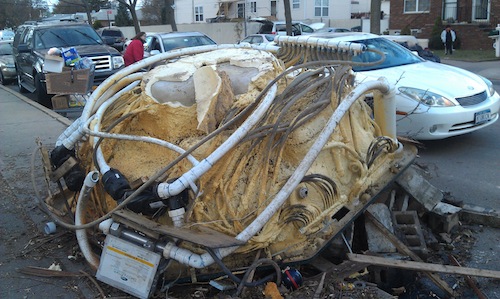 Hot tub
On our way back to the car we noticed a small sign that said "food and clothing." We walked in and entered a recovery wonderland -- a restaurant cleared of tables and chairs, piles of hot food lining the edges and heaps of clothing filling the space. The lawn outside was covered in bags of clothing, which we brought in and sorted into coats, mens' clothes, womens' clothes, etc. I tried to separate the gigantic mens' clothes pile into sub-piles and gave up after a few minutes. I had received a few requests for information about where to donate and asked the owner of the restaurant if he was accepting donations; he responded, "No, please, give the money to the community."
It's a wonder that such a world can exist less than ten miles from lower Manhattan, though the juxtaposition must have been strange before the storm as well. The disparity in recovery efforts is sure to grow as time goes on. I suspect that even in a few weeks, attention to this disaster will wane and it will be even harder for many people to rebuild their lives, especially as New York City makes appearances to have moved on. One of the greatest difficulties in responding to a tragedy like this is finding money and hands when the memory of the tragedy has faded.
So for now, come help... and later, when the storm has been all but forgotten, let's help as well.
Related
Popular in the Community