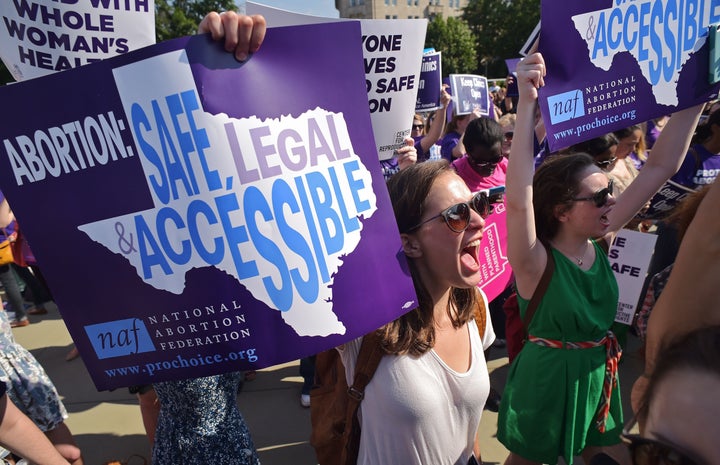 Texas Gov. Greg Abbott signed into law on Tuesday a bill that bans most standard insurance plans ― including those purchased through the Obamacare exchanges, as well as many employer-provided plans ― from covering abortions unless a woman's life in danger.
Under House Bill 214, Texas women will have to pay an additional insurance premium to buy coverage for non-emergency abortions. The law, which will go into effect in December, does not provide exceptions for rape, incest or fetal abnormalities.
That means, for example, that a woman who is raped and becomes pregnant and who did not predict she might need to have an abortion when making her insurance coverage selections for the year would have to pay out of pocket for the procedure. Texas Democrats who opposed the law argued that it effectively requires women to carry "rape insurance"; Gov. Abbott said in a statement that it protects Texas policy holders from being forced to subsidize "elective" abortions.
The new law -- which was passed during a highly publicized special session in which legislators took up several anti-abortion bills -- will not necessarily overhaul how many women in the state go about paying for abortion services. In debating the measure, Democrats argued that it is largely political theater, as relatively few plans in Texas cover abortion at this point. Nationally, estimates suggest that nearly 70 percent of women pay out of pocket for abortion services because their plans don't cover the procedure or because they are unsure if they do. Some women also prefer to pay out of pocket because they are worried that their partner or employer will find out, Elizabeth Nash, senior state issues manager with the Guttmacher Institute, the policy and research organization, told HuffPost.
But many women can't afford to pay out of pocket and are forced to delay the procedure while they struggle to come up with the money or have no choice but to carry unintended pregnancies to term. The law furthers the stark divide between women who have the financial means to pay for abortion services and those who do not.
"Paying for abortion can be quite difficult," Nash told HuffPost. "The typical first trimester abortion costs about $500, not including other related costs, such as travel and child care."
Second trimester abortions are much more expensive. The Texas Observer spoke to one mother who made the wrenching decision to terminate her pregnancy at 16 weeks after a diagnosis of Potter syndrome, which prevents lung development. Her abortion was covered by insurance, so she paid only about $400 out of pocket. As of next winter, she said her expenses would be closer to $10,000.
Texas is not the first state in the country to block insurance companies from covering abortion. Half of the states in this country have abortion coverage restrictions in their Affordable Care Act exchange plans, and 10 ― including Idaho, Michigan and North Dakota ― have similar bans on private insurance. Then there is also the federal Hyde amendment, which prohibits federal programs like Medicaid from covering abortion.
Texas is, however, a "magnifier," Nash said. When it passes a bill like this, other states take notice.
"Texas is Texas. It's a very large state, it's a very populous state and it's a politically important state. People do look to it for policy ideas," she said. "There are probably state legislators out there asking themselves, 'Are these kinds of policies we want to put in place in our state?'"
The law also turns on the notion that abortion is not a legal medical procedure. The American College of Obstetricians and Gynecologists ― the leading professional organization for OB-GYNs in this country ― is clear on this issue, stating unequivocally that abortion is a necessary part of comprehensive women's health care. And the very purpose of health insurance is to help cover unexpected medical costs.
"Women don't plan to be raped. Parents don't plan for their children to be victims of incest," Texas Rep. Chris Turner (D) said before the bill passed. "Asking a woman or a parent to foresee something like that and buy supplemental insurance to cover that horrific possibility is not only ridiculous, it is cruel."
Popular in the Community