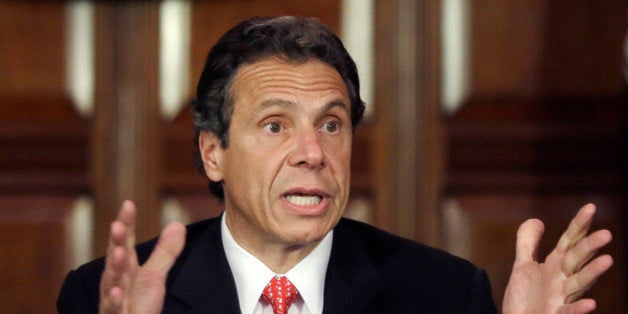 Several states are considering proposals to refer more campus sexual assault cases to local law enforcement, and there's one constituency in particular that is against it: sexual assault victims.
The proposals vary in their specifics, but bills drafted in New Jersey, New York, Rhode Island and Virginia all seek to increase the involvement city police have with campus rape reports.
And while lawmakers seem to be siding with student activists who have complained colleges are mishandling sexual assault cases, sexual assault advocates balk at the proposed legislative fixes, which would increase the role of the criminal justice system to get perpetrators off the street, because they say cops are just as bad at handling these cases.
New York Gov. Andrew Cuomo (D) put forward a legislative proposal last week that, in addition to establishing affirmative consent as a statewide policy, would require that colleges make it clear to sexual assault victims they are able to report their rapes to city and state police in addition to their university. However, it wouldn't require campus reports to be passed on to local law enforcement.
"All too often, when a woman is victimized on a campus, the recourse is campus police and the tendency is to keep it private because it's embarrassing for the university and all too often, justice is not done," Cuomo said in his State of the State address Wednesday.
Alphonso David, who is deputy secretary for civil rights under Cuomo and will become the governor's chief counsel in April, told The Huffington Post the student victims will control the process and have the "right to determine who they want that information to go to." Cuomo's proposal, David said, would also require police to be trained on how to respond to college sexual assault reports.
"Part of this process is ensuring police officers are focusing not only on the law in determining whether or not there's a criminal act, but also apply appropriate sensitivity concepts when they're dealing with the victims," David said.
Other state proposals are more aggressive in their attempts to push more college sexual assault cases off campuses.
Virginia state Del. Robert B. Bell (R) introduced legislation that would require faculty members or administrators of public colleges to report any violent felony allegedly committed by a student to law enforcement. Anyone who does not would be subject to a $500 fine for the first violation and up to $1,000 for each subsequent violation.
"A rape is a rape, even if it happens in college, and no one should believe he can commit this crime and get away with it just because he is a student," Bell and his co-sponsors, Dels. C. Todd Gilbert (R) and David B. Albo (R), said in a news release last month. Bell couldn't be reached for comment. The University of Virginia is already asking Congress to clarify what it is allowed to share in regard to sexual assault reports under federal privacy laws.
Legislation in Rhode Island, proposed by state Rep. Mia Ackerman (D), would require any reports of sexual assault to college security or university police be referred to municipal law enforcement.
"I'm convinced [local police] are better equipped overall to handle these types of crime," Ackerman said. "They deal with it a lot more than the campus police departments."
Ackerman told HuffPost the reporting requirements in her proposal wouldn't apply to university deans or counselors -- unlike the Virginia proposal -- so a student could still seek help to deal with mental health issues associated with rape without having the information passed to law enforcement. Similarly, Cuomo's proposal doesn't require deans, counselors or other school administrators to send rape reports to cops.
"We don't want the victim to be re-victimized by the whole process," Ackerman added.
Peg Langhammer, executive director of the Rhode Island sexual abuse non-profit Day One, said they'll work with Ackerman to revise the legislation to ensure the "victim is in the driver's seat."
Indeed, any proposal that mandates campus rape reports to college administrators be sent to cops meets near-universal opposition from sexual assault survivors and advocacy groups.
The New Jersey Coalition Against Sexual Assault likes proposals such as Cuomo's that would make sure options are laid out to victims, but is strongly against the bill offered in New Jersey that would require colleges to tell law enforcement of sexual assault reports.
"Why, once someone enrolls in one of our colleges or universities, should they lose their right to make decisions about how to proceed after such a violent crime was committed against them?" asked Patricia Teffenhart, executive director of NJCASA. "Why are the rights of college survivors trumped by our desire to hold institutions and offenders accountable?"
But New Jersey Assemblyman John McKeon (D), one of the sponsors of that bill, noted the victims would still have a say in deciding how far the cases go in the criminal justice system. His office noted that they are open to making amendments to the specifics of the legislation, but they're convinced these cases are better served by the cops.
"It takes out the thought that campuses, for obvious reasons, would be less than encouraging regarding the criminal prosecution of such matters," McKeon said.
Survivors such as Zoe Ridolfi-Starr, a Columbia University senior with the sexual assault activist group No Red Tape, are not convinced.
"If a survivor comes forward and says, 'Hey I need help, I want to get this guy out of my classes,' that's very different from saying, 'I want to involve myself in a lengthy arduous legal process,'" said Ridolfi-Starr, who filed a complaint that prompted a federal investigation into how Columbia handles sexual assault cases.
Ridolfi-Starr pointed to testimony from other women in New York who said the NYPD inappropriately responded when they reported sexual assaults, or prosecutors who declined to take their cases. Aside from those cases, Ridolfi-Starr said she isn't eager to refer more campus rape victims to the same agency responsible for the death of Eric Garner -- an unarmed black man who was choked to death by an NYPD officer.
"Until law enforcement agencies improve their policies," Ridolfi-Starr said, "it's absolutely inappropriate to increase their authority or role in campus-based adjudication processes."
Related
Popular in the Community