There are influential, bipartisan and surprising allies urging President Donald Trump to keep the United States in the Paris climate agreement. They include some of the world's biggest fossil energy companies, members of both parties in Congress, CEOs, governors, veterans, and farmers.
But with Trump laying waste to President Obama's climate policies, with his emasculation of the EPA and his plans to starve federal climate science, it is unclear what the U.S. government could add to the success of the Paris accord.
In my previous post, I offered one idea to break the impasse between Trump's advisors on whether the U.S. should remain in or pull out of the Paris agreement. First, the president would take a blood oath not to interfere with state and local climate action. Second, he would aggregate emission reduction commitments from states, cities and corporations to give substance to the U.S. role in the accord. Third, he would faithfully enforce any federal climate policies approved by Congress or upheld by the courts.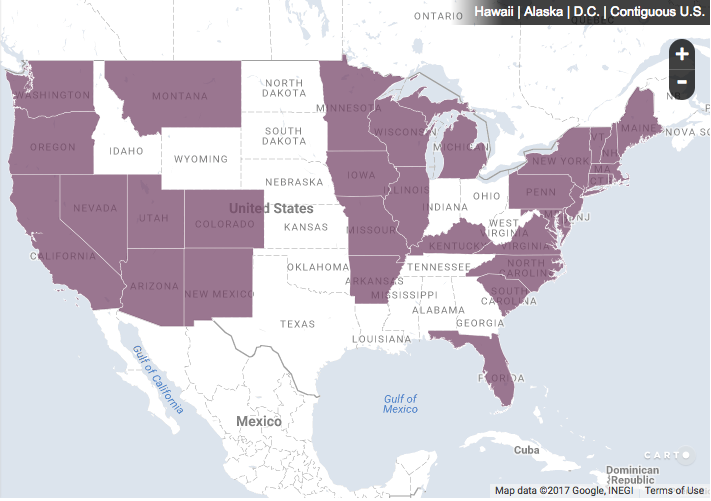 On the first point, Trump already says he supports state rights. He reportedly told governors earlier this year that he wants states to craft their own policies — including environmental rules — without interference from the federal government.
A test of his sincerity is on the horizon regarding fuel-efficiency standards for vehicles. The Administration is expected to roll back the historic CAFE standards put in place by the Obama Administration. Trump's next likely concession to automakers would be to rescind EPA's "California waiver," which allows states to set tougher fuel efficiency standards than the federal government's. If Trump really believes in states' rights, he won't do that.
On the second point, the question is whether state, local and corporate commitments to reduce carbon emissions would be sufficient for the U.S. to make a meaningful contribution to achieving the Paris agreement's goals. There is reason for optimism.
States have the tools: States and cities have substantially more authority than the federal government to deal with carbon pollution. In addition to vehicle standards, they can regulate electric utilities; establish renewable energy and energy efficiency standards; reduce pollution with smart transportation and urban planning; offer tax incentives and financing for renewable energy investments; establish and enforce energy codes for buildings; regulate oil and gas production; and more.
Since the late 1990s, nearly 30 states have implemented requirements for electric utilities to generate power from renewable resources. After Obama issued his climate action plan, 62 cities announced they intended to meet or exceed federal emission targets. Today, cities are setting clean energy goals that were unthinkable a decade ago. By the end of March, 25 U.S. cities had joined the growing ranks of municipalities that intend to obtain 100% of their electricity from clean renewable fuels.
The Mayors National Climate Action Agenda, which includes the chief executives of 75 cities, has promised to "take every action possible to achieve the principles and goals of the Paris Climate Agreement and to engage states, businesses and other sectors to join us." Michael Bloomberg, the former New York mayor who co-chairs the Global Covenant of Mayors for Climate and Energy, promises that American states, cities and businesses will fulfill the U.S. commitment to the Paris accord no matter what happens in Washington.
Corporations pitch in: Earlier this month, 12 governors wrote to Trump that "U.S. companies recognize the need to address business risks and opportunities through the Paris Agreement..."
Many of our largest corporations are making aggressive commitments to renewable energy and to leveraging similar commitments from their supply chains. As 2017 began, 71 Fortune 100 companies and 43 pecent of Fortune 500 companies had set sustainable or renewable energy targets; 22 have committed to 100 percent renewable power.
The availability of low-carbon energy has become a factor in where these companies decide to locate. As one business association reports, "Retail and tech companies such as Amazon, Apple, Facebook, Google, Microsoft, Target and Walmart are among nearly half of the Fortune 500 companies seeking to locate operations in states with ready access to clean-energy sources."
Many more localities will act: In addition to this opportunity for economic development, job creation and growing climate impacts will motivate more states and cities to act. One analysis published in the Proceedings of the National Academy of Sciences found that more than 300 U.S. cities with a combined population of 3.6 million are already at risk of flooding due to sea level rise. On the brighter side, the U.S. Department of Energy reports that jobs in solar and wind energy grew 25 percent and 32 percent respectively last year. Nearly 3 million Americans worked part- or full-time in energy efficiency, solar energy, wind energy and alternative vehicles, 14 times the number of people employed in fossil fuel jobs related to electricity production.
Finally, in regard to the third element of a Trump Paris plan – carrying out mandates from Congress and the courts ― several states, cities and corporations are taking legal action to defend Obama's progressive climate policies. Some of the policies are likely to survive. Trump would be obliged to implement them, optimally in a plan that combines federal efforts with those of cities, states and companies.
Of course, the best development for the American people and the world at large would be a powerful ah-ha moment that triggers Trump's realization that climate change is underway; that it is caused mostly by fossil energy emissions; that it is jeopardizing his real estate holdings and, by the way, the health and welfare of the American people; that it will result in unmanageable budget deficits at all levels of government; that avoiding climate change is right up there with avoiding nuclear war; and that nationalism cannot mitigate a global threat.
Even better, the protesters we have seen lately would start dancing in the streets if Congress were to finally face reality and make aggressive climate action a requirement of law rather than a presidential prerogative.
But since neither of those scenarios is likely just now, America's best response to climate change will continue coming from outside Washington, D.C.
Related
Popular in the Community