A new analysis shows which states count college students as the highest percentage of the population.
The market research firm Fractl used 12-month enrollment data from the National Center for Education Statistics data center, as of 2013, the latest information available, for the analysis. It was prepared for WithMyDegree.org, an advice website.
Washington, D.C. actually takes the top slot, but Iowa is the state with the highest percentage of students as part of the population. Following the Hawkeye state is Arizona, Utah and Rhode Island. 
Close to 1-in-10 citizens of D.C. are college students, while Iowa has a rate of about 7.3 percent. Iowa has around 60 colleges and universities, depending on how you count campuses for schools with multiple branches. D.C. has close to two dozen schools. 
But the rate for Iowa and Arizona are partially inflated by the large number of online students tied to schools based in those states -- mainly the University of Phoenix and Ashford University. The national rate is 4.1 percent. 

The analysis also examined how enrollment changed from year to year, and how it dropped following the Great Recession. It notes that research from Stanford University shows college enrollment increases during recessions.
Students stay in school "rather than face an uncertain job market where finding, keeping, and advancing in a career prove difficult," the analysis says. "But after the rise comes the inevitable fall. As the economy began to rebound, fewer students enrolled in college between 2011 and 2013. This cycle comes as no surprise: For some people, college is simply a backup plan after a stalled career search -- and a newly thriving job market brings enticing money-making opportunities."
The graphic below shows what it looks like as the enrollment changes from year to year from 2005 to 2013.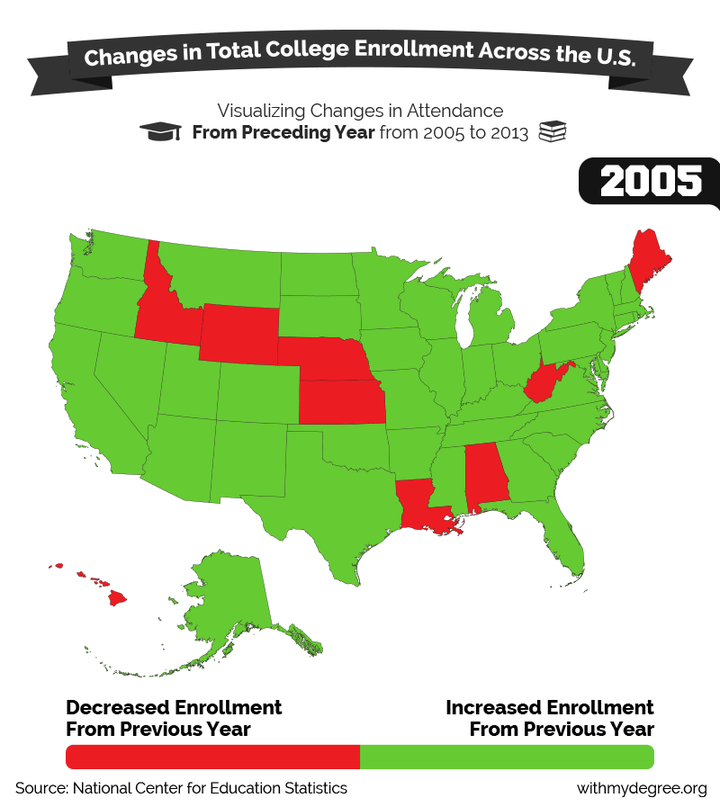 Calling all HuffPost superfans!
Sign up for membership to become a founding member and help shape HuffPost's next chapter