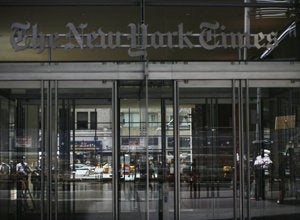 When Iowa's Supreme Court voted unanimously that a state law banning same-sex marriage was unconstitutional, while New York's highest court had previously upheld a ban of gay marriage and California voters passed an initiative making gay marital unions illegal, Times editorial and op-ed writers were unhinged.
This turnabout so overwhelmed the Times staff that it had to write two editorials, first pointing out this role reversal between liberal New York and California and supposedly conservative Midwest Iowa (April 4 ), then exhorting Governor Paterson and the New York legislature to quickly amend this departure from the states' appropriate roles (April 10).
Of course, there was also the April 7 editorial, Vermont Equality, that exhorted New York to pass its gay marriage bill following the Vermont state legislature's action legalizing same-sex marriage.
But this was only the beginning. Steven Thrasher, a gay, biracial New Yorker wrote a guest op-ed commending Iowa's Family Values while questioning the liberal status of his states of residence and birth: "as a gay man, I can't marry in 'liberal' New York, where I'm a resident, or in 'liberal' California, where I was born, and very soon I will have that right in 'conservative' Iowa" (April 8).

Big City columnist Susan Dominus called this "Another Blow to the Self-Regard of New York," since the state was "swallowing its gay pride" (April 10). Times Op-Ed blogger Charles Blow (April 11) traced this seeming reversal of positions to the surprising religiosity of New Yorkers - only 14 percent of whom report having no religion.
The inimitable Maureen Dowd (April 11) then labeled "Iowa as the new California," declared "California's having an identity crisis," and quoted San Francisco's mayor: "Now you have four states that are legally sanctioning same-sex marriage, and New York and California are not among them. Who could have predicted that?"
Thus it came to pass that, on April 10-11, the Times featured an op-ed column and blog, big-city column, and editorial all bemoaning New York's benighted status relative to Iowa!
Of course, the only thing that would remedy the Times' cognitive dissonance other than New York approving same-sex marriage would be for Iowans to change their constitution to make same-sex marriage illegal - which many politicians and citizens are assiduously working to do.
There seems to be a deep split in America, not among the states, but between a liberal elite that favors gay equality and everyday American homophobes. Only when a state plebiscite finally approves of gay marriage can the Times justifiably gnash its teeth. Until then, the great Gray Lady can console itself that New Yorkers do not stand alone in their bigotry!
But the Times can relax: it's Freakanomics blogger (April 9) Nate Silver predicts, based on statistical analysis, that most states will have legal gay marriage by 2016 - since people under 30 simply don't have the gut-level antipathy towards homosexuality of their elders.
Oh, did I mention a prior Times economic-statistical blog on the subject, Mapping Gay Marriage (April 8), which refers to a Times column the same day analyzing the momentum generated by the Iowa decision for similar initiatives around the country, while noting a previous analysis by Nate Silver warning about a backlash from the Iowa decision - okay, I'll stop here.
Calling all HuffPost superfans!
Sign up for membership to become a founding member and help shape HuffPost's next chapter