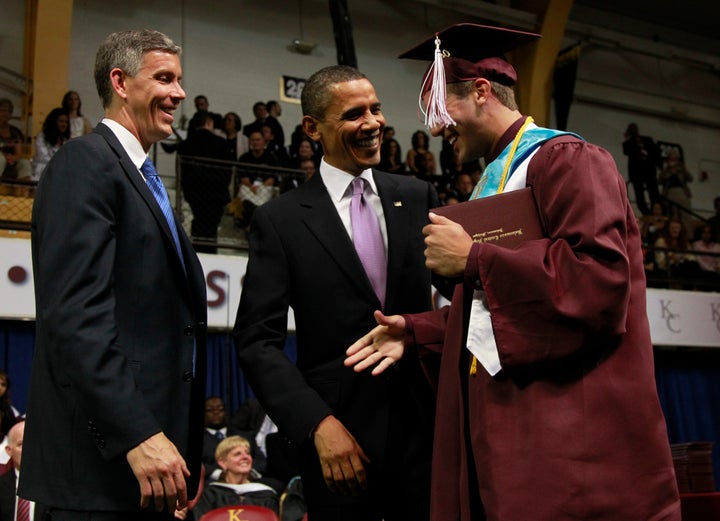 States hoping to win a share of the $500 million in federal aid aimed at early-childhood education in the latest Race to the Top contest face this challenge: How to get lasting benefit from one-time grants much smaller than the first few rounds of the school improvement initiative.
Experts say projects likely to give the most bang for the buck include building and coordinating state data systems to track children from early-childhood programs into elementary school and beyond, creating and expanding quality-rating and improvement systems for child-care providers, and strengthening the use of assessments to measure both individual children's progress and the caliber of the programs they attend.
"We don't need bubble sheets for 3- and 4-year-olds," said Marci Young, the policy director for Pre-K Now, a Washington-based research and advocacy arm of the Pew Center on the States. "We need real assessments, a lot of observational things. It's a more complicated process to understand where children are, but it can be done."
The latest round of the Obama administration's signature education improvement program was made possible by the fiscal 2011 budget deal Congress passed in April, which poured a fresh $700 million into the Race to the Top. The program was originally passed as part of the American Recovery and Reinvestment Act of 2009.
U.S. Secretary of Education Arne Duncan chose to put most of that new money into early education, while keeping a $200 million slice to award to runners-up from last year's competition, in which 11 states and the District of Columbia split $4 billion.
The new Race to the Top-Early Learning Challenge is open to all states, with grants ranging from $50 million to $100 million, depending on a state's population. That could be especially attractive for small states, which were eligible for maximum grants of $75 million in the first edition of the Race to the Top. For big states, $100 million won't go as far; the biggest states in the original competition won $700 million each.
Calling all HuffPost superfans!
Sign up for membership to become a founding member and help shape HuffPost's next chapter