Many U.S. states have incarceration rates that top any major country's. Even Massachusetts, the state with the lowest incarceration rate, outranks 161 countries with the number of people it imprisons, according to the Prison Policy Initiative.
The advocacy group ranked incarceration rates for U.S. states, including the District of Columbia, and compared them with 170 countries that have a population of at least 500,000 for a recent study.
D.C. tops the list, with an incarceration rate of 1,196 people per 100,000. Louisiana is a close second, with 1,143 people per 100,000. Massachusetts was lowest, with 330 people per 100,000.
The U.S. has the highest incarceration rate in the world, surpassing countries that are politically unstable or beset by civil war, the study notes. Second place goes to Turkmenistan, which the U.S. Department of State condemned in 2015 for human rights violations, including "arbitrary arrest; torture; [and] disregard for civil liberties." Thirty-two U.S. states have higher incarceration rates than Turkmenistan.
"Our rate of incarceration is more than five times higher than most of the countries in the world," the Prison Population Initiative study says. "Although our level of crime is comparable to that of other stable, internally secure, industrialized nations, the U.S. has an incarceration rate that far exceeds every other country."
Below is the top of a graph from the study. U.S. states are represented in red, and countries are shown in blue. See the interactive graph in its entirety here.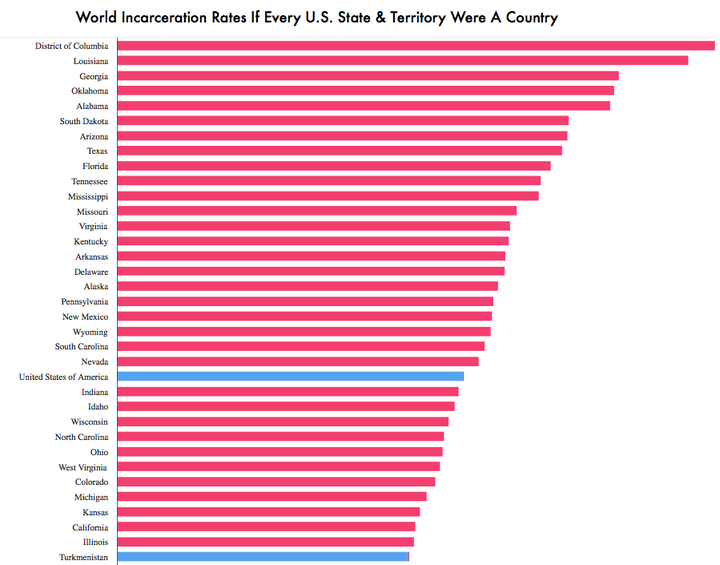 Compared with U.S. allies, as shown in the graph below, the American incarceration rate is off the chart.
Among countries with comparable GDP, such as China, France and Germany, the U.S. has nearly six times the number of people in prison. This is no surprise, considering state and local governments have been prioritizing incarceration over education, with spending on prisons and jails increasing at triple the rate for schools over the last three decades, according to the Department of Education.
"Even the U.S. states that incarcerate the smallest portion of their own citizens are out of step with the larger community of nations," the Prison Policy Initiative study notes. "As U.S. states continue to reevaluate their own hefty reliance on incarceration, we recommend that they look to the broader global context for evidence that incarceration need not be the default response to larger social problems."
CORRECTION: An earlier version wrongly said the U.S. spends more on corrections than education. This article has been edited to note that state and local government spending on corrections has increased at a far faster rate than for education over the last three decades.
Calling all HuffPost superfans!
Sign up for membership to become a founding member and help shape HuffPost's next chapter
BEFORE YOU GO
PHOTO GALLERY
Visions From The Inside Prison Art