WASHINGTON -- A lawsuit against the president over his immigration actions has caused awkwardness in some states, where governors and attorneys general are divided on whether they should sue President Barack Obama or defend him.
The lawsuit, signed by 26 states and filed last December in Texas, asserts that the Obama administration overstepped its constitutional authority by creating a program to give work authorization to some undocumented parents of citizens and legal residents, along with those who came to the U.S. as children.
Twelve states and the mayors of more than 30 cities signed on to amicus briefs in January supporting the the executive branch's right to exercise prosecutorial discretion and focus on deporting some undocumented immigrants over others. A U.S. district court judge is expected to issue a ruling on the state's request for an injunction soon, potentially before Feb. 18, when the first of the president's immigration executive actions take effect.
The lawsuit and the states' amicus brief caused a split between some attorneys general and governors. Because attorneys general retain the right to legally represent states, some Republican governors publicly opposed to Obama's actions have unwillingly found their state's name on the amicus brief. And some states with attorneys general who support immigration reform are part of a lawsuit against the actions.
The Huffington Post contacted the offices of attorneys general and governors in nine states currently signed onto the lawsuit or amicus brief where the governor and attorney general represented opposite parties. In many instances, the two offices disagreed on the legality of Obama's actions, or were not notified before their counterpart weighed in.
In several cases, Democratic attorneys general signed onto the amicus brief in support of Obama's executive actions without the backing of their state's Republican governor. Iowa Attorney General Tom Miller's office told The Huffington Post that his office joined the amicus brief without the governor's approval. The spokesman for Iowa Gov. Terry Branstad (R) said the governor was initially approached about joining the lawsuit against the president, but declined.
The opposite is true for Montana and West Virginia, where Republican attorneys general signed the lawsuit and the Democratic governors did not. Although an attorney general isn't required to notify the governor before taking legal actions, they often do as a courtesy. This wasn't the case for Gov. Earl Ray Tomblin (D-W.V.), whose office told HuffPost that he learned when the public did that Attorney General Patrick Morrisey (R) had added the state onto the lawsuit.
In Maine, Mississippi and North Carolina, where the governor rather than the state is listed as a plaintiff on the lawsuit, Democratic attorneys general declined to back the governor. North Carolina Attorney General Roy Cooper (D) discovered in the news that Gov. Pat McCrory (R) decided to back the suit, according to Cooper's office. Maine Attorney General Janet Mills (D) and Governor Paul LePage (R) are publicly at odds over the legality of the president's actions. A spokesperson for Mills said that she opposed LePage's decision to add his name to the lawsuit.
A spokesman for Gov. Susana Martinez (R-N.M.) said she was not consulted before Attorney General Hector Balderas (D) signed on to the amicus brief. Officials from the governor's office emphasized that the attorney general acted unilaterally, but did not answer whether the governor believes that Obama's actions are legal.
In some of the split states, the governor wouldn't directly say whether they opposed the attorney general's actions. Massachusetts Gov. Charlie Baker and Maryland Gov. Larry Hogan, both Republicans, did not respond to The Huffington Post's request for comment on their states joining the amicus brief. When asked whether he knew about or backed Illinois Attorney General Lisa Madigan's (D) decision to sign the amicus brief, a spokesperson for Republican Gov. Bruce Rauner declined to comment.
Some attorneys general disputed the president's immigration policies, but maintained support for immigration reform more broadly. Attorneys general in Idaho and South Dakota are listed on the lawsuit, but also signed onto a letter in December urging Congress to pass immigration reform.
Indiana Attorney General Greg Zoeller, who also signed the letter, hired a special outside counsel to represent the state in the lawsuit against the president. Though Zoeller said in a letter to Indiana's governor that the attorney general "shares [the governor's] concerns about the unilateral executive action to address matters entrusted to Congress," he won't say if he disagrees with the suit.
Nevada Gov. Brian Sandoval (R) has also embraced this argument, after Attorney General Adam Laxalt (R) joined the suit last month without telling him. Sandoval said in November that immigration reform must be handled with "a legislative solution, not a unilateral decision made by the executive branch." But he distanced himself from the state's attorney general when he announced the lawsuit.
"Gov. Sandoval's position on President Obama's executive order has not changed since his announcement in November. He believes our immigration system is broken and it is without question that comprehensive reform is necessary," spokeswoman Mari St. Martin told the Las Vegas Sun. "He continues to believe that the best course of action is a legislative solution rather than legal action."
Mississippi's Attorney General Jim Hood (D) signed the December pro-immigration reform letter, but a spokesperson said that Hood "doesn't know the answer" to whether Obama's executive actions are constitutional. Mississippi Gov. Phil Bryant (R) signed the lawsuit without Hood's legal backing.
Challenging political and demographic realities may offer clues into the hesitancy of blue and border state governors to take a firm stance. Newly elected governors such as Rauner, Baker and Hogan distanced themselves from hard-line conservatives during the 2014 elections, and were rewarded with crucial Democrat and moderate voters.
In New Mexico, where Latinos make up 47 percent of the state's population, Martinez has benefited from relatively high support among Latinos who are strongly in favor of the president's actions. Illinois' Latino population -- the fifth-largest in the country -- grew by 38 percent between 2000 and 2010. The picture is even more dramatic in Iowa, where the Latino population grew by 104 percent in the last decade.
All of this serves as a backdrop to a similar fight playing out between the two parties in Congress. Congressional Republicans are insisting that a bill funding the Department of Homeland Security must block Obama's executive actions, putting the department at risk of a shutdown when current appropriations run out on Feb. 27.
See where all of the states stand: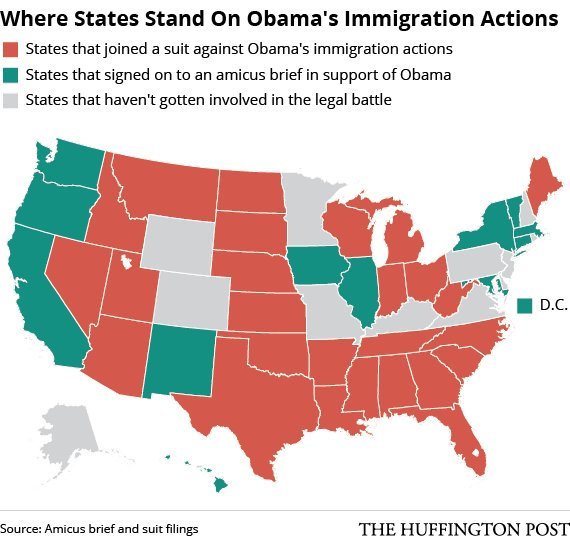 Graphic by Alissa Scheller
States that joined a lawsuit against the Obama administration: Alabama, Arizona, Arkansas, Florida, Georgia, Idaho, Indiana, Kansas, Louisiana, Maine, Michigan, Mississippi, Montana, Nebraska, Nevada, North Carolina, North Dakota, Ohio, Oklahoma, South Carolina, South Dakota, Tennessee, Texas, Utah, West Virginia and Wisconsin.
States that signed an amicus brief in support of Obama's actions: California, Connecticut, Hawaii, Illinois, Iowa, Maryland, Massachusetts, New Mexico, New York, Oregon, Vermont and Washington state, along with the District of Columbia.
States that have stayed out of the matter: Alaska, Colorado, Delaware, Kentucky, Minnesota, Missouri, New Hampshire, New Jersey, Pennsylvania, Rhode Island, Virginia and Wyoming.
Elise Foley and Jesse Rifkin contributed reporting.

Calling all HuffPost superfans!
Sign up for membership to become a founding member and help shape HuffPost's next chapter
BEFORE YOU GO
PHOTO GALLERY
Why Latin Americans Really Come To The U.S.