A number of states and cities will continue to ban government-funded travel to North Carolina due to the state's failure to totally repeal HB2, the anti-LGBTQ law that barred transgender people from using the bathroom that corresponds with their gender identity.
Although theNCAA ended its boycott against the state once a repeal bill was passed, many of the states and cities that banned nonessential official travel to North Carolina last year have decided the new bill doesn't adequately protect LGBTQ people.
"California's law was enacted to ensure that, with limited exceptions, our taxpayer resources are not spent in states that authorize discrimination on the basis of sexual orientation, gender identity, or gender expression," the state's attorney general, Xavier Becerra (D), said Wednesday in a statement. "North Carolina's new law does not cure the infirmity of this type of discrimination."
"We must continue to stand up for the rights of all people," Washington Gov. Jay Inslee (D) said Thursday. "North Carolina is continuing discriminatory policies and this is not something the state of Washington condones or supports."
State lawmakersapproved legislation last month that repeals the so-called "bathroom bill," but the new law bars cities from passing ordinances that expand nondiscrimination protections for LGBTQ people. It also bans municipalities and the University of North Carolina from regulating bathroom access without the legislature's permission.
LGBTQ rights advocates have strongly criticized those provisions. Human Rights Campaign President Chad Griffin said the new bill, HB142, "doubled-down on discrimination." He also accused North Carolina Gov. Roy Cooper (D) and the legislature of fueling "the flames of anti-transgender hate."
Equality NC, the state's largest LGBTQ advocacy group, praised the cities and states continuing to oppose the North Carolina law.
"Cities across the country are seeing HB142 for what it really is — a fake repeal of HB2," the group's executive director, Chris Sgro, said in a statement. "The new law continues to make North Carolina the only state in the nation to reserve for itself the exclusive ability to regulate bathroom access and one of only three states to ban cities from passing crucial non-discrimination protections."
Other places that have reissued bans or are maintaining existing ones are Minnesota; Chicago; New York City; Seattle; Atlanta; Los Angeles; Salt Lake City; Cincinnati; Washington, D.C.; Portland, Oregon; Portland, Maine; Baltimore; Burlington, Vermont; San Francisco; Oakland, California; West Palm Beach, Florida; Wilton Manors; Florida; and Palm Springs, California.
Before You Go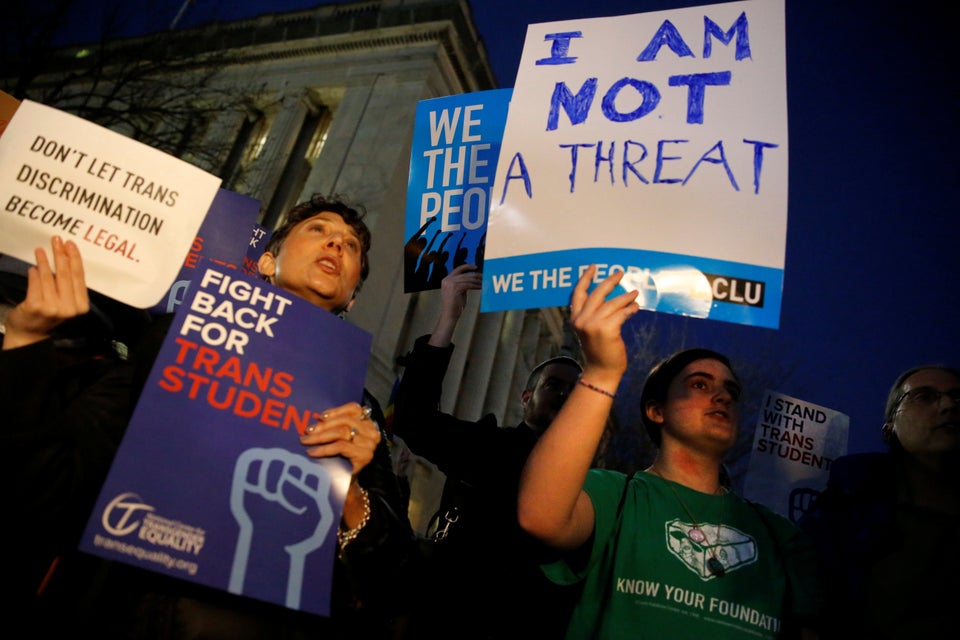 LGBTQ Groups React To Trump Revoking Trans Protections
Popular in the Community