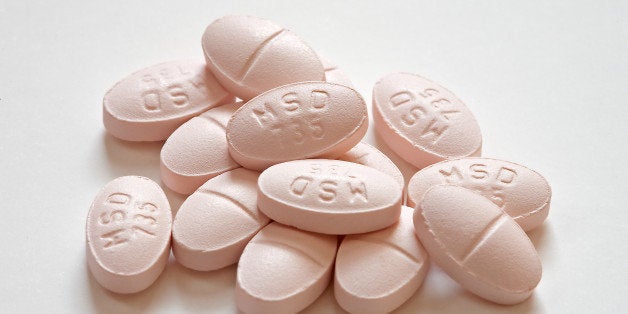 Statins are widely used, but a new study finds that these cholesterol-lowering drugs may significantly raise your risk of developing cataracts, according to a new study published in the journal JAMA Ophthalmology. Researchers are now questioning whether the benefits of these drugs outweigh the risks, which include a host of side effects such as liver damage and diabetes.
Researchers from the San Antonio Military Medical Center in Texas looked at data on 46,249 patients, more than 13,000 of whom were regular statin users for at least 90 days, and found that when compared to non-statin users, those who took the drug were approximately 40 percent more likely to develop cataracts, calling into question the prudence of prescribing these drugs.
"Weighing the benefit-risk ratio of statin use, specifically for primary prevention, should be carefully considered," the researchers, led by Jessica Leuschen, MD, a researcher with the San Antonio Military Medical Center, wrote in the study.
Cataracts are one of the leading causes of blindness, and annual healthcare costs can exceed $4 billion in the U.S. alone, according to the study, which makes identifying risk factors for the condition a priority.
Conflicting Research on Statins and Cataracts
But while this study found an increased risk for cataracts with statin use, previous studies have come to much different conclusions, said John Higgins, MD, Chief of Cardiology at Lyndon B. Johnson General Hospital in Houston.
"There are a number of small studies, such as this one, that show that statin use can raise risk for cataracts, but much larger studies don't show the same association," Dr. Higgins said. "There may be some particular people who are at a higher risk for cataracts when it comes to statin, but that's not generally the case."
Recent research presented at the European Society of Cardiology Congress looked at data from on more than 2 million patients who took statins for nearly 5 years and found, contrary to this study, that statin use actually resulted in a 50 percent reduced risk of cataracts.
"I'm not too impressed with the [JAMA] study," Higgins said. "I believe that statins can be very beneficial."
And while the cost of cataracts can exceed $4 billion, healthcare costs for heart disease that could be prevented by statins is cab cost more than $200 billion and is growing rapidly, he said, which makes it clear that the small risk is far outweighed by the benefits.
"Heart disease is expected to cost $800 billion by 2030," Higgins said. "It's important to look at the [$4 billion] in context."
However, Higgins added that statins are not his first line of defense for someone with high cholesterol.
"There are issues with statins, so I try to minimize them," he said. "When I'm treating someone for high cholesterol, I try to get them to change diet and exercise before prescribing statins. If you can get by without it, that's the way to go. But some people simply need these drugs."
And while he urged patients to speak to their doctors about whether statins are absolutely necessary, Higgins said he would take this study with a grain of salt.
"Make sure you talk to your doctor before making any changes," he said, "but I wouldn't make any changes based on this study."