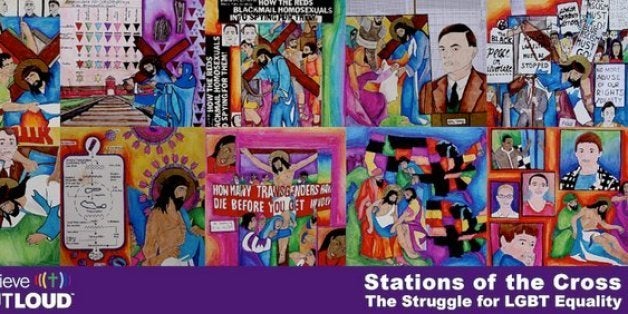 Every year, artist Mary Button makes a series of paintings depicting the Stations of the Cross that relate the story of Jesus' sufferings to people currently being marginalized in society.
Believe Out Loud, an online network for Christianity and LGBT justice, commissioned the paintings last year. They were displayed in Washington, D.C. in March 2013 during the Supreme Court hearings on DOMA / Prop 8. Button commented, "In every decade of the last two centuries, there are deeply troubling and painful examples of the marginalization of LGBT peoples. In the sacrifices of martyrs of the LGBT movement, we can come to a new understanding of the cross."
This Lent, the important series will be in New York, at St. John's Lutheran Church in the West Village, displayed throughout Holy Week from April 13-20. Pastor Mark Erson said in a press release that the exhibition "furthers St. John's mission to communicate that God is present with all people in our joys and in our struggles."
CORRECTION: A previous version of this article referred incorrectly to GRID as "gay related infectious disease."
Calling all HuffPost superfans!
Sign up for membership to become a founding member and help shape HuffPost's next chapter