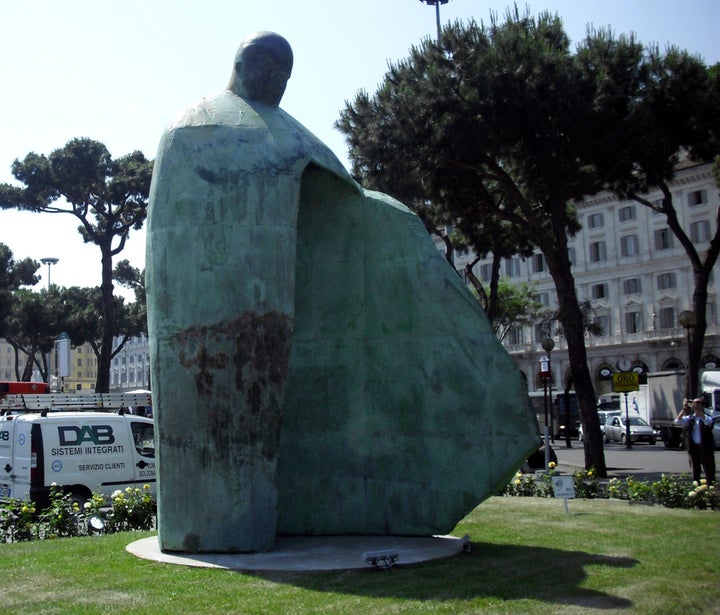 By Alessandro Speciale
Religion News Service
The 16-foot statue stands just outside the city's main railway station but, since last May, it has been met by harsh criticism by locals and art experts alike.
The Vatican newspaper, L'Osservatore Romano, criticized it for bearing "little resemblance" to the image of the late pope and described the head as "excessively spherical." Federico Mollicone, president of Rome's city council culture commission, called the statue "a permanent and sacrilegious mud stain" on the memory of John Paul II.
More than eight out of 10 people who responded to a poll by the newspaper Il Messaggero said they didn't like the statue, and Rome Mayor Gianni Alemanno was forced by the criticism to form an "experts' commission" to evaluate its fate.
Now, scaffolding has surrounded the statue, and in the coming weeks it will get a new head, the pope's cape will be modified and the sculpture will be placed on a higher pedestal. Its outer layer of paint will be restored after rain and smog turned the bronze green, and new lighting will be set up around it.
Last May, sculptor Oliviero Rainaldi responded to criticism saying the foundry didn't adequately execute his design.
The statue is hollow inside, leading many to compare it to "a sentry box." Rainaldi said the design was meant to showcase the late pope's desire to welcome humanity.
Related
Popular in the Community