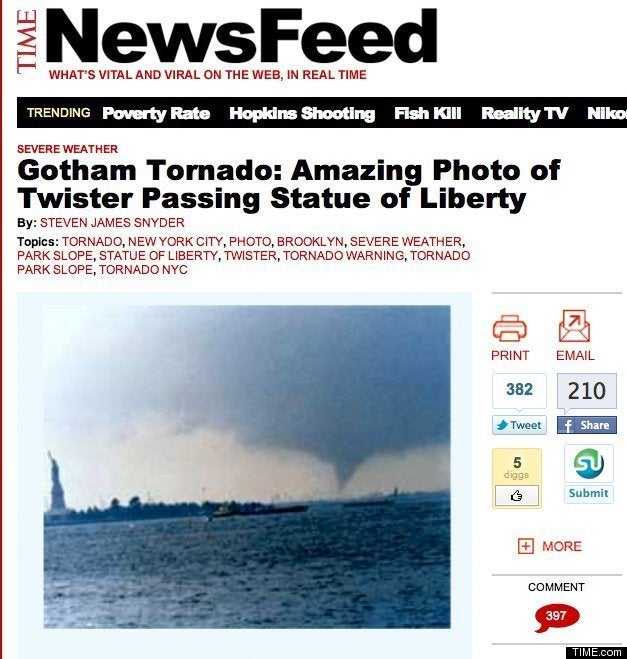 It's 2010. That means we can get lazy and just grab photos from Twitter and call it journalism, right?
Absolutely not. Journalists must do a better job vetting the information and multimedia that flows from social networks. We are making it far too easy for folks to dupe us. Especially in situations of chaos, when we're most vulnerable.
Case in point: tonight's severe weather in New York. TIME published a photo from Twitter on its website of a "tornado" passing the Statue of Liberty. In fact, TIME devoted an entire news story to this photo headlined, "Gotham Tornado: Amazing Photo of Twister Passing Statue Of Liberty." Here's a screenshot: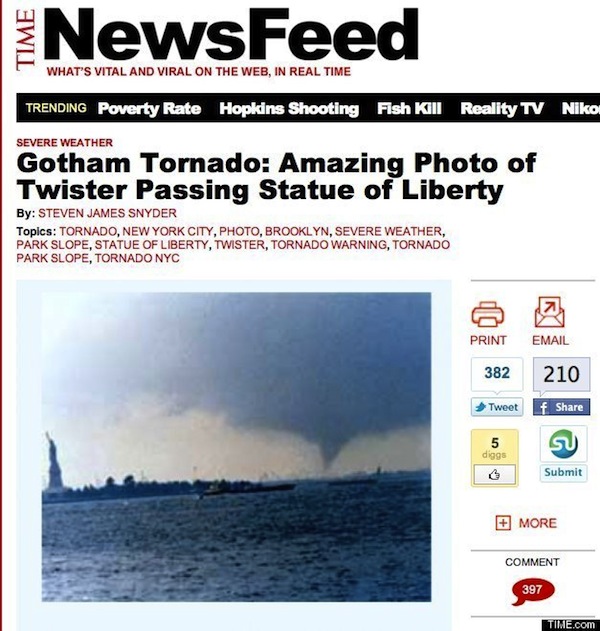 The writer Steven James Snyder marveled at the photo, writing "the image above may be once in a lifetime."'
TIME tweeted it -- to StumbleUpon no less, to give it more viral potential. "Photo: NYC tornado passes Statue of Liberty |http://su.pr/2IIEto" they wrote. Needless to say, it got retweeted a bazillion times and did indeed go viral on Twitter, Facebook, and everywhere else.
The problem isn't that the photo was fake. The photo is authentic. The problem is that the photo was taken on July 7, 1976, when a tornado actually could be seen sweeping along behind the Statue of Liberty.
The National Weather Service Forecast Office features the epic photo of the F1 Tornado on its official site here.
And the photo is documented in The Tornado Season of 1976 by Allen Pearson, Frederick Ostby Jr., and Larry Wilson, a book published in affiliation with the National Weather Service.
That photograph is described as follows in the book: "The Statue of Liberty Tornado on 7 July 1976 as seen at a distance of about 2.5 miles from The Battery. Tornado formed near the Jersey City waterfront."
Furthermore, the Farmers' Almanac tweeted about the famous incident just this year on July 7 -- on that date in history: "RT @wxhistorian: 7/7/1976: Statue of Liberty Tornado formed near Jersey City, passed close to Ellis Island and moved up the Hudson."
So how did TIME react when confronted with the mistake? TIME deleted the tweet after I tweeted them stating it was an incorrect photo, but issued no new tweet issuing a correction.
On the article itself, TIME posted a correction at 7:40 p.m., more than an hour after publishing the piece: "Twitter, and Dave Carlson, have led us astray. The image is from 1976... but the video is indeed from Thursday. Original story follows"
It's important to keep in mind that this could have happened to any news organization and to any journalist. But we do need to be a lot more careful vetting information and making sure we get it right before passing on to the world.
UPDATE: Snyder, author of the post in question, responded to me on Twitter tonight. He says, "thanks for bringing it to our attention. And quite embarrassed...." "we were just trying to catch photos that were being posted in real-time, not sure why the gentleman posted that today...."
UPDATE(2): Snyder deleted these tweets Friday morning, but I had captured a screenshot of them here. It's important to point out they were sent from his public profile as public replies.
UPDATE(3): TIME had cited Dave Carlson (@TheDaveCarlson) as the original Tweeter of the photo above. Carlson tells me via private messages on Twitter (he gave permission to republish here): "Found it on Google searching NYC Tornado. Merely to mess with friends and when asked I told them it was fake. A friend told me TIME posted and I couldn't believe it. I wasn't asked by him if the photo was real or not.. I got off my train stop and saw I had tons of @ replies. Not my intention whatsoever. Pretty ridiculous and I hope he didn't get in any trouble for posting false news."
Related
Popular in the Community