When, on July 4th, the Statue of Liberty re-opens with fanfare, fireworks and patriotic pride, what she has meant, historically, to the bold women of the city she guards will probably not be mentioned.
From the moment of her debut in New York harbor on October 28, 1886, the Lady With the Lamp was a sitting duck for activists, who saw her as ready image of hypocrisy. "American women have no liberty" read the placard held by Lillie Devereaux Blake, president of the city's only votes-for-women organization, aboard a barge bobbing in the Hudson river before the eyes of thousands of spectators. On the official platform, from which women had been barred, President Grover Cleveland took no notice.
As the years went by, the century turned and a new generation took up the fight. The suffrage movement in New York City began attracting to its ranks millionaires and milliners, fashionable ladies and factory workers. The very landscape of the city became the site of political theater. Defying ancient decorum, women paraded on Fifth Avenue, first on foot and then in yellow -beribboned automobiles. They stood atop fountains to speechify, invaded neighborhood street corners to pass out leaflets in many languages.
Protests at the statue on Independence Day became a suffrage movement ritual. Susan B. Anthony came one year, Charlotte Perkins Gilman wrote a declaration to be read years later, and supportive visitors from abroad stopped near the statue for obligatory public statements. In 1915, a state-wide referendum to make New York women full voting citizens failed to pass. Undaunted, redoubled, the movement's efforts grew bigger, bolder and even more modern.
For the 1916 extravaganza, President Woodrow Wilson arrived in the city and boarded the presidential yacht at Manhattan's 79th Street Boat Basin. As he sailed down the Hudson river toward a ceremonial flick of the switch that would bring electric light to the statue, not only were there hundreds of celebrating on-lookers along the route and exuberant patriotic singing, but something new. Up in the sky, a whirring sound. Then the appearance of a phalanx of what were then called bi-planes, each piloted by a single woman, having taken off from a field in Staten Island. The aviatrixes hovered above the yacht, following its course, then criss-crossed the river, bank to bank. From each open aircraft floated bits of paper, like doves descending, but these messages urged not peace, but increasing militancy of the feminist kind. "Votes for Women" the leaflets said.
In November 1917, a second state-wide referendum passed, with votes in New York City leading the way. Finally, the statue lived up to her name; the counter-narrative merged with history and New York women had the right to vote. It would take three more years for all American women to be endowed with same rights and the Statue of Liberty remained implacable through it all.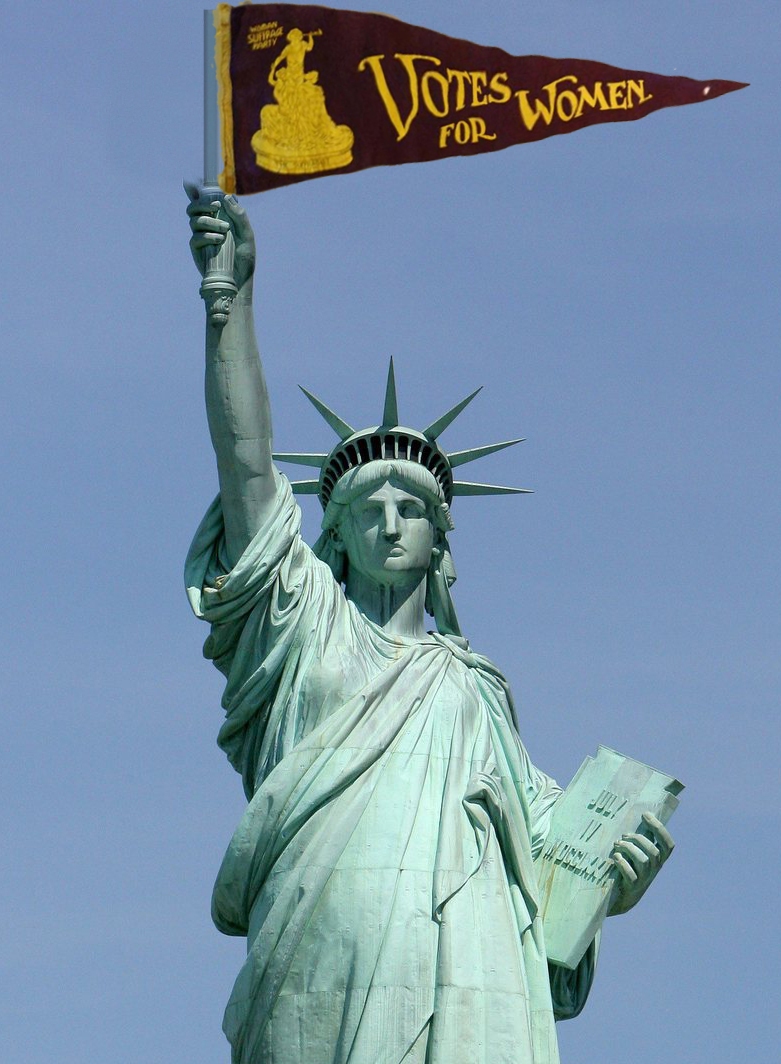 Popular in the Community