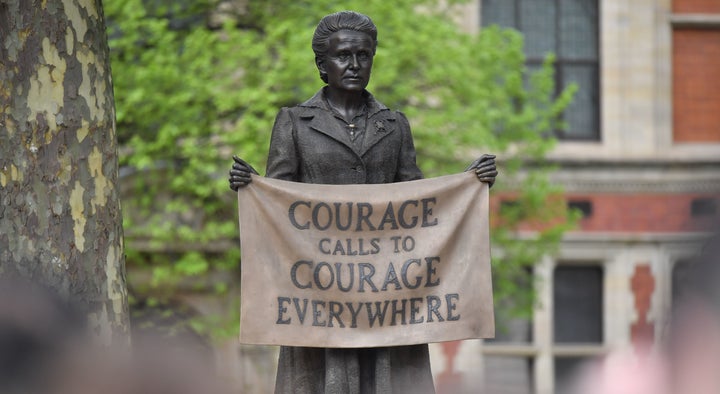 There's a new face in London's Parliament Square, and for the first time, it's of a woman.
A statue of British suffragist and feminist icon Millicent Fawcett was unveiled in the northwest area of London on Tuesday alongside 11 other statues of historic male figures. The bronze statue portrays a 50-year-old Fawcett (around the age she became the leader of the National Union of Women's Suffrage Societies) with her hair pulled back, wearing an unassuming dress and holding a banner that reads, "Courage calls to courage everywhere."
Fawcett is the first statue of a woman and the first statue designed by a woman in the city's historic Parliament Square. The iconic women's rights activist joins the company of statues that include former British Prime Ministers Winston Churchill and David Lloyd George, alongside other international figures like Abraham Lincoln and Mahatma Gandhi.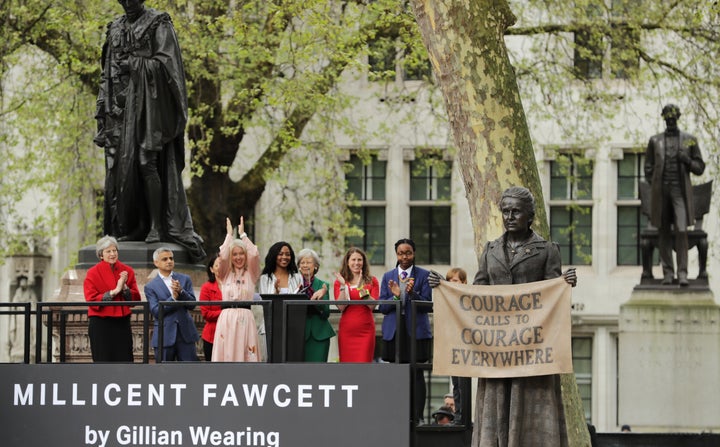 "When you think of the great people in Parliament Square, and when you realize that not one of them is a woman, it sort of begs the question, are we saying there haven't been incredible women in the past? That our country hasn't been built on the back of great women?" London Mayor Sadiq Khan said before the unveiling ceremony.
Hundreds of people gathered in Parliament Square Tuesday to witness the unveiling of the statues, the BBC reported.
Born in 1847, Fawcett was part of the first wave of feminist thinkers who pushed for women get the right to vote. She identified as a suffragist instead of a "suffragette," a historically more well-known title but one used to identify a later wave of more militant women's advocates. Fawcett was radical in her ideology but favored non-violent protest. In 1897, she created the National Union of Women's Suffrage Societies. She died in 1929, a year after women won the right to vote in the United Kingdom.
During the unveiling ceremony, British Prime Minister Theresa May applauded Fawcett and her tireless work that changed the course of the country's history.
"I would not be standing here today as prime minister," May said, "no female MPs would have taken their seats in Parliament, none of us would have had the rights and protections we now enjoy, were it not for one truly great woman: Dame Millicent Garrett Fawcett."
Scroll below to see more photos of Fawcett's statue.