After fighting for marriage equality for the past 10 years it was the most incredible moment when last Thursday we attended a film screening event where the trailer for our short docudrama, Status Unknown, was shown for the first time. It was not only the first time an audience had seen it but it was also the first time me and my wife Laurie saw the trailer. The film depicts the final time I was sent down to border control at Logan International Airport and I was interrogated at length about why I was spending so much time in America. That reason being I was a British woman married to an American but the fact that it was a she and not a he was what made all the difference. I carried our marriage license and even a copy of her passport but that made no difference at all and I was given an ultimatum, stay out of the country for 6 months to a year or risk being banned altogether!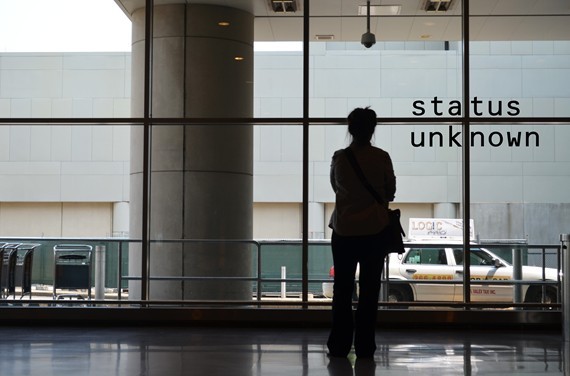 As Laurie and I watched the trailer tears rolled down our cheeks as we were brought back to that terrible time and the decision we were faced with. Our choices were being forced apart from each other for a long period of time, me being separated from my family because if I left the country I might not be able to return or Laurie having to leave the country she loved and a father who was totally incapacitated! Of course none of the choices were good, so we sought out legal advice from as many pro-LGBT associations as we could and what we kept being told was we had to either go under the radar or go public and tell our story to anyone who would listen.

So we embarked on going public with our story and soon we were getting so much support not only from family and friends but politicians, celebrities and sports stars not mention our LGBT allies from around the world. Our supporters included New York Congressman Jerry Nadler, Massachusetts Congresswoman Niki Tsongas, Oscar nominee Sharon Stone, actor Ellen Pompeo, tennis champ Martina Navratilova to name just a few. Our story even made it to the US House of Representatives Judiciary Committee, but it was still a frightening time as I actually had to outstay my Visa and I had never done that before, I literally walked around with emergency contact numbers for our lawyer and LGBT support groups who would be able to help if needed.
Because of trail blazers Roberta Kaplan and Edie Windsor, Laurie was able to sponsor me for my green card and that is why we are dedicated our film to these two great women whom we owe so much. Even though we now have marriage equality across the USA our film still has a very important message, it tells of our personal battle and culminates with messages of LGBT support from our amazing LGBT allies both celebrities and everyday people, with this we want to promote a positive message to anyone who might need to feel supported. Right now there is so much a stake with election campaigns going full throttle and when we are constantly hearing from the GOP candidates about how they want to reverse marriage equality and how each of them is standing on a platform of antigay ideology it scares me. We can't go backwards on LGBT equality, so we are hoping that everyone who stands for LGBT inclusion will watch and share our trailer and help us to keep getting the message out about the importance of acceptance on every level for all LGBT.
Laurie and I wrote Status Unknown to help change hearts and minds and we have been astounded by the incredible cast and crew who have each played such an important part in turning our true story into a film. We are so proud of our director, Cate Carson, who not only directed the film but also portrays Laurie; she is such a talent and immediately jumped on board the project wanting to make a difference, she took our script and so perfectly told our story, we could not have wished for a better interpretation. It was important to us to have people involved who really believed in our story and our fight for equality and Cate certainly does and our other leading lady, Laura Putnam who portrays me, is also a staunch equality supporter, she told us it is the project she is most proud of. Our film is set at Logan International Airport Massachusetts and one thing Laurie and I wanted was to actually film there, the reason being that is where we met for the very first time and it was also the place that brought us so much heartache! Securing an airport as a film location is no mean feat, especially on a meager budget raised by entirely by donations, but we pulled it off. As we watched our cinematographer, Joseph Lavallee, throughout the day of filming we knew our story was in great hands. After filming at the airport our producer and editor, Justin Plasse, worked tirelessly on putting the footage together and you can see from the trailer what a brilliant piece of work he produced.
Although we have completed filming we are still in need of donations to help complete post production and time is of the essence as we need to get this film out there to promote LGBT acceptance and inclusion during this uncertain time for America. Please add your voice to ours and we can keep up the momentum to change hearts and minds, everyone deserves the right to love who they choose #LoveIsLove! Follow Status Unknown
REAL LIFE. REAL NEWS. REAL VOICES.
Help us tell more of the stories that matter from voices that too often remain unheard.