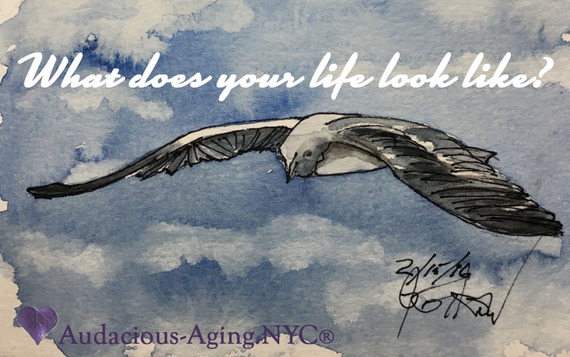 By 2030, the number of Americans 65 and older will grow from 40.2 million to 72 million, according to the New York Times. Corporations, the advertising industry, and an awful lot of the rest of the population are paying little attention to this thriving demographic - especially to the fact that the majority are not ailing. In New York City, the population age 85 and up has grown at five times the rate for the city as a whole, doubling since 1980.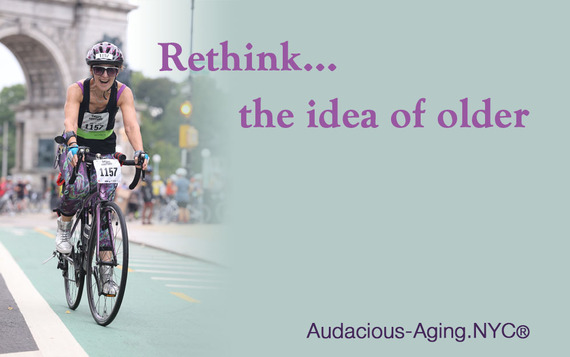 Rethink the Idea of Older
We have this idea of 'successful aging'. For many people, the argument is, "if I can't be like I was when I was younger, I don't want to enter old age." Social science supports this, and tends to define old people by their disabilities. But people don't define themselves that way.
Some of the blame for our ambivalence about getting older is the pervasive effects of ageism in our society. Whether it's the media or pharmaceutical companies, we're bombarded with messages about how we're going to start falling apart, our bodies losing vitality and our minds losing acuity, and this makes the prospect of getting older somewhat depressing; but with aging as with anything else, it can be a self-fulfilling prophecy. If we instead focus on what is important to us, we can look forward to actually becoming healthier and happier.
What does your life look like?
Picture yourself at age 65, 72, 89--however old you will be in five years. What vision makes you feel satisfied? Where will you be? The biggest danger of all the dangers in the world is often limiting thoughts about our potential. If we state the same fear-based beliefs over and over again, we limit our lives.
You most likely are happier than you used to be.
A number of studies find that people's levels of happiness climbed between the ages of 65 and 85 -- and beyond. And happiness isn't necessarily driven by things that happen in life. It's something very deep and quite human within us.
You are as old as you feel.
The research supports the saying that age is just a number. When you are young, this sounds like a cliché. But as you get older, you get it. Some people much older than you stay vital, keep active and live life to its fullest. Others shut down at the first sign of needing reading glasses. It really is the attitude we bring to the table. A study of over 600 people showed that those with positive perceptions of their own aging lived an average of 7.5 years longer than those without.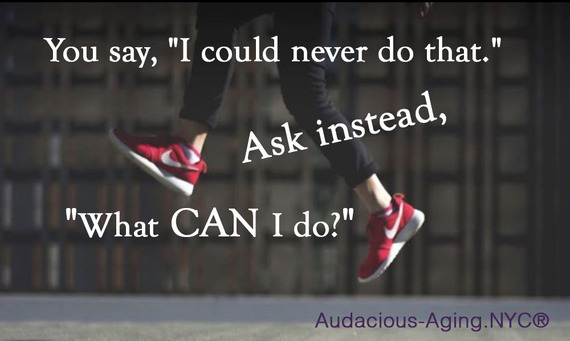 Do you know what you want to do when you get old?
A while back, a friend of mine gave a talk about people's perception of "old". What his research showed him was that people tended to think "old" was about 15 years older than they were now.
Think about this: At the age of 89, Doris Haddock walked the 3,200 miles between Los Angeles and Washington DC, in 14 months. Kimani Maruge enrolled in first grade at 84. Grandma Moses began painting at 75, and lived to 100, still painting. At 93, Tao Porchon, is a master yoga instructor, and ballroom-dancing competitor. Mieko Nagaoka, took up swimming at the age of 80 and at 100 became the world's first centenarian to complete a 1,500-meter freestyle swim. At 103, Hidekichi Miyazaki holds the world record for the 100-meter dash in the 100-to-104 age category in a respectable 29.83 seconds.
What can YOU do?
I know sometimes keeping active can be a challenge, particularly when your favorite show is on TV, or you're tired and all you want to do is relax. And I get it; you're busy. Maybe you don't want to run a marathon or write the next great novel.
Luckily there are plenty of ways to be more active -- and not all of them involve gym memberships, hanging off rock faces, or doing death defying trampoline moves. The list of options about the range of activities that can help you get active and healthy is extremely long. And there are easy, small changes you can make to your lifestyle today, that will help you to be more active.
The point is we're all capable of continuing to climb higher on the rungs of our ladder of potential. There are (at least) three ways of being that can keep us actively engaged in living well.
Discard the myth, "You can't teach an old dog new tricks" We're all capable of learning and growth in some ways. Holding onto this belief keeps us stuck and doesn't allow for growth.
Keep an open mind This means, being open to new possibilities instead of doing what we've always done.
Practice curiosity When we're curious, the world is our oyster. Keep a spark of excitement and wonder alive. Remain involved, engaged and interested. Curiosity encourages us to explore new ideas, new things.
So, when will you start? I can help you with your health and fitness goals. But, don't contact me because I have all the answers, contact me because you believe I will help you be the best unique person you are.