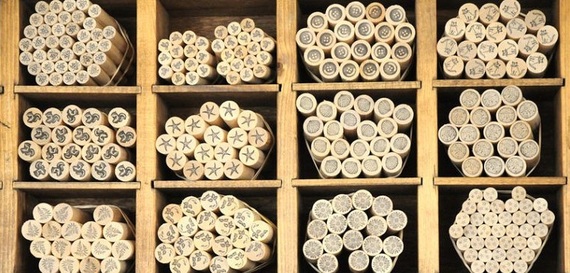 Way back in the day, people used to make a living selling arts and crafts and useful objects they handcrafted. They'd create their products and then meet in the local town square or village market to sell them. While this worked really well, it wasn't necessarily sustainable or profitable enough to keep someone from being impoverished. Your customer pool was also limited to people in your village and to travelers passing by. Today, thanks to technology and the Internet that's all changed. Etsy has given thousands of artisans the opportunity to sell their arts and crafts and related products on their global platform. One of these artisans is Mollie Flatley.
Mollie Flately is the founder of Nora Jane. Nora Jane is a handmade rubber stamp company that Mollie operates from her home. According to handmadeology.com, Mollie is the 8th highest gross selling handmade artisan on Etsy. That's quite an accomplishment. In the six years since she's been selling her handmade rubber stamps on Etsy, Mollie has made over 60,000 sales.
I had an opportunity to interview Mollie and was excited to find out how a stay-at-home mom has been able to help support her family by doing what she loves.
Bringing stories like Mollie's to the mainstream is the mission of I Can Be Society.
Icanbesociety.com chronicles the stories of Internet elite's like Mollie Flatley, who have turned their passion into an enterprise. In my interview with Mollie, she shared her story and encouraging words of wisdom for aspiring artisans.
What inspired you to make and sell your products on Etsy and what inspired the particular type of product you create and sell?
"My parents are full-time ceramic artists, and have been for over thirty years, so I grew up knowing that you could build a life off of creative endeavors if you put enough work into it. My mom was the one who started making stamps, originally making them to use on clay pieces. I caught the rubber stamp bug and we have been making them since 2002."
Why did you decide to sell your products on Etsy as opposed to selling them on your own website?
"Our stamps were a natural fit for Etsy's approach to marketing handmade crafts. Importantly, they also appeal to younger buyers, comfortable shopping online, that normally wouldn't specifically seek out rubber stamps."
When you initially launched your Etsy account, did you ever think that you'd be able to make a living selling your products?
"Absolutely not. I had no idea what I was about to step into. When I first began Etsy I had no expectations for how much I would sell. I started my shop only selling pillows, but later added stamps. After that things got busy."
How many months or years did it take before your business on Etsy became profitable?
"I would say probably about two. I learned a lot by trial and error, figuring out what things worked in listings as opposed to what did not."
Do you currently or have you ever spent money marketing or advertising your products on Etsy? If so, has this been successful or worthwhile?
"Yes. You have to actively promote yourself, but you have to do it intelligently. There used to be ad slots you could purchase on Etsy called 'the showcase', and I did that a bit. I do still pay for search ads on Etsy, which displays one of my shop listings on Etsy when certain search words are entered in by a customer. Both have been worth it for me."
Related
Popular in the Community