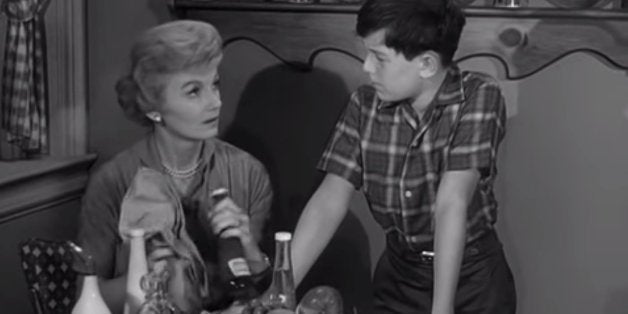 Today's stay-at-home moms are often portrayed as modern-day June Cleavers decked out in head-to-toe Lululemon, shepherding their kids from school to soccer practice and back home for an organic home-cooked meal. They've chosen to step away from the workforce to care for their children.
Yet for a growing number of women, staying home is not a choice. More mothers say they're staying home because they can't find work that pays for the rising cost of child care. Many simply can't find a job at all.
"The economics of parenthood is a real problem in this country," said Anne Weisberg, a senior vice president at the research organization Families and Work Institute. "Income has really been flat and expenses have been climbing -- especially child care expenses. That's the squeeze."
We're at a new moment in the history of work-family balance in America. As middle-class jobs have vanished and low-wage work proliferated, a household in which both parents work outside the home is becoming increasingly unaffordable.
Though the majority of American mothers have outside jobs, the number of stay-at-home mothers is rising for the first time in decades, according to a recent study from the Pew Research Center. There are now about 10.4 million stay-at-home moms in the U.S., according to Pew, or about 29 percent of women with children under age 18. In 2000, that number was 8.4 million.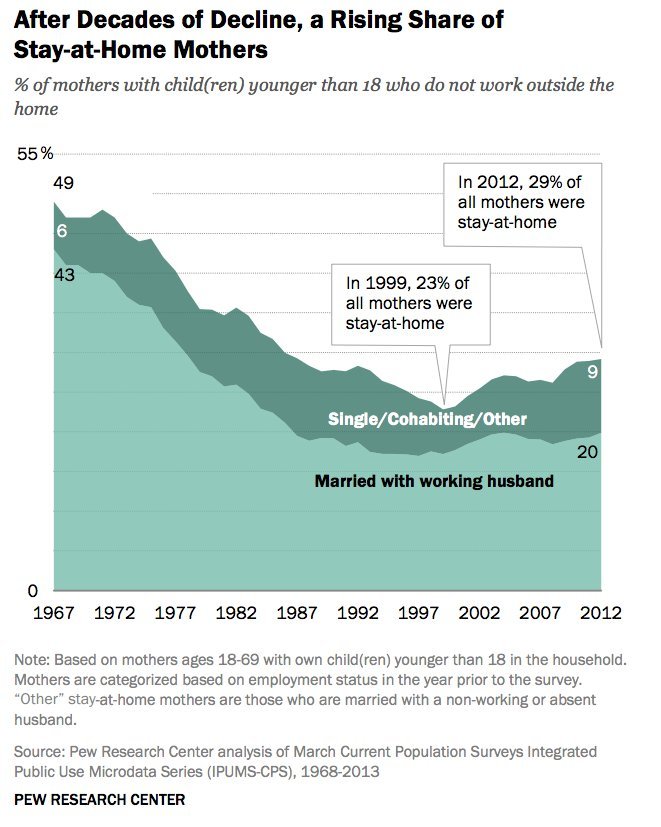 Many of these mothers are struggling: Thirty-four percent of stay-at-home moms are living in poverty, compared to 12 percent of working moms, according to the study. One in five single stay-at-home mothers are on welfare, versus just 4 percent of single working moms, according to Pew.
Wendy Santiago, 31, is currently at home with her 7-month-old and 11-year-old children in New York City while she looks for work. Santiago took time off from her job as a dispatcher for an ambulance company after her daughter was born in October. By the time she was ready to return to work, the company had given away her position.
"There's jobs that I know that I could probably get, but who is going to make it with two kids on 10 dollars an hour?" asked Santiago, who said she has had to pass on job interviews because she couldn't find a sitter. A family in New York City spends on average $15,210 and $10,920 a year for child care for an infant and a school-aged child, respectively, according to a recent release from the office of Sen. Kirsten Gillibrand (D-N.Y.). A job that pays $10 an hour amounts to an annual income of about $20,000, assuming the work is full time.
The obstacles many moms face finding a job that can pay for child care shot into the spotlight earlier this year when a 33-year-old woman in Arizona was charged with a felony for leaving her children in her car during a job interview. Shanesha Taylor told the police she needed the job, which paid above the $10 per hour she'd been seeing, and didn't have any other options. Shanesha Taylor in an undated photo provided by the Scottsdale Police Department.
There are still many American women who choose to stay home with their kids, but the lackadaisical recovery since the recession has shifted the economics of motherhood for many others. Low-wage jobs increased as middle-income jobs grew more slowly. Women have suffered disproportionately from this dynamic, gaining low-wage jobs at a faster clip than their male counterparts and making less money in those jobs, according to a March report from the National Women's Law Center.
In 1970, more than three-quarters of single stay-at-home moms said they stayed at home to take care of their families. In 2012, only 41 percent of single stay-at-home moms said they're staying at home to take care of their families. The same share said they're staying at home because they can't find work, are ill or have a disability.
Doris Fonseca, 46, is new to parenting, but she's already had to navigate these issues. The Perth Amboy, New Jersey, resident gained custody of her sister's children, ages 8 and 14, at around the same time she lost her job late last year. The few employment offers she said she's received have been for $14 an hour, not nearly enough to cover afterschool child care -- let alone rent, car payments and health insurance, she said. At her old job, she was making $45,000 a year.
Since her unemployment benefits were cut off in March, Fonseca dipped into savings to get by. After months of searching, she recently took a contract job consulting for a construction firm, but she's still hoping to find something that's permanent and more secure.
"I didn't realize it was going to be this hard to take care of these children," she said.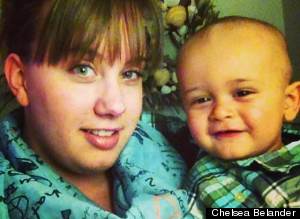 Chelsea Belander with her son, Finn.
Chelsea Belander, 22 and single, lives at her mother's house rent free with her one-year-old son, Finn. Belander doesn't have any income besides the child support payments she receives from Finn's dad and cash she earns from doing small jobs like mowing the lawn. But she's calculated that the $8 to $10 an hour she'd make at the jobs available in her town of Brunswick, Maine, would barely cover the cost of child care, which runs $250 per week for a half day.
"That seems stupid to me," Belander said of working just to pay for day care.
It's not just moms. The number of stay-at-home dads has doubled over the past two decades, according to a recent Pew survey, partly due to the high jobless rates during the Great Recession. A post on the HuffPost Parents Facebook page soliciting comment from mothers and fathers who struggle to find work that pays for child care generated a robust number of responses, some of which can be viewed below.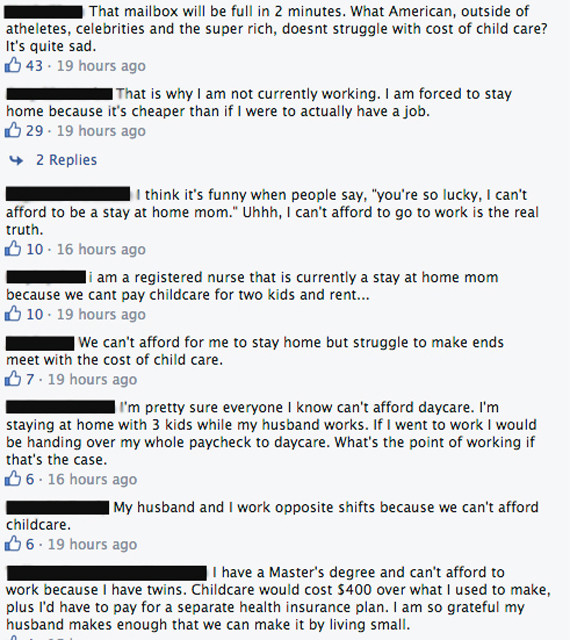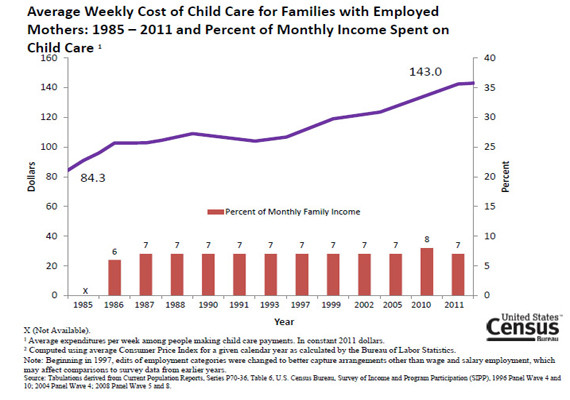 In a household with one worker and one preschool-aged child, the parent needs to make $26 an hour, or about $55,000 a year, on average, to achieve basic economic security in the U.S. -- meaning the parent can afford things like child care and health care and still have enough to save a little -- according to Working Opportunities for Women. For a family with two working parents and one preschool-aged kid, each parent needs to be making about $15 an hour.
For women who don't have bachelor's degrees, such salaries are increasingly out of reach. The difference in earnings between high school and college graduates hit a record high last year. That's because finding a job -- let alone one that pays well -- without a college degree has grown increasingly difficult.
As D'Vera Cohn, a Pew Research Center senior writer and lead author of the study, said, "Those working mothers that have more education presumably can get better jobs and higher incomes so they can afford child care costs more easily."
Related
Popular in the Community