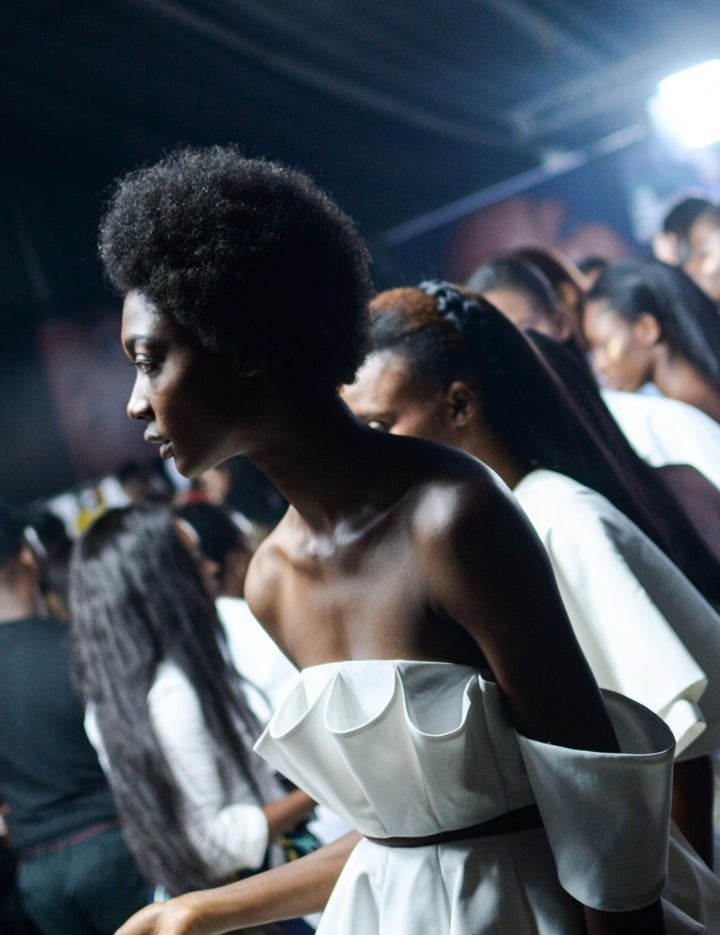 When I heard that 94 percent of black women voters voted for Hillary Clinton in the U.S. elections, I wasn't too surprised. This was an election that hinged on a lot. While arguably Hillary Clinton wasn't the perfect candidate or the most "likable" due to her murky history and accusations of corruption, she was the first female candidate for a major party, and was also up against Donald Trump, an openly chauvinistic, bigoted, racist and unqualified candidate, who is surrounded by the terrifying alt right I-would-fit-right-back-into-slavery times supporters and backers.
You would think it was a no-brainer, right? Well, the polls show that black women certainly did. But we, along with the rest of the world, received a swift and resounding kick in the butt on November 9 when the president-elect emerged as Donald Trump.
You will find a million and one think pieces, in-depth analysis, and just plain old head scratching on how we all collectively got it wrong. But I'm not here to talk politics, or about your run of the mill privileged majority liberal is just now clueing in to exactly how bad the racial divide goes in 2016.
I am here to talk black women.
It hasn't always felt good to be a black woman. We are easily the most vilified, hated and negatively stereotyped women, and race, in the world. Our portrayal by the media easily vacillates between comedic ghetto quips; the ever so popular loud, sassy, angry black woman, and of course the loose, fallen crack whore.
Our beauty is not represented unless it closely resembles our vanilla kin, and we have been dragged through the mud in just about every inconsequential study exploring our attitude, hair, unwanted status, skin tone, to name a few. At some point, I thought my head would explode from the constant pandering by the media on the topic of why black women are deemed so damn undesirable.
But let's talk black women —  the incredible grace and poise, our innate soulfulness, the natural maternal instincts and the need to protect, advocate, and fight for what is right while putting others ahead of themselves. Let's talk about how contrary to popular belief, these are a group of some of the most conservative and classiest women you would ever meet.
Let us talk about how we embrace and defend black men, who constantly humiliate and reject us. How we stand on the front lines and chant "black lives matter!" when our sons, brothers, husbands, hell, plain strangers are getting murdered in cold blood, are being typecast as criminals and are being judged as guilty before proven innocent. Let's talk about the role black women have played worldwide for social justice. Let us talk about "bring back our girls" and other movements spearheaded by the black woman.
Let us talk about how 94 percent of our black women voters stood behind the first potential female president and did our best to play our part to push America on the right side of history. Let us talk about how we were reminded once again that some white women will choose the protection of their whiteness over the solidarity of womanhood. Let us talk about how we were willing to fight for a candidate who we were not entirely sure would fight for us, as opposed to a candidate that made it clear he would not, and how that did not matter to our fellow womankind.
Let us talk about how we are exempt from the fight of "white" feminism, how our issues and concerns are ignored and sidelined. How we have been historically left out in the battle of gender equality and how we do not share the same privileges as women of other races.
But let us also talk about our tendency to include, even when we are almost always excluded. Let us talk about our willingness to participate, to show up and show out and be a part of a conversation when our voices are not welcome. Let us talk about how we continuously stand with those who do not stand with us.
Let's discuss how we changed the narrative of the non-existence of our beauty. How we learned to love our kinks and curls and reject the eurocentric standards that we had adhered to for so long. How we create our own beauty products when they aren't created with us in mind. How we embrace the versatility of our hair and proudly and boldly wear it and protect it however we please.
How we learned to lean into the melanin of our skin and how we wear it as a badge of honor and not of shame. How these fierce young ladies in South Africa stood up for their gorgeous Afro roots in the face of racism and discrimination. How we have to watch in silence as other races are lauded for features that already exist on most black women. How black women have learned to deal with this and other micro-aggressions in our every day lives.
Let us talk about these women in poor third world countries. Women who are fighting sexist and misogynistic views every day as a part of life. Let us talk about those who are educating their fellow women despite all the odds, those who are fighting barbaric traditions, and those who are losing their lives while so. Those who have taken on the causes of women and children and those who are setting the bar high for female achievement in spite of all the barriers. Let us talk about us women who are waking up every day on the wrong side of progress, but know we have a lot to do, and are willing to roll up our sleeves and get it done.
Let's talk about how black women are fierce anyway.
How we are outpacing black men and other groups academically, how we are one of the highest achieving racial groups in the world, how we are known for our innate strength and resilience, how for even longer than the "angry" black women trope has existed the "strong" black woman by-line. How we are known for our entrepreneurial spirit. How we are breaking down doors, shattering glass ceilings, and despite all the foolishness, no matter how many of us they claim are unwanted, unloved, unmarried, unacceptable, we are getting up, getting out, and getting on with our lives.
Let's talk Michelle Obama, Oprah Winfrey, Beyoncé Knowles, Chimamanda Ngozi Adichie, Ellen Sirleaf, Serena Williams, Gabby Douglas, Simone Biles, Misty Copeland, Zadie Smith, Issa Rae, Shonda Rhymes, Saran Kaba Jones, Jeanette Epps, Loretta Lynch, Lupita Nyon'go, Luvvie Ajayi, Ava Duvernay, Aminatou Sow, Minna Salami, Njideka Akunyili, Solange Knowles, Folorunsho Alakija, Ibukun Awosika ― to name a few of the amazing black women around the world who are creating the standard and leaving behind a legacy for other women to look up to.
Let's talk about how we are demanding ― no ― forcefully taking our seat at the table. How we are getting in formation, and unapologetically sprinkling our magic any damn where we please.
(I was going to include a disclaimer about this post not being about exclusion, or bringing anybody else down, but you know what? I am tired of feeling like I have to apologize for blatantly celebrating us in a world that has made it a requirement to do so because no one else will. This one is for us.)
So, I said it, and I can't say it enough: Thank you, Black women. Stay bad-ass fucking lit, as always. I'm proud to be one of you.
This post originally appeared on Medium.
REAL LIFE. REAL NEWS. REAL VOICES.
Help us tell more of the stories that matter from voices that too often remain unheard.
BEFORE YOU GO
PHOTO GALLERY
17 Of The Most Inspiring Tweets From The 'Black Women Did That' Hashtag