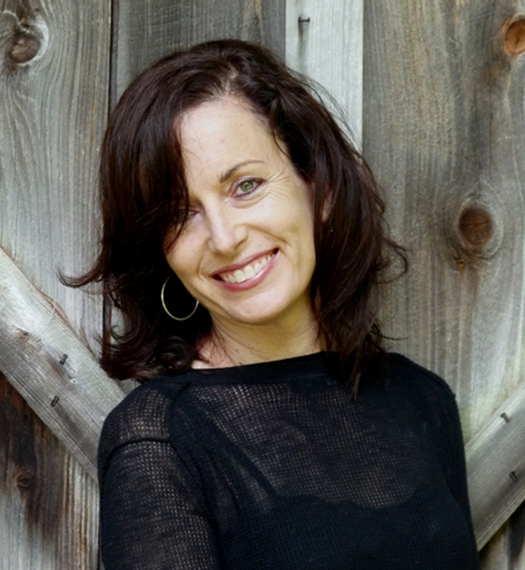 International best-selling author Alison Gaylin received an Edgar nomination for her first book, Hide Your Eyes. Her Shamus Award-winning novel, And She Was, received a nomination for the Thriller and Anthony awards.
In the Brenna Spector series, Stay with Me is the third novel, preceded by And She Was and Into the Dark.
Stay with Me involves Brenna Spector, a private investigator who has "Hyperthymestic Syndrome," a condition in which she recalls each moment of every day since an event of 30 years earlier. The story thrums with suspense, and rewards the reader with a surprising yet plausible conclusion.
I've read many novels involving amnesia. This is the first I've encountered about remembering too much.
I came across Hyperthymestic Syndrome in a 2007 article in The New Yorker. The condition was first named in 2006. When I conceived of it for a novel, some people thought it would be the perfect thing for an investigator to have; but I thought it would be horrible. I couldn't imagine anything worse. To me, our greatest survival mechanism is the ability to forget things. So for me, it wasn't so much the ability to remember things, but rather, the inability to forget that makes Brenna a haunted character. Actually, Brenna's memory is a lot better than mine, so it makes it very challenging and difficult to write her well.
Stay With Me features Brenna Spector who specializes in tracking down missing persons. As a thriller/suspense writer, what makes this situation so intriguing?
With missing persons as opposed to investigating a murder, there's always that sense of hope, which is almost more heartbreaking. There's so much opportunity for drama and emotion when writing about a missing person. There's fear mixed with hope. The psychology of the event is so dreadful. When someone has gone missing, there's an inability to forget, and there's no closure. The situation lends itself so well to storytelling.
You've written stand-alone novels and a series. How would you compare them in terms of technique and structure?
With a series, you can't wrap everything up. In some ways, it's more difficult than writing a stand-alone novel, especially when a reader doesn't realize it's a series. I sometimes get letters complaining the plot wasn't all tied up. On the other hand, there's the luxury in a series of getting to know your characters. You don't have to reveal everything at once. I find that with each book, I get to know my characters better. It's like having a friend.
Stand-alones are very satisfying as well. Anything can happen in a stand-alone novel. You can kill off all your characters. I like surprising readers, and it's easier to do in a stand-alone novel.
Are there any structural problems associated with writing a series?
Yes, it can be difficult getting the pacing of the story right in a series. With this series of three books, I had a plot arc going throughout the three books, in addition to an arc in each one. So, a series can be a bit more complicated from that perspective. It can be difficult to keep the pacing through all three novels. In each book, I have two mysteries occurring simultaneously. It can be a pretty complicated structure.
Not every series is like that. If your protagonist is a detective, a different case can take place in each novel. Of course, the character grows with each book, but each case is different and some of the overall structural problems don't arise. For me, writing this three-book series was a challenge and a great deal of fun.
Do you worry about someone reading Stay with Me before reading the first two novels in the series?
A little bit (laughter). But hopefully, that person will want a prequel. I try to make each book stand on its own, but I think it works better if you read the other two first. A writer must balance the structure of each book so it stands alone and also fits into the overreaching arc of the series.
Where do get your ideas for novels?
I read newspapers and magazines. I find the Crime section of the Huffington Post a rich source for generating ideas.
Do you have a specific technique for constructing a suspense/thriller?
I used to outline, but I don't anymore. I sort of go by that famous quote by Doctorow who said it's like driving a car at night and seeing only as far ahead as the headlights show. I outline maybe three chapters ahead. Eventually, I know where I'm going. I find that once I get there, I do a lot of rewriting and revising. It's hard to get the pacing right in the first draft. But knowing I can rewrite, lets me be freer. I keep all the pages I've cut in a file. For And She Was, I had a cut-file of 250 pages.
Stay with Me describes extensive use of hi-tech devices and situations--smart phones, texting, emails, and chat rooms. How do you see technology impacting suspense/thriller novels?
When these technologies first came out, people thought they would ruin suspense novels. "You'll be able to find people easily," is what I heard very often. But it actually heightens suspense. I love the feeling of paranoia that modern-day technology can create. But, you can still get lost: there are dead zones; burner phones; and phones dying out. If someone can find a way around all that technology, it can make that person all the more intriguing, clever and threatening. I think technology adds a great deal to modern suspense novels.
Stay With Me has multiple threads or plotlines. How do you keep them under control so they don't overwhelm the reader?
I do a lot of that through cutting scenes. In many books where I have multiple points of view, I can fall in love with my secondary characters. In going back over the manuscript, I find myself cutting down those parts so they don't overwhelm or confuse the reader. It's really all about killing your darlings. Some of my favorite writings end up being cut because they don't add to the plot or pacing. So, I stick that into another file, and maybe someday, I'll turn it into a short story.
Do you have a background in writing for television or films?
I don't, but my husband does.
Do you and he brainstorm?
He's wonderful at helping me with structure. I always try to bounce ideas off him. Years ago, I wrote more violent novels than I do now, and I used to ask him questions about those kinds of scenes. When he wrote screenplays, he bounced ideas off me and we went back and forth with each other.

Why are your novels now less violent than those of years ago?
The things that are more frightening to me now are not as outwardly violent. When I wrote serial killer novels, that subject matter seemed so very frightening. But as I've gotten older, other things have more ominous impact: a loved one having a secret; someone not being the person you thought they were; or feeling you didn't do enough to help someone you love. Feelings of guilt, grief and loss--the things we all go through in life. The scariest things are those that can really happen. It's more psychological suspense than what I used to write.
Which authors, in any genre, do you enjoy reading?
I love reading about true crime. In Cold Blood has always been a favorite along with The Executioner's Song. Recently, there was People Who Eat Darkness by Richard Lloyd Parry. I read suspense and mystery fiction, as well as literary fiction like Tales of the City by Armistead Maupin. One Hundred Years of Solitude is one of my all-time favorite novels.
What's coming next from Alison Gaylin?
A stand-alone novel called What Remains of Me. It goes back and forth between 1980 and 2010. It's about a 17 year old girl who spends 25 years in prison for murder. Five years after she's released, she's a suspect in another brutal crime.
It sounds intriguing. Congratulations on having written Stay with Me, concluding the compelling series about Brenna Spector.

Mark Rubinstein
Author of Mad Dog House, Love Gone Mad and The Foot Soldier
Related
Popular in the Community