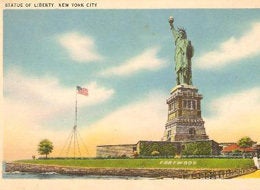 The staycation, which the New York Times' Michael Wilson described last summer as "the absolute cutting edge of the cultural buzz saw" seems like it's, well, here to stay. Despite the significant drop in gas prices, the generally abysmal nature of the economy will likely preclude most of us from jetting off to wherever to soak up the summer sun and snap up souvenirs. Luckily, though, as long as you firmly resist the urge to curl up in front of your television and bask in the air conditioning, you're sure to have a memorable time taking a few days off while staying put.
The most common mistake that people make while staying home during vacation is treating the time as though it were an elongated weekend -- doing laundry, going to the park, dashing off to bbqs... all of which can be highly pleasurable activities (well, minus the laundry), but which together result in something of a slurry of routine. I would highly recommend stepping outside of your weekend routine -- if only for a few days -- in order to feel as though you have truly taken time off.
For Anna Dubenko, 23, a web editor who lives in the Bronx, exploring an unknown area of your city or town is key. "Go someplace where you need a map," she said. "And ask a local where their favorite 'secret spot' is." When pressed for her favorite hide-away in her borough, Dubenko suggested Wave Hill, a 28-acre public garden and cultural center overlooking the Hudson River and Palisades. "It's pretty sweet," she said.
If traipsing out to the nether-corners of your city to explore an ethnic enclave or beautiful park doesn't really appeal, you might instead consider revisiting local iconic cultural landmarks. Your perspective on places like Ellis Island or the Griffith Observatory might well have changed since your last visit however many years go. Or it could be that you never in fact made it to the top of the Empire State Building because it wasn't high on your list of priorities when you first moved to New York. Plus, tourist-laden locales often provide quality people-watching opportunities.
Take advantage of the best parts of staying at home -- being able to sleep in your own bed and not having to pack your clothes and cosmetics into hermetically sealed plastic bags -- while pushing yourself beyond your typical habits or comfort zone. Instead of ordering in from your favorite Chinese place, why not venture to a more authentic Malaysian place across town? Some of the most enjoyable parts of vacation are also the simplest. So if you stop by a museum to take in an exhibition you've been meaning to see for ages, stock up on postcards to send off to your friends. And if you wind up at a local tourist's venue, by all means, take pictures. The current vogue for service-related holidays might inspire you to volunteer at a local soup kitchen or even a community garden for all or part of your time off.
Don't scrimp on the souvenirs, either. Jump over to Kiosk, a brilliant website (and store in SoHo) which curates a wide range of mostly inexpensive products sourced from all over the world that are notable for their straightforward beauty and arranged in country-themed exhibits. Currently, they are showcasing unusual American goods, from elixir-like Floridian sugar cane syrup to fairly all-purpose polka-dotted vinyl tape.
Related