I was a little nervous when I blogged about my mom, Lucy (Lucia) Basile Bradley, celebrating her 94th birthday last year because I didn't want to jinx her!
Well, lo and behold, she, and we, have completed one more trip around the sun, having amassed another 31,557, 600 seconds on this good earth.
And, not surprisingly, my mom is enjoying every minute of it.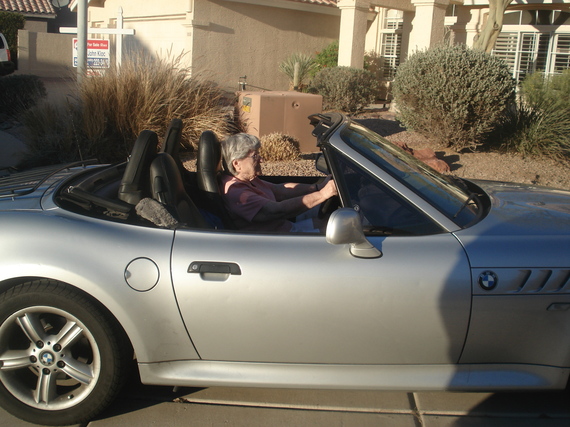 Some of that has to do with her spending the last two months in Arizona, far from the bone-chilling cold and unremitting snow that plagued Wisconsin. And some of it is connected to her Albanian-Italian heritage (her family hails from Castroregio, a town and commune in the province of Cosenza in the Calabria region of southern Italy) that has bestowed upon her an upbeat, feisty attitude.
But a lot of it has to do with that remarkable family cocoon that nurtured her while growing up in the 1920s and 1930s. She admitted this the other day when I asked her what the happiest of her 95 years were. While she paid tribute to the 67 years she was married to my dad (who passed away in 2009), she was quick to admit that she loved growing up in a very large, extremely loud, very close, family. Little Lucia was the youngest of 11 children born to Giuseppe Basile and Maria Donatangelo Basile.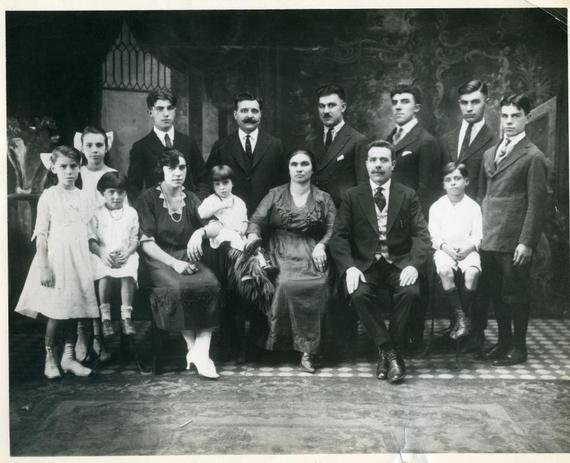 "We always had a lot of fun," she was quick to point out.
And then the stories started coming. About meals and celebrations and cooking and laundry and dishes. About her sister Rose sitting down at the piano after a big meal, playing a song whose lyrics announced: "I don't want to do the dishes." Of sneaking cigarettes and trying to outwit her parents (which never worked). Of feeling a little like a stranger to her eldest brother Clarence, who was two decades older and a veteran of World War I and her strong ties to the brother (Alfred or "Little Al") and sister, whom we called Aunt Helen but whose Italian name was even lovelier -- Sarafina Dominica Basile. I fondly recall Aunt Helen (Sarafina) as lively, funny, and disarmingly honest. During World War II when both their husbands were overseas, she and my mom, each of whom had a newborn, shared an apartment in Philadelphia. Helen was killed in a car accident two decades ago, and a part of my mom has never gotten over her loss. She might have even thought that someday she and Helen would grow old together, maybe even reuniting as roommates after their spouses passed.
So, when my mom blows out the candles on her 95th birthday this Tuesday, she'll be buoyed by the joy that marked her early years in the Basile household. And she'll be joined in spirit by Helen and "Little Al" -- as well as by Clarence and Mary and Ches and "Big Al" and Tom and Rose and Kay and Vince. In many ways, they're all still here, seated around that huge dining room table, smiling, talking, smoking and laughing. Giuseppe and Maria at the head. A simpler, albeit nosier, life, which will prompt me to recall a quote that Grandma Moses made on her own 95th birthday.
"Now that I am 95 years old," Grandma Moseswrote in 1955, "looking back over the years I have seen many changes take place, so many inventions have been made, things now go faster, in olden times things were not so rushed. I think people were more content, more satisfied with life than they are today, you don't hear nearly as much laughter and shouting as you did in my day. And what was fun for us wouldn't be fun now..."
To that my mom would add "Si." And all of her siblings would shout "Buon Compleanno Lucia!"
REAL LIFE. REAL NEWS. REAL VOICES.
Help us tell more of the stories that matter from voices that too often remain unheard.