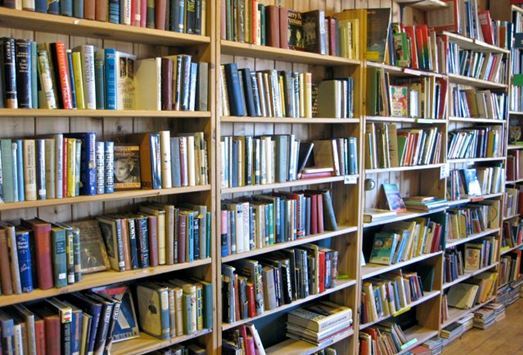 All book-lovers know the digital revolution is having an impact on independent bookstores. Except for Barnes & Noble, the chains are gone. Fewer and fewer independent bookstores have survived the onslaught of online retailing. I thought it would be illuminating to talk with Annie Philbrick, co-owner of the Bank Square Bookstore, an independent business located in Mystic Connecticut.
Despite enormous competition from online retailers, and though the store was closed for weeks in the aftermath of Hurricane Sandy, the Bank Square Book Store has remained a vital resource for book lovers in the community. Annie provides insight about her strategies for surviving, and, in fact, thriving, and talks about the state of retail book-selling today.
How important is it to handpick your staff?
It's vitally important. I handpick the books that I think will do well, and so does our children's books buyer. We work very hard at curating the titles in our store. We know our customers and what they want. We have our "Staff Picks" where each staff member has a shelf with carefully selected books -- ones they're excited about. Our customers tell us frequently: "I look for your Staff Picks."
Do any staff members have a specific genre expertise?
Yes. We have one staff member who loves thrillers. One is very into science fiction. When we hired him last spring, I noticed the science fiction sales were increasing. I think a lot of that had to do with Jack's knowledge of science fiction, and his relating to our customers. Some of us read fiction; others read strictly non-fiction. We have an employee who's been with us for years and is a bike-rider; he concentrates on those kinds of books. So, each shelf of the "Staff Picks" is very different.
How many different books are on your shelves at any given time?
There are about 15,000 to 20,000 books on our shelves. We have approximately 4,800 square feet of retail apace.
How long will a book remain on your shelves before it's returned to the distributor?
We tend to have a six months return schedule. If a book is on the shelves for longer than that, we try to get it returned. That's not the case with every book, but once in a while you have to make room for new books and return those that haven't sold. We like to give books as long a shelf life as we can; but of course, unlike an online seller, we need some turnover to keep things profitable.
Most of us are familiar with show-rooming: Where someone comes into a retail store, browses, and then goes home and orders the item online. How do you deal with that?
It was more of an issue some years ago when the growth of e-books was escalating quickly. Some people are more obvious about that than others. I may approach someone and have a conversation if it becomes clear that's what's going on. First, I'll ask if I can help them. I may have to remind someone that we're here as real people providing customer service. I try to keep them aware they're in a brick-and-mortar independent bookstore. Only today, I noticed a man with a cookbook and a cell phone. I wasn't certain, but it appeared he was copying recipes with his camera. I offered him assistance, which was a subtle reminder that we are where you discover these books, and hope you will repay us by purchasing a book. I have to be somewhat careful with the conversation, so as not to alienate someone.
Do you encourage browsers to sit in the shop and read? Do you have some comfortable chairs?
That's an important part of our environment. We have chairs with specific lighting throughout the store. We really encourage sitting and reading. We have WiFi. Mystic's a small tourist town, especially in the summer and fall. People can come if they need a place to sit and do some work on their tablet or laptop -- answer e-mails or whatever they need to do. We have a comfortable couch in the middle of the children's section where parents and kids can sit and read together.
Have you found it necessary to expand your non-book items: things like stationary and greeting cards?
Yes, but we're very particular about the non-book gift items we bring in. We try to keep them as book-related as possible. It's part of the impulse-buy shopping experience for some customers. One reason we've increased those items is a few stores nearby have closed, and we're a vibrant store. So we've picked up some of those lines. People have actually asked us to carry those kinds of items because they could no longer get them at the other stores. We're also careful not to carry the exact line the store down the street is carrying.
So you have to be both community-friendly and consumer/user friendly.
Exactly. We have to try to satisfy all parties.
Let's talk about community outreach. I've been to your website, so I know the answers to some of these questions. Do you have author readings and book signings?
Yes. Most Saturdays we have book signings, sometimes with a local author or a children's author. We also have an author luncheon series which allows for a more intimate experience, as opposed to an author just coming in and reading a chapter and signing some books. It runs from noon to 1:30. The ticket for the lunch is the purchase of the book. The customer enjoys a nice lunch from a small deli in Mystic, gets the book and has the opportunity to talk with the author. They're wonderfully intimate experiences. We also do off-site events -- as an example, we arranged to have the novelist, Wally Lamb, come to the Otis Library in Norwich, which is where he grew up. That was very popular. We do that sort of outreach frequently.
Do you sell or rent e-books?
Yes. We're part of the Indie Commerce site with the American Booksellers Association. We offer Kobo e-readers. We have a Kobo logo on our website through which you can enter and purchase e-books. The book is bought through us from Kobo, and we get a certain percentage of those e-book sales.
Do you sell Kobo e-readers at the store?
Yes. The product changes periodically, but we have a display for the Kobo e-reader in the store.
I know you've signed a lease for the empty space immediately next door. What will you do with it?
It's another 1,800 square feet of retail space with an upstairs event area for author readings. We decided to expand the non-fiction section into the new space, and enlarge the kids' section in the original store.
Speaking of kids, do you encourage children's events?
Very much so. We often do events with local elementary schools. Teachers will come in and buy individual gift cards for the kids, and then come in with the children and each one can shop with his or her gift card. We're hoping to do a Christmas event with a Giving Tree. We have stars on the tree, each one having a disadvantaged child's name on it, given to us by a church or neighborhood center. A customer will buy a book for a child; we'll wrap it and have those children come to the store for a Christmas event where they unwrap their presents.
I know you use social media. You have a web site, a blog and you contact customers by e-mail. Tell me about that.
We do almost everything by e-mail. We don't do much print mailing because it's so expensive. A few times a year, we'll mail out postcards thanking our top hundred customers for shopping with us. We'll include with that, a ten percent coupon. We send out an e-blast every Wednesday, listing our events or book news. We're working on one now about gift items for Christmas. We have a large retirement community here, so we're designing one for grandparents saying: "If you give us a list of your grandchildren and their reading interests, we'll hand-pick those books and wrap them for the kids." All our events are posted on Facebook, which is connected to our Twitter account; the blog is also connected to the Twitter account. All our staff members are welcome to post book-related things on our site. It's become a major part of our bookstore life.
Speaking of media, you have something called "Book Talk Nation" on your website. Tell me about that.
"Book Talk Nation" grew out of the Author's Guild. It's a way of bringing authors into a conversation with listeners. It happens at 7:00 p.m. You can dial into a "Book Talk Nation" site, and do either a Google hangout or a video chat. I watched one where Ian Frazier was being interviewed. The talk is usually sponsored by a bookstore such as ours. If The Bank Square Bookstore sponsors a talk, the author comes to our store to sign the books. We can also link the talk to our website, even if we're not the sponsor. We then get a certain percentage of those book sales.
A recent trend in bookstores is the presence of a small café or coffee shop, if space permits. What about that?
That was one of the first questions a customer asked when we signed a lease for the space next door. In our small town, there's a coffee shop directly across the street and there's another one nearby. So we have to be careful not to step on people's toes.
On a more general level, what do you see as the future of retail book-selling?
Here in Mystic, we're sort of an anchor store in the middle of town. When we expanded into the space next door, the entire town was excited about it. People came into the store and congratulated us. It was very heartwarming.
After Sandy hit and you were closed for a while, did people in Mystic help out?
We created a Sandy Donate Relief button through Pay Pal on our website, and raised about $10,000 from customers and authors all over the world. It certainly made a difference because we had no income at the time. Through Facebook and Twitter, we put out a call to the community, which was an enormous help to us. People showed up with mops and rags. We never could have gotten back on our feet without the community's help. And we never could have expanded into the new space without the support of our community. People would say: "This is where I'm going to come to do my Christmas shopping." I think with the closure of Borders and the other chain stores, people have realized if they don't shop locally or support small shops, they could very well not be here.
Then you see the future for your brick-and-mortar retail bookstore as a bright one.
Yes. I think so. Mystic is a destination for many people. And many of them realize that within that destination is a wonderful, independent bookstore. That pertains to local customers and those who are travelling. Even people with e-readers sometimes want a real book. They will say: "I want a real book to give as a gift," or, "I just want a real book to read, to hold in my hand."
I don't have a crystal ball, and there's no doubt the rise of e-books has had an impact. They're not going to go away, and we do have a partnership that works. It's very hard work to do what we do, but we do it because we're passionate about books and love what we're doing.
So to stay alive in the digital world, you've adapted your business model: Use social media and online resources, give people personalized service, make recommendations, arrange events and have remained a vital part of the community.
One last question, Annie. It has nothing to do with indie bookstores, but I always ask this kind of thing. If you could have any five writers on a panel discussing the craft of writing and books, who would they be?
If I go through all of literature I would choose Walt Whitman, Mark Twain, Alexander Pushkin, Vladimir Mayakovsky and M.K. Fisher. Can you imagine what a discussion they would have?
Mark Rubinstein is the author of Mad Dog House and Love gone Mad.
Related
Popular in the Community