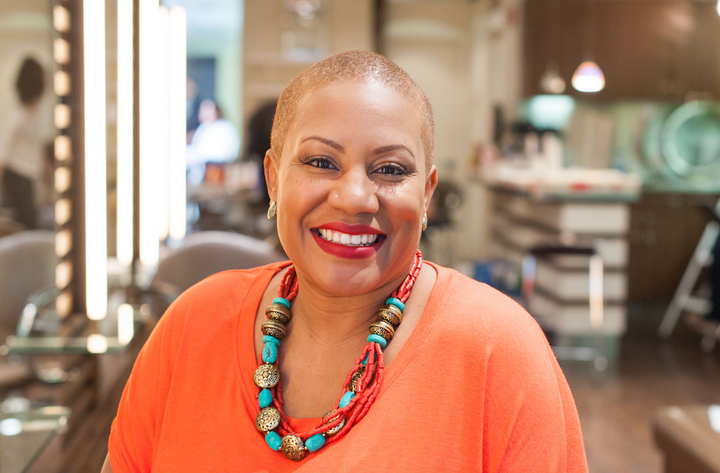 In my previous post, I discussed my natural hair journey and the pride I feel in wearing my beautiful, natural hair. It's important that we take good care of our hair by keeping it hydrated and conditioned, and with all the talk about natural hair maintenance these days, it's critical that we also remember the importance of great skin care. As black women, we really need to be sure we're using sunscreen to protect our skin.
When it comes to great-looking skin, many black women reference the old adage – "black don't crack," so let's be sure that we keep it glowing and moisturized. There's a misconception that the melanin in our skin is the only protective barrier needed for protection from the sun. Melanin provides some natural protection against sunburn and premature aging, but black women need to wear sunscreen for optimal protection!
Start with the basics of hair and skin protection: protect your hair from sun damage by coating the strands with conditioner, and protect your skin from the sun by applying SPF 15 or higher daily. Myself and my friends at My Black is Beautiful have some helpful tips and info to keep you fabulous this summer:
Save Your Skin and Protect from Cancer: Don't forget, African-Americans are still at risk for getting skin cancer! Unfortunately, melanoma, the deadliest form, is particularly fatal when diagnosed because it tends to be too late when it's found. Did you know that melanoma in blacks most often occurs on non-exposed skin with less pigment, with up to 60-75% of tumors arising on the palms, soles, mucous membranes and nail regions? That's crazy - so, please protect your skin! I suggest that you keep Olay's Regenerist Micro-Sculpting Cream with SPF 30 on your dresser for daily protection. It's a lightweight cream that's packed with vitamins B3 and C, to nourish your skin while and protect against the harmful UV rays. Definitely incorporate this into your daily routine.
Keep Skin as Smooth as Chocolate: The melanin in our skin gives it the beautiful color that we love. But too much sun exposure on unprotected skin can contribute to pigmentation issues like dark spots. Dark spots and uneven skin tones are common among black women, but if you want to keep your complexion smooth and even, wear that SPF! It will help prevent this problem.
Fight the Frizz: When hair isn't properly moisturized, the cuticles open in attempts to grab the moisture in the air, which leads to a frizzy halo. Open hair cuticles allow moisture to escape more easily, so keep those cuticles closed, and make sure you seal-in moisture with a natural oil or butter (like coconut oil or shea butter). When your cuticles are closed, they can retain more moisture, allowing your curls to flourish in dry heat or tropical humidity.
Protect your strands: While relaxing at the beach and pool, it's important to remember that salt and chlorine water can dry and damage the hair, so keep it moisturized with a good conditioner before heading into the water. Find and shampoo and conditioner with anti-oxidants that can bind to damaging elements that build up over time, especially minerals in everyday wash water, such as copper. This will help your hair stay protected and lightweight so that it feels bouncy and blows in the wind.
So, this summer – as you twist, braid, or bun your hair in a protective style, please remember to grab that moisturizer and protect your skin with sunscreen!
REAL LIFE. REAL NEWS. REAL VOICES.
Help us tell more of the stories that matter from voices that too often remain unheard.