Years ago I used to think I was an outlier. I'd stay at a hotel and be the only one grunting and sweating in their gym. Back in those dark ages, a hotel might throw a few pieces of dilapidated equipment and rusty weights into a dank, basement room and pass it off as a gym. Hmmm… maybe that's why I'd be the only one in there. Fortunately, the hospitality industry has come to realize the fitness & wellness market is worth tapping into. Now, people like me who want to maintain their fitness routines when they're away from home, have options when it comes to hotel fitness.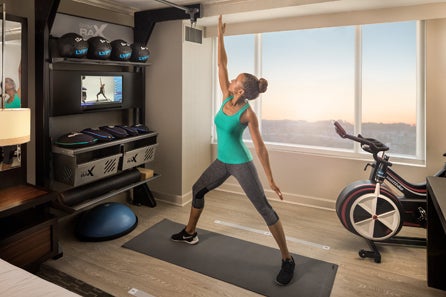 Research surveys have shown that plenty of people intend to workout when they travel. In fact, Forty-six percent of hotel guests, according to recent Cornell University Center for Hospitality Research study, say they plan on using the hotel gym. In actuality, only 22 percent do. The International Hotel group estimates there are 17 million wellness-minded travelers saying their healthy lifestyle needs are not being met. And a survey by Westin found that 70 percent of global travelers struggle to maintain their wellness routines on the road.
Now that my tribe is being heard, a new hospitality trend has emerged, In-room fitness. While the concept isn't totally new and other hotels have taken steps to fill the need, Hilton has just taken a giant leap for fitness-kind. Their new room concept is called, "Five Feet to Fitness." It's a far cry from when I would push the tables and chairs aside and so I had room for planks, Burpees or yoga stretches.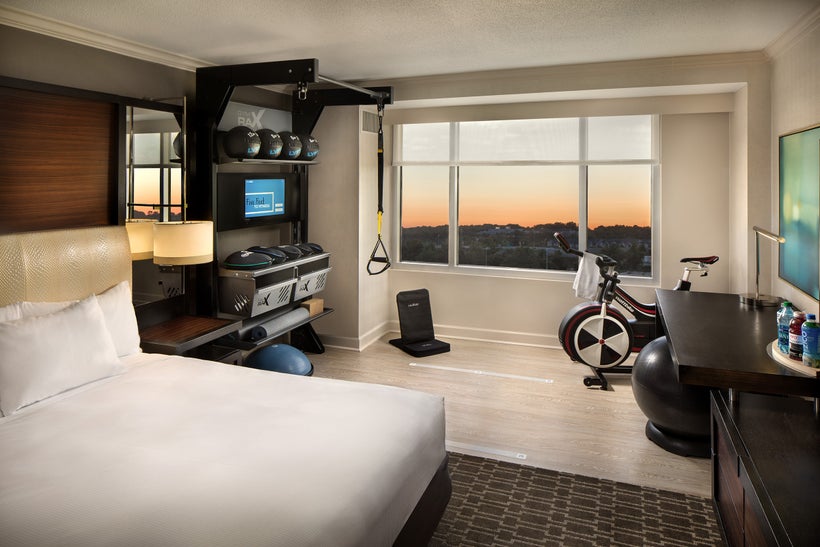 With Five Feet to Fitness, Hilton has gone far beyond the typical in-room fitness amenities some hotels offer like yoga mats, balls, bands or even treadmills. I spoke to Bryan Green, Founder and CEO of Fitness Design Group who Hilton tasked with re-imagining in-room fitness spaces. Rather than just placing a few pieces of fitness equipment in the room, FFTF transforms the room into a real-deal functional fitness area right down to ripping out the carpet and laying down performance flooring you'd find in a serious gym. Green says, "when someone stays at a Hilton now, their fitness experience won't have to be a departure from their usual routine." Music to a fitness junkie's ears! These new rooms include an innovative spinning bike from Wattbike and a Gym Rax functional training station for all kinds of core, suspension and High Intensity Interval Training (HIIT) workouts. Embedded into the apparatus is a digital Fitness Kiosk powered by Aktiv Solutions that features a touchscreen display where guests can watch equipment tutorials and follow along to more than 200 workouts ranging from cardio, cycling, endurance, strength and yoga. Added room perks are packets of Biofreeze to soothe sore muscles, protein and hydration drinks, a meditation chair and blackout shades.
Green says that Hilton was definitely feeling the heat as more hotels have started catering to their fitness-minded guests and they were determined to stay at the front of the pack. Hilton hopes to have at least 100 of these rooms available throughout the U.S. by year's end. The company is also looking at modifying this concept for other brands within the Hilton family.
Hilton wasn't the first to realize the need for in-room fitness options. Even Hotels, part of the InterContinental Hotel Group, has built their entire brand around fitness and wellness. They understood the pain of people like me who need to squeeze in a sweat sesh or yoga stretch even when pressed for time. IHG says they developed Even Hotels based on feedback from fitness-minded travelers who felt they lacked access to the equipment or classes they wanted when away from home.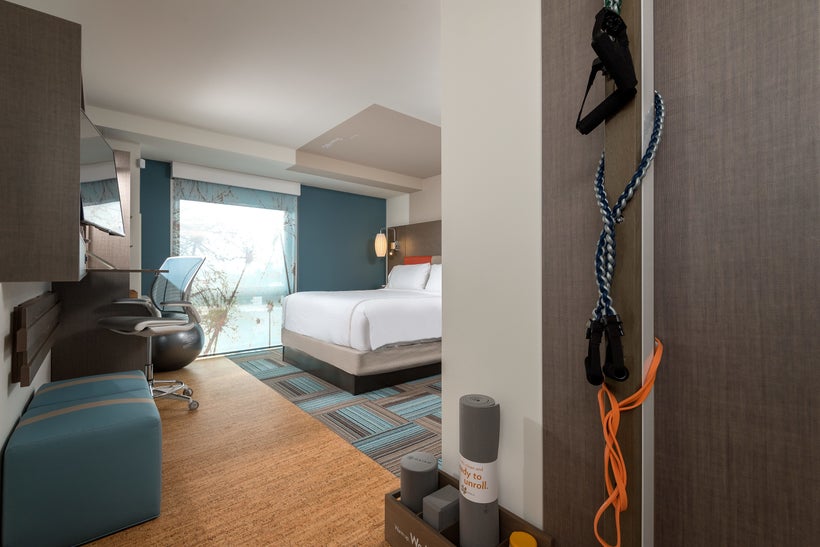 As of this post, they have 7 hotels in which all of their guest rooms have a training zone outfitted with a foam roller, yoga mat and block, stability ball and a fitness wall that includes resistance bands. Nineteen fitness videos for in-room workouts and standing desks are also available.
Westin is another brand that has had the needs of fitness enthusiasts top of mind for years. They were the first hotel I'm aware of that rents out fitness gear - New Balance shoes and clothes - so travelers can pack lighter and leave their tennies at home. Their RunWestin program gives guests guided maps they can take a run and explore the local surroundings. Some hotels even offer guided runs with staff. As for in-room workouts, some offer treadmills or stationary bikes along with a few pieces of small equipment. But as of this year, Westin stepped it up a notch. They recently partnered with Peloton, the indoor cycling company that features a cool bike and live or on-demand online classes. The Peloton rooms also have yoga mats, blocks, straps, and light weights that can be used for Peloton's Beyond the Ride stretching, core and toning classes. Several of their fitness centers will have the bikes as well.
Other hotel brands taking the in-room fitness trend seriously are Omni Hotels & Resorts and Wyndam's international urban brand, TRYP. TRYP appeals to health nuts with their Fitness Rooms that offer a high-end treadmill, elliptical machine or an exercise bike plus, workout gear including a t-shirt and shorts, exercise mat and mineral water.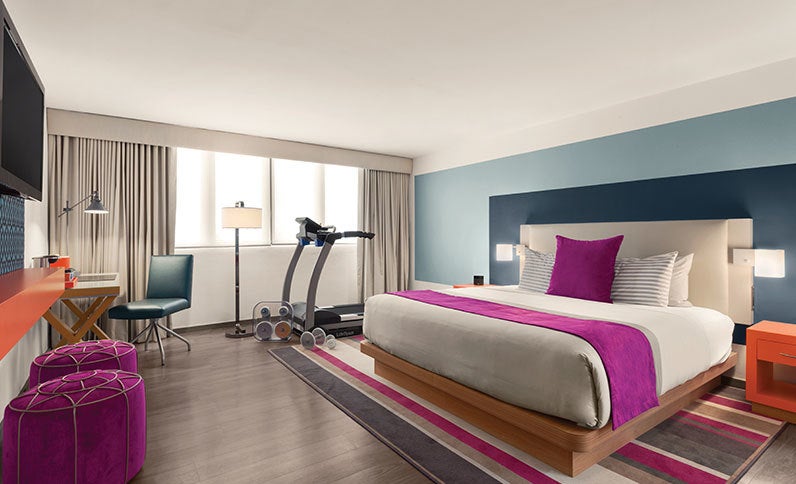 Is this hotel fitness market getting hot or what? You know it is when upscale fitness brand, Equinox, enters the arena. The luxury gym brand is slated to open its first hotel in New York City in 2018, then L.A. in 2019. They plan to open 75 or more hotels with a fitness theme around the world.
With more and more hotels helping travelers stick to their fitness routines on the road, excuses for falling off the wagon may soon be history. And hotel gyms will no longer be just an afterthought.
REAL LIFE. REAL NEWS. REAL VOICES.
Help us tell more of the stories that matter from voices that too often remain unheard.
This post was published on the now-closed HuffPost Contributor platform. Contributors control their own work and posted freely to our site. If you need to flag this entry as abusive,
send us an email
.