Okay, so the radio is blaring sounds of Silver Bells and Winter Wonderland , and I'm wandering the city sidewalks in summer cotton. The fleece nightgown is sitting in waiting, as are the earmuffs, the woolen scarves, the cashmere sweaters and the L.L. Bean moose patterned socks.
I was beginning to feel a bit like Charlie Brown's sad little tree. With no immediate vacation plans, I was drooping in a miniature Manhattan studio apartment over-stuffed with leftover wrapping paper, string and ribbons, craving a smidgen of effervescence.
Yup. In my attempt at giving back, and in my somewhat obsessive annual tradition, I purchased no less than 500 gifts for the people that touch my lives every day -- from the baristas to the manicurists, the florist to the pharmacist, the bartenders to the Turkish market cashiers.
The downside? Packages are overtaking my apartment like a giant gift-wrapped BLOB. Not to mention my office cubicle. My bosses are beginning to wonder why I'm using my desk like mini-storage.
I had to get out, turning the gloomy drizzle into holiday dazzle. I was wondering where to go and how to find it without renting a car, boarding Amtrak or booking a flight to Rio. And then I remembered the beauty of staying home for the holidays.
There's no shortage of jewels in Manhattan, and I don't mean Harry Winston. From the local family run restaurants to the elegant lobbies of swanky hotels. So, stuck in the city with no Vermont country inn with a roaring yuletide in sight?
Don't fret. Here are my 10 top reasons to celebrate NYC during the holidays:
1. Monte's

As you descend the MacDougal Street steps to this Greenwich Village gem, you can practically smell the bubbling marinara sauce. Open since 1918, you'll feel like you're back in your Uncle Giovanni's trattoria in Ravenna. The plump tomatoes assembled in front look freshly plucked off the vines; the potato gnocchi could make you cry in ecstasy. The bar is dripping with love and devotion (check out the full-brimmed martinis). And, if you're lucky, you'll encounter the homemade breadsticks.
The waiters treat you like the family you wish you had! Chef Pietro Mosconi (and son Peter) help you forget about your napkin size apartment, make you laugh and cherish life's simple moments... not to mention his signature Emilio Romagna dishes. Grazie, Mario, Angelo, Tony, Nicola, and all of you!
2. Dizzy's Club Coca Cola
The daughter of a jazz pianist, I've always melted at the sounds of Gershwin and Gillespie. After all, jazz soothes the soul. At Dizzy's, you're floating high above a Monet metropolis (it's actually Central Park) -- an impressionist painting in the Time Warner building's jazz haven.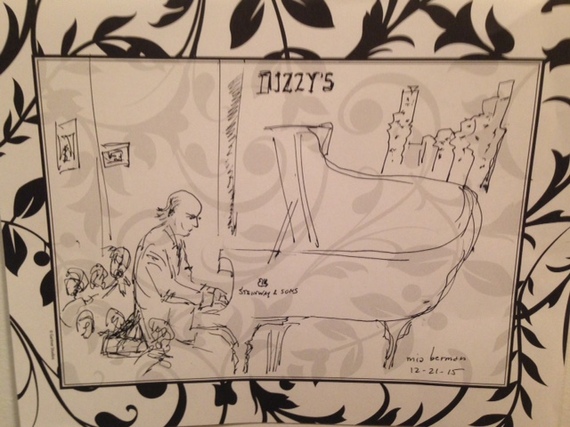 Dick Hyman at Dizzy's, Monday Nights with WBGO
It was as if Wynton Marsalis, the mastermind of Jazz at Lincoln Center, had invited us over to his salon. Recently I sat at the dapper Dizzy's bar, on a Monday Night with WBGO, observing the ingenious 88-year old composer/arranger/pianist/moog & jazz musician Dick Hyman, a soft-spoken gent, and a wizard on the keys (famous for his scoring of Woody Allen films and his own glorious ragtime arrangements).
Listening to him play Jerome Kern's All the Things You Are reminded me of All the Things New York City Is. Time stood still... awashed in silent night splendor.
I grew up with Topo Gigio, I Love Lucy, and WQXR-FM. I was raised on chopped liver, Lord 'n Taylor, and WNEW-AM. Yup. Radio has always kept me going. It's one of the last bastions of intelligent civilization. Move over, Taylor Swift. After all, it's not just about Tidal or Apple Music streaming. Intersperse smart talk with great music, and I'm hooked.
Enter Jonathan Schwartz -- a NYC landmark, a singer, storyteller, and DJ who's roamed across the radio band from rock to jazz over the past five decades. My parents often tuned in to hear his intermittently intimate, syncopated and scholarly voice tell eloquent anecdotes about Stephen Sondheim, Doris Day or Oscar Hammerstein.
Yes, Jonathan made my weekends as succulent as a sizzling rib eye. Jonathan (or Johnno, as his pals call him) landed at WNYC FM, under President Laura Walker's wise watch, with the Jonathan Channel, "a place to hear timeless music," presented by the encyclopedic master of the Great American Songbook himself.
When my father died, my mom and I turned the radio dial all night long in search of the jazz sounds reminiscent of his jazz piano playing. When my Mom died, I started keeping a transistor radio under my pillow so I could listen to those same soothing sounds of Ella, Sara, and Ellington.
Saturday nights I'm often home listening to Jonathan's twinkling 8pm-midnight program ... and God Help Ye Merry Gentlemen if you should interrupt me on a Sunday afternoon during his 12-4pm broadcast. I was in the Birdland audience for his 46th annual holiday show, where Jonathan "held court," tackling topics from Jasper Johns to Peggy Lee, kibbitzing with actor Mandy Patinkin, writers Andy (Blazing Saddles) Bergman, John (Pacific Overtures) Weidman, and Deborah Solomon.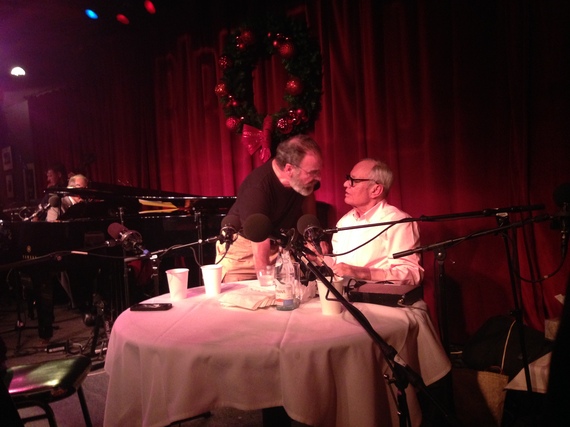 Mandy Patinkin with Jonathan Schwartz, 46th Annual Christmas Show at Birdland
Jonathan, in his inimitable, persuasive style, encouraged Mandy (Homeland's Saul Berenson) to give a Danny Kaye-inspired linguistic tour de force: a run-on, rhyming Russian Rachmaninoff-Kalinikov-Prokofiev-Sokoloff-Kopyliff-Shostakoff lyric. A sort of improvisational impresario, Jonathan discovers new voices -- voices like Cyrille Aimée and Nick Ziobro -- beaming them out over the airwaves into the universe-at-large.
Forget about the new Star Wars. May the force always be with you, Jonathan Schwartz. You've already awakened us to so much. More than you'll ever know.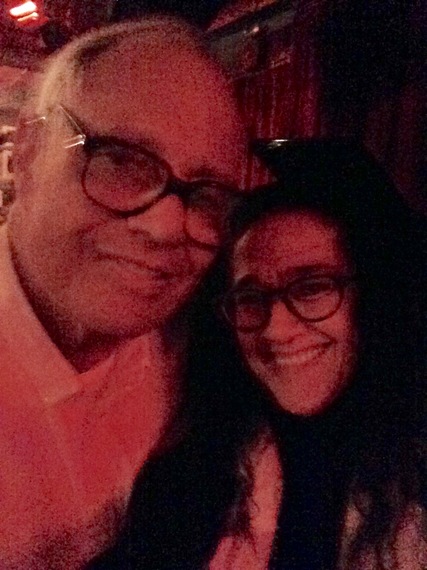 4. Woody Allen. Need I say more? He had me at Annie Hall. The genius monologuist, writer, unstoppable filmmaker appears as a -- can you believe it? -- clarinetist, Monday nights at Café Carlyle. Images of hotel legends Bobby Short, Jacqueline Kennedy and Elaine Stritch dot the walls.
I surely couldn't afford the $85 cover, so I sat near the perfectly blazing fire in the Carlyle lobby next to a lovely woman, who asked if I was staying at the Hotel. "Not exactly," I answered. Not until Woody discovers me. What about you?" "I'm his bass player." I waited for Woody to exit the cafe, offering him my annual Chanukah and fellow Sagittarian birthday gifts. He graciously accepted them, hurrying off to watch Monday night football, with my Sharpie still in the bag.
5. Sant Ambroeus -- there are book clubs, knitting clubs, and shortwave radio clubs...I always thought there should be espresso clubs. I guess the coffee klatch of the 1950's, or the late 19th century German Kaffeeklatsch, or SNL's "Coffee Talk," were the closest things to it. Ah yes, and of course there's Sant Ambroeus.   Once you can spell it, you can settle into the cozy espresso bar paninotecca pasticceria gelateria confetteria. I was invited there by my dear friend Alessia to a birthday morning cafe latte at the West 4th Street location, and was drawn into a close circle of daily devotees. They seemed as committed to their morning caffeine ritual as the 5am treadmill addicts or yoga worshippers. Simply sitting, sipping, chatting, the ambrosian saints encouraged the camaraderie, and along with the fragrance of fresh java wafting through the room...it was nirvana.
6. Peter Lewy, Street Musician -- Just When Marc Jacobs and Ralph Lauren storefronts seem to have confiscated Bleecker Street, a cellist pops up between Perry and Charles, and all seems right with the world.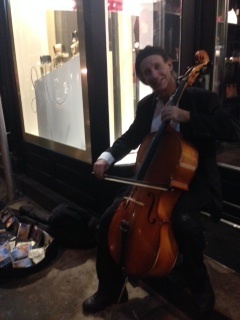 To wit, Mr. Lewy, who spent 25 years memorizing all of the Bach cello suites, sits plucking and bowing on assorted West Village corners most spring and autumn evenings. He's been spotted much of this balmy winter, too. Alternating between the classical (a blend of Paganini and Bach) and the modern, he will croon some original, plaintive, Joni Mitchell/Dylan-esque ballads. O Come All Ye Faithful music lovers, and Hark the Herald Angels of "the real New York artist is still out there."
7. P.retzels & C.hestnuts -- I'm not sure if it's PC (Politically Correct) to combine these two NYC staples, but street vendor carts selling hot salted pretzels and roasted chestnuts are the holiday "it" items. No, you don't need an open fire; just a city sidewalk and an appetite.
8. Rosemary Clooney -- Sorry, George, but Rosie came first. Okay, so Rosie's not just about New York, but when I heard her in 1998 at the Rainbow Room, I've forever associated her with our grand city.


Rosemary Clooney & Vera Ellen in White Christmas
Photo courtesy of http://www.pinterest.com
Just Watch Rosie & Vera Ellen sing their hearts out in the Bing Crosy/Danny Kaye White Christmas number, Sisters. You might just melt into delirium and feel one with the quintessential Vermont Inn.
Take an afternoon walk through our beloved Central Park. The harmony of fluid branches etched against a dusk cobalt sky makes the heart leap like a NYC marathoner at the finish line. I guess Joyce Kilmer was right. "I think that I shall never see/A poem as lovely as a tree."
Just an added note: Try listening to the Vince Guaraldi version of O Tannenbaum from the Charlie Brown Christmas Show. When you hear the swish of the drummer brushes, you'll nudge that sad little tree, willing it back to life. We all have the power of magical thinking and imagination...and we have the gift of gratitude for our own tree of life, one branch at a time.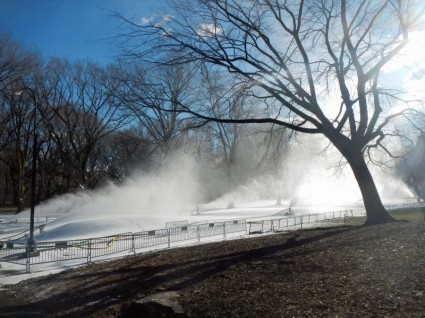 10. Ice Skating at Rockefeller Center
When I worked for NBC News at 30 Rock, I'd hang longingly over the banisters of the ice rink on my lunch hour, calculating the number of minutes it would take to bolt down the steps, rent skates, glide around the rink twice, and get back in time for the 2:30 producers' meeting. It would never happen. So I agonizingly never attempted it. (I did, however, sneak into an occasional SNL rehearsal). Since then, I've spent some swell times looking up at those unlucky news reporters who couldn't be taking their sweet time on the ice like me. True -- New Yorkers have their choice of ice: Wollman (Aka Trump) Rink, Bryant Park, Prospect Park, Chelsea Piers Sky Rink, and the pint-size Standard Hotel rink. I'll take Manhattan on ice -- at Rockefeller Center. With a luminescent, joyous tree thrown in for good measure.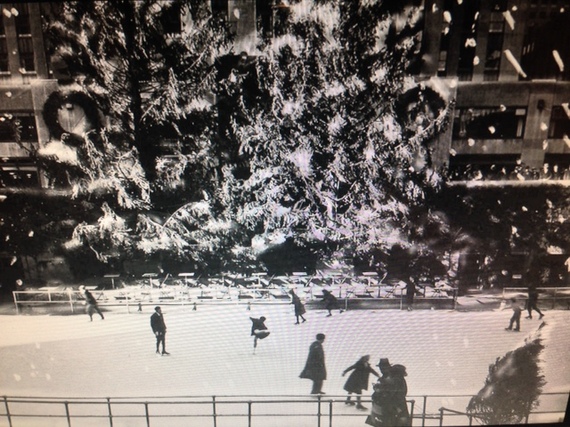 Photo courtesy of http://www.rockefellercenter.com
Calling all HuffPost superfans!
Sign up for membership to become a founding member and help shape HuffPost's next chapter