Just about every restaurant in Vienna has a menu provided in English. Dress is casual, but at the more traditional restaurants and cafes you will want to dress a bit conservatively. There is no smoking allowed inside. Service is unfailingly courteous, in the cafés very efficient. Service is usually included in the bill.
EDVARD
Palais Hansen Kempinski Hotel
43-1-236-1000-8082
www.kempinski.com/en/vienna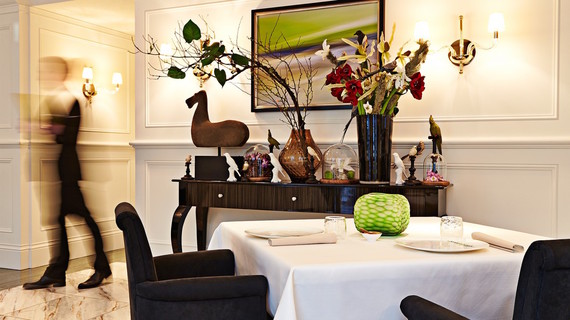 With one Michelin star, Edvard is a highly sophisticated bright dining room where Chef Philipp Vogel works with cunning simplicity to create dishes well focused on a main ingredient enhanced by all others on the plate.
The creamy colors, folk art, and roomy dark brown chairs of the long dining room, make this an exceptionally comfortable place to dine.
We began with a dish of small bits of oxtail, celery and truffle enriched with bone marrow and sourdough bread (€19), then enjoyed grilled eel with sushi rice, pickles and yuzu (€20.50), a dish that shows Mr. Vogel's global reach, also evident in the delicious succulent lamb with eggplant, miso, gyoza and kombu ( €39). He does a more traditional take on local seafood with pike perch in simple brown butter with spinach, hazelnuts, lemon and smoked eel (€38.50). Dry-aged beef is seared tandoori-style, with beef tendon and cabbage (€39.50).
Whoever said French toast is just for breakfast has not had Edvard's version with bacon and maple syrup ( €13.50) as a wonderful dessert.
PLACHUTTAS GASTHAUS ZUR OPER
Walfischgasse 57
43-01-51-222-51
http://www.plachutta.at/en/gasthaus_zur_oper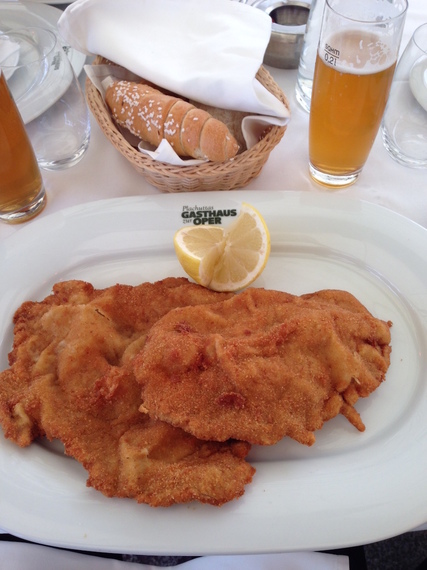 Everyone in Vienna has his favorite places to go for Wiener Schnitzel, but the city's six Plachutta restaurants have perfected the dish by serving tens of thousands of them over many years.
We dined at the Plachuttas near the Opera House. By one o'clock every table was taken throughout the afternoon. The fleet-footed staff hands you a menu, knowing full well you will order the glorious Wiener Schnitzel, which overlaps the plate with its pounded veal, breaded and sautéed to achieve the look of a lunar landscape.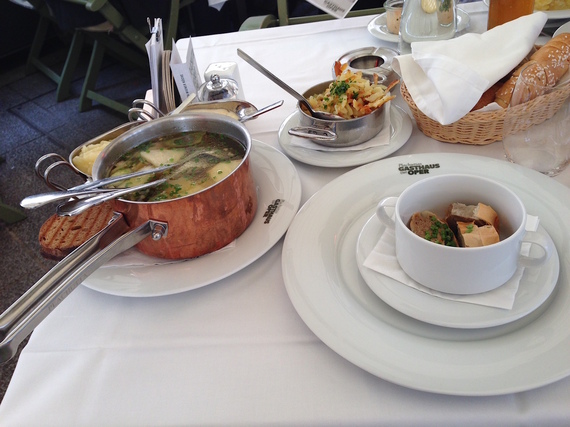 The ranking alternative here is the tafelspitz, a boiled meat dish that begins with its own broth from copper pots, then come cuts of steamy, very juicy Austrian-raised beef.
Everyone at lunch that day looked very happy, whether because it was an unusually warm afternoon or because a meal at Plachuttas Gasthaus zur Oper is some of the greatest comfort food in Europe.
Open daily. Main courses run €20-25.
THE BANK
PARK HYATT HOTEL VIENNA Am Hof 2
43 1 22740 1170
http://www.vienna.park.hyatt.com/en/hotel/dining/the-bank.html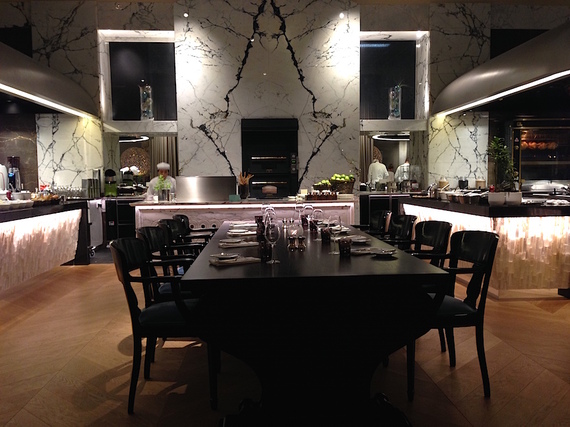 The brand new Park Hyatt in Vienna is already setting a very high standard for modern luxury in the skeleton on a century-old bank building within the historic center and shopping district. The appropriately named main dining is The Bank, a vast space of white marble with widely separated tables, very comfortable blue chairs, and a stunning open kitchen than must stretch 50 feet or more across an elevated stage.
The professionalism of the young staff ran from manager through waiters and sommelier, who oversees an extremely impressive list with every Austrian bottling you could ask for.
The well-priced menu aims at pleasing the kinds of global guests the hotel attracts, so while there are a few Austrian items on it, you will also find a very creamy burrata with Austrian ham, tomatoes and basil (€9). Calf's liver "Berlin style" with crispy onions and braised Gala apple (€20) was deliciously appended with a chive puree and served in a huge portion.
A seven-cheese cart of unpasteurized Austrian regional artisanal offerings was a thing to applaud, showing the country's diversity in dairy products. Among the desserts, an unusual and very good poppyseed soufflé was lavished with vanilla ice cream and plums braised in Port.
`````````````````
Restaurant Anna Sacher
Hotel Sacher
Philharmonikerstrasse
43-1-51456 840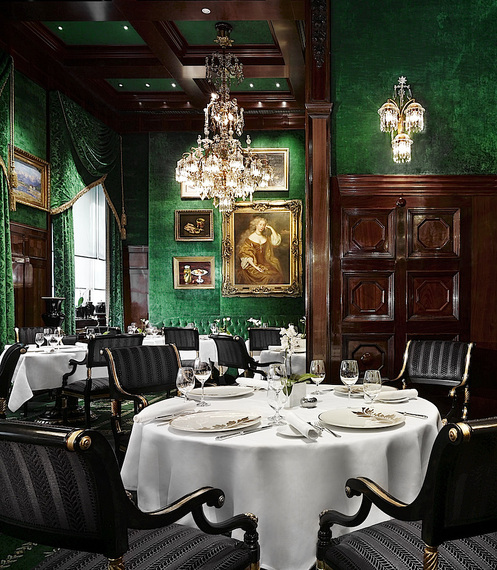 Founded in 1876 by Eduard Sacher, the Hotel Sacher is a marvel of Old World charm. For decades it was run by Sacher's wife Anna, who declared herself "Master in the house"; since 1934 been run by the Gürtler family, and their commitment has been to keeping every detail, every square inch of the hotel in museum quality.
For obvious reasons, the Sacher has been the first choice of visiting celebrities, royalty, and artists, including Indira Gandhi, Queen Elizabeth II, John F. Kennedy, Leonard Bernstein, Herbert von Karajan, and hundreds more whose photos line the walls here.
There are two principal dining rooms at the Sacher: The baronial Rote Bar is decked out with red brocade walls, candlelight, varnished mahogany, mirrors, and antique paintings, all with a view over the city, Here the menu is definitely Viennese, including dishes like a good liver tart with elderberry chutney, quince, and the crunch of hazelnuts in golden, buttery brioche; Wiener Schnitzel, of course, with parsley-ed potatoes.
The other dining room is named Anna Sacher, done in a deep forest velvety green, with crystal chandeliers, exquisite mahogany woodwork, and fine culinary artwork. The linens are thick, the signature silverware heavy, a posh that is never pompous, under manager Christian Fox and Chef Werner Pichlmaier.
There is a page on the menu of a la carte "Viennese Tales"--more traditional dishes--or four- to six-course menus. We began our meal with cold marinated goose liver with salsify and chestnuts that set the tone of the autumnal repast to follow. There were two soups, a minestrone of suckling pig with eggplant, dusted with oregano, and a rich, creamy Jerusalem artichoke scented with orange and vanilla.
The seafood courses were trout with yogurt, sweet potatoes, scallops, clams and cuttlefish along with poached codfish with luscious bone marrow, parsley and a more luscious poached egg. Sheatfish (a species of catfish) was accompanied by with romana pepper and lemon tartar Next came a loin of venison with cèpe mushrooms, hazelnuts and a ragoût of venison.

There was a wonderful assortment of cheeses, followed by the inevitable Sacher Torte, truly one of the world's finest chocolate layered cakes, whose story dates to 1832, when Franz Sacher, a 16-year old apprentice at the court of Prince Metternich, was asked to create a special dessert for distinguished guests.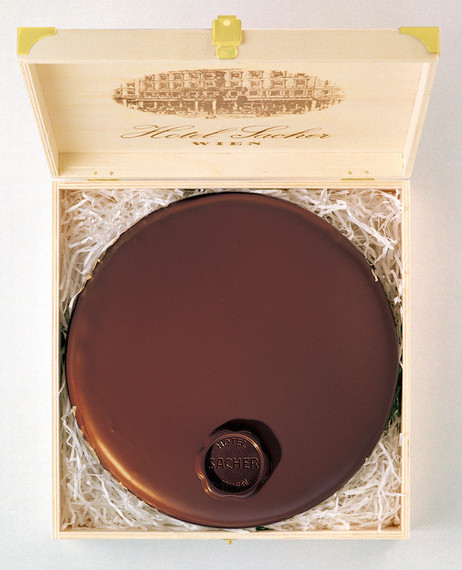 Anna Sacher is a place for those who truly love and know fine dining to bask in its radiance, and for those who need an introduction to that world, Anna Sacher is a three-hour education in elegant, increasingly rarefied, dining.
Abba Sacher is open for dinner Tues.-Sun. A four-course menu is 64, five courses 76 and six courses 86, with wine options additional.
HOTEL IMPERIAL
Karntner Ring 16
43-1-501100
http://www.imperialvienna.com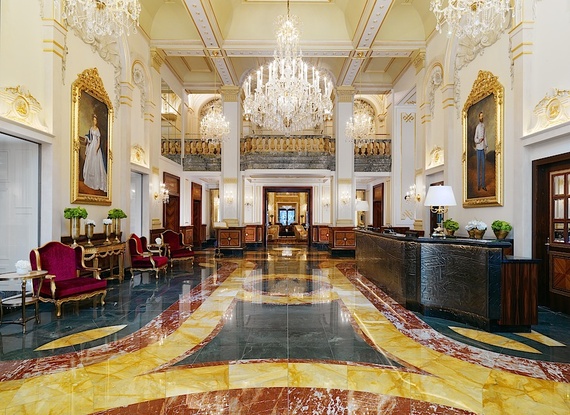 "Magnificence" is not a word someone in my profession should throw around with abandon, for true magnificence is meaningful only on those rare occasions when expectations are not just met, not just exceeded but superseded by a totality of details that produce a kind of awe.
That was what I felt when I walked into the lobby of the Hotel Imperial, originally built in 1863 as the Italian Neo-Renaissance residence of Duke Philip of Württemberg and Duchess Marie-Therese, whose portraits flank the lobby.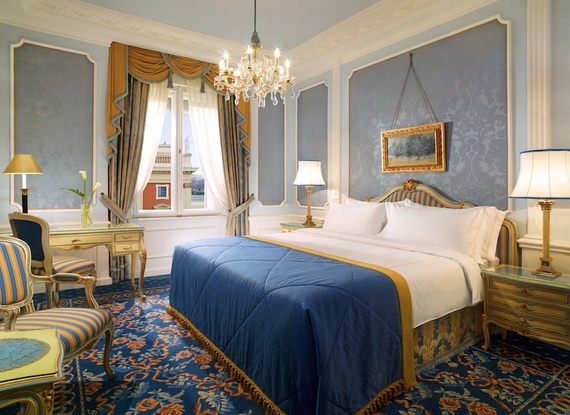 Since 1868, under various owners and through two world wars, the hotel (now under the Starwood aegis) has been, along with the Sacher, a haven for a clientele often of imperial stature, along with the usual slew of artists and actors who would never think to stay elsewhere. Queen Elizabeth II brought her own bed to the royal suite so that no guest afterwards could ever claim she'd slept in the queen's own bed. Of course, just as the Sacher has its signature torte, so does the Imperial, whose Imperial Torte was created back in 1873.
Royal Staircase leads to a series of extraordinary hallways of balustrades and parapets, thick embroidered carpets and tall mirrors with gilded frames, all illuminated by crystal chandeliers. Guest rooms are furnished throughout with modern bedding, sofas, and carpeting for which every thread count, every inch of velvet, every corner of marble is of the finest. Butler service is available 24 hours a day.
There are two restaurants in the hotel, a fine dining restaurant named Opus we hadn't a chance to try, and the Café Imperial Wien, open for a lavish breakfast, lunch and dinner, where I took my last meal in Vienna in a beautiful, sunny room of mirrors and maple wood, with Secessionist style bentwood chairs, a room that has seen its share of artists, musicians and littérateurs over the past century.
Since it was our last meal, I ordered my last wiener schnitzel, wondering if I'd ever find its like again outside of Vienna. And, dying for some pasta, enjoyed fresh fettuccine with butter, cream and Austrian ham, along with a last bottle of Austrian wine.
My wife and I lingered over the last morsel of Imperial Torte and strong coffee, so well contented that the sadness in leaving Vienna was softened by the city's sunlight and the distant clang of the tram outside our window.