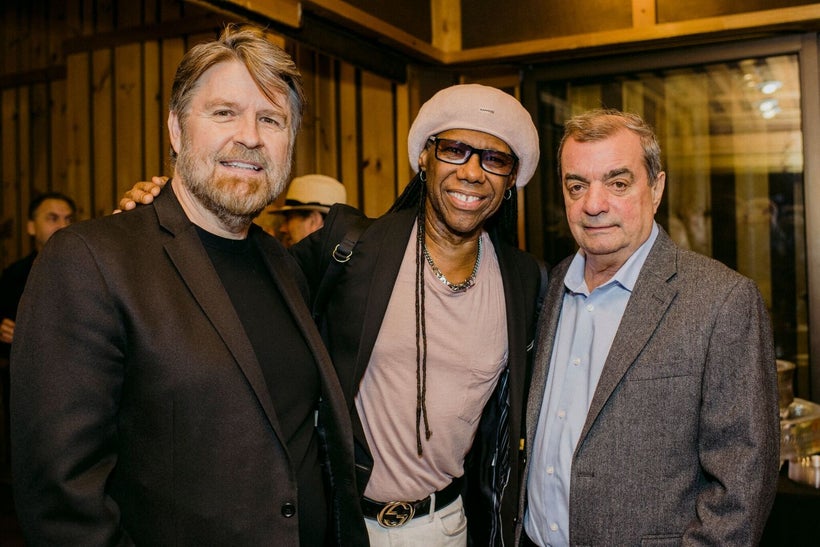 "We are on sacred ground," rhapsodized BerkleeNYC Executive Director Stephen Webber at an event on Oct. 19 honoring Tony Bongiovi. In recognition of his groundbreaking influence on recording technology and lifetime achievements as a record producer and studio engineer, Bongiovi received an American Master Award from the Power Station at BerkleeNYC.
Berklee presents the American Master Award to industry leaders whose openness, generosity, and deep commitment to music education have made a positive impact on the lives of young musicians, providing them opportunities to grow as artists and leaders.
A packed house of record producers, artists, and audio engineers including Grammy-winning musician Nile Rodgers, Grammy-winning artist Paul Shaffer, and comedian Jackie "The Joke Man" Martling honored Bongiovi, who turns new ideas into assets that transform how we consume and listen to music.
Bongiovi developed novel ways of perfecting and organizing sound. His technology has multiple applications in the medical, aviation, and other non-entertainment fields. Bongiovi's patented technology optimizes audio in real time adding depth, clarity, and definition. Bongiovi's pioneering work allows artists and producers to actually hear what they are recording. It sounds simple, but simplicity is an art.
Bongiovi built the legendary Power Station Studios in New York City after purchasing the bankrupt building in 1975 from Mayor Ed Koch. Using his royalty checks from his work on records with Jimi Hendrix, the Supremes, the Jackson Five, Barry Manilow and many others, Bongiovi designed his dream studio and opened it in 1977.
"Mayor Koch had a building rehabilitation program in 1975. I had to audition for the City of New York to determine if I could make this work. It was the first time a multi-track studio had ever been designed from the ground up. It became a big success because musicians could finally hear themselves," explained Bongiovi.
Power Station became the recording venue of choice for musicians of every genre. Bruce Springsteen's Born in the U.S.A., Madonna's Like A Virgin, and hundreds of gold, platinum, and Grammy-winning recordings by The Rolling Stones, Barbra Streisand, Diana Ross, Sting, Meatloaf, and Bon Jovi were recorded at Power Station Studios. With the school's expansion to Power Station at BerkleeNYC, opportunities for students continue to grow.
People drool at the thought of getting inside a place like Power Station, which has defined music for years. Power Station creates a community of musicians and engineers, helps develop emerging artists, encourages workshops, and serves as a place of higher learning.
"If you were a drummer, you could do a double stroke roll and it would resonate throughout the room. You had to struggle to hear it in any other studio. I think the experiences I had at the Power Station in my early thirties completely shaped the rest of my musical career," noted Max Weinberg, drummer for Bruce Springsteen's E Street Band.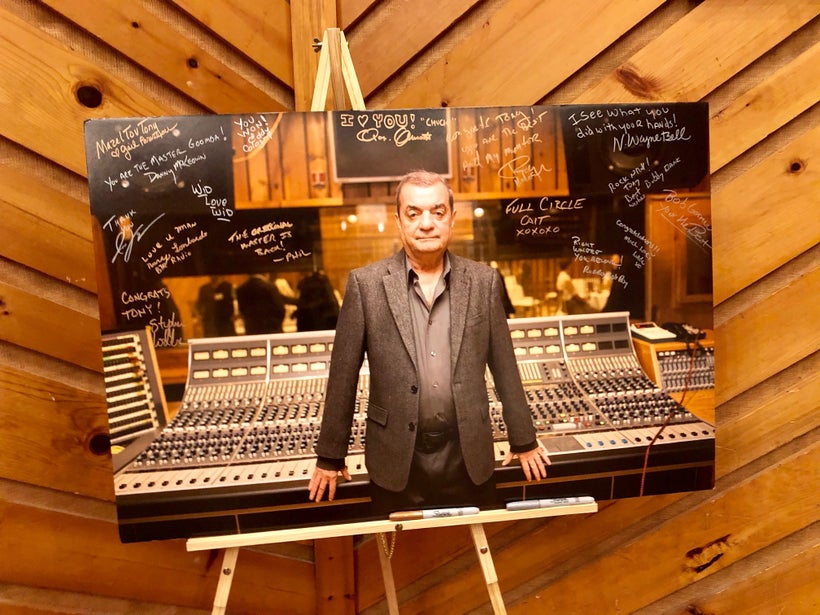 Bongiovi summed up his American Master Award honor as follows: "Among my greatest thrills is seeing the preservation of my beloved studio and the wonderful partnership that has developed between Berklee and New York City."
There is no question Tony Bongiovi continues to bring a fresh dose of blood, sweat, and tears to the creation of masterfully curated and produced music.
REAL LIFE. REAL NEWS. REAL VOICES.
Help us tell more of the stories that matter from voices that too often remain unheard.
This post was published on the now-closed HuffPost Contributor platform. Contributors control their own work and posted freely to our site. If you need to flag this entry as abusive,
send us an email
.