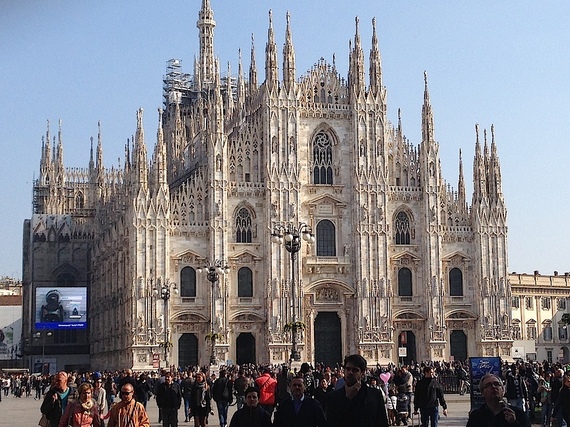 Though Milan is usually a tick down from Rome, Venice and Florence on tourists' list of must-see Italian cities, it is in fact one of the grandest and possibly the most civilized city in Italy. I shall write about Milan's rich history, elegant culture and wonderful trattorias at another time, so for the moment let me concentrate on where to stay in this wealthy Lombardian city, which now has a passel of the finest deluxe properties in Italy.

HOTEL PRINCIPE DI SAVOIA
Piazza della Repubblica, 17
39 02 62304007
http://www.hotelprincipedisavoia.com>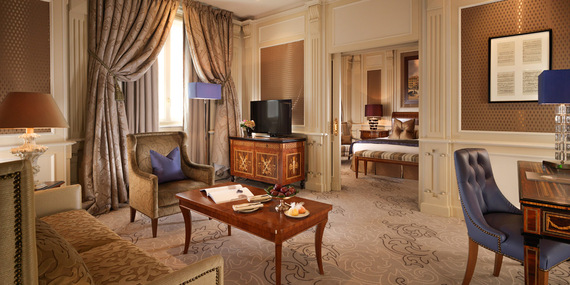 One of the grandest of the old hotels in Milan is the Principe di Savoia on the broad Piazza della Repubblica. I hadn't been back in years, so I was enchanted to see how a hotel that had for decades lived on its historic reputation had been transformed in such a careful way as to maintain its original grandeur while adding 21st century glamour to the public and private rooms. Restored and brightened by designer Thierry Despond, its lobby and hallways were polished and softly lighted, its rooms, like the Ambassador Suite in the photo above, not just freshened but wholly re-conceived by marrying classic good taste with every amenity. There's a gorgeously seductive swimming pool, a state-of-the-art spa and fitness center and a beautiful tea room. There is also complimentary limo service to the city's center. (Breakfast is not included in the room price.)
The main dining room, Acanto, is now one of the most beautiful restaurants in Milan, with gleaming Murano glass chandeliers and expanses of mahogany and glass, so that everything, from stemware to silverware, glitters under the lights and the pink roses on every table glow. The kitchen is overseen by Chef Fabrizio Cadei, whose €85 menu (white truffles extra) is remarkable for five courses, beginning with a croquette of liquefied Parmigiano dotted with 25-year-old balsamico. They serve a pinzimonio--an old tradition--of raw carrots, celery and radishes with an anchovy dipping sauce. Next came a profiterole of zucchini and hazelnut crumble bathed in a Parmigiano fondue and a flan made with zibibbo wine.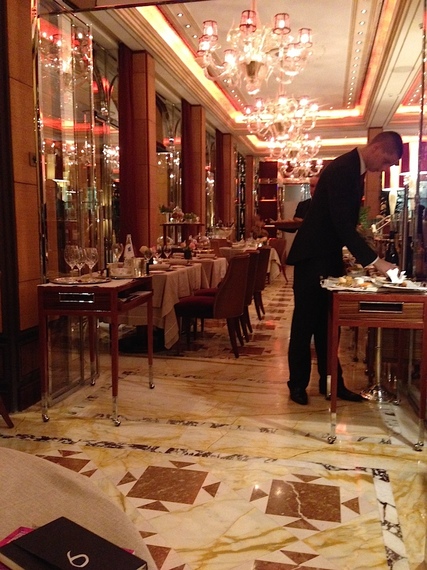 The aroma of a white truffle the size of a bocce ball wafted across the room, and the captain was generous in shaving the tuber over tender rice from Grumolo delle Abbadesse, as well as over housemade tagliarini pasta. Tournedos of veal cheeks with a gratin of pumpkin, Parmigiano foam and balsamico made for a perfect winter's dish, as did maialino--baby pig--in three different cuts, with baked apples. A frozen soufflé ended off the dessert, with a coup de grace of gooseberries, chocolates and petit-fours.

For the holidays, Acanto is offering a six-course dinner at €95 euros, with a glass of sparkling wine; seven course Christmas day lunch at €145; and eight-course New Year's Eve dinner at €365 (tax and service included).
PARK HYATT MILAN
Via Tommaso Grossi 1
39 02 8821 1234
I also had occasion to return to (though not to stay at) the Park Hyatt Milan, which opened ten years ago near the Financial District, and whose VUN ristorante (below) has been recently relocated and done over in a chiaroscuro of light and shadow, in muted colors of gray, red, and rich travertine marble, with widely separated tables, superb linens and glassware, and one of the city's deepest wine lists--45 pages of well-selected gems, overseen by the affable Sommelier Valentina Benedetti.

Naples-born Chef Andrea Aprea's motto is, "My contemporary cuisine looks to the future, but never forgets its origins," amply backed by modernist techniques and traditional flavors, both Lombardian and Neapolitan, best appreciated through his tasting menus. Thus, you find a deliciously simple pasta like paccheri with buffalo ricotta and ragù, while whole wheat linguine is entangled with Venus clams, turnip tops and candied lemon.
But Aprea's signature dish is an extraordinary tour de force called "Caprese Sweet and Salty," his reinterpretation of a classic mozzarella-tomato-and-basil insalata di Caprese. "Mainly, I wanted to reconstruct the spherical shape of buffalo mozzarella cheese using isomalt sugar," says Aprea, "a similar technique to blowing Murano glass. On the plate there is a tomato coulis, basil pesto emulsion, anchovies, croutons, buffalo mozzarella and mozzarella snow; the ball is filled with a buffalo mozzarella foam and on top basil cress."
A single seared scallop is decorated with pumpkin, salted meringue and wild mushrooms; potatoes are wrapped in foil and lavished with goat's cheese, red chicory, and pepper; quail comes with grape, foie gras and cool yogurt.
Monkfish is crafted as ossobuco, with parsnips, licorice, saffron and orange, while beautifully cooked, moist turbot shares the plate with marinated vegetables, puffed brown rice and mustard. There is even a dish using dry ice, but not on the ingredients, only to add drama to the table: it's called "lemon sensation" (below)made from lemon gelée, cream custard, shortbread, candied lemon, sorbet, meringue and zest. The table is set with a basket of lemons on dry ice, onto which an infusion of lemons is poured, sending boiling fumes scented with citrus into the air, so that all five senses are tantalized.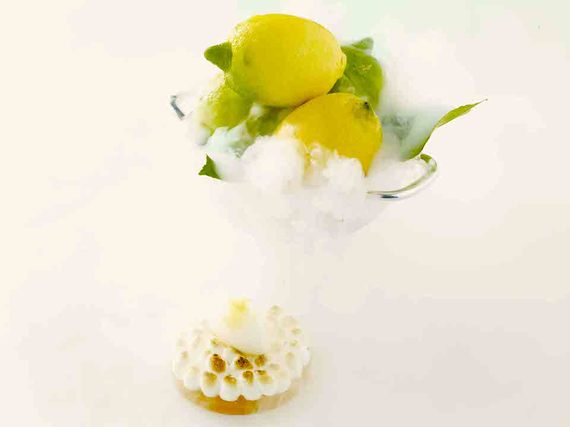 The tasting menus at VUN is €115-€150; a la carte, first courses €30-€45; pastas €25-30; main courses €42-€45.
The newest and certainly the most posh five-star hotel to open in Milan is the Palazzo Parigi Hotel & Grand Spa, which does in fact sit on the site of a 16th century palazzo but whose every square inch is brand new, done over by owner/architect Paola Giambelli and interior designer Pierre-Yves Rochon to marry Milanese and Parisian elements, starting with one of the most magnificent entrance halls I've ever seen. Bright white marble in great profusion surrounds a grand staircase; pink Baveno marble columns evoke the Scala Theatre, and the wood accents of the skylighted Caffé Parigi and the Lounge Bar are inspired by the drawing-room in Villa Reale. The 65 rooms and 33 suites, all different in décor, have an aristocratic spaciousness, with large terraces and tall windows open to Milan's soft sunlight. The Ballroom is said to be the largest in the city.
The Palazzo Parigi is also seriously committed to reducing the building's environmental impact by using modern raw materials, recycling throughout, solar panels, and more.
The day I ate at the Palazzo Parigi, the main dining room, with its tables surrounding a center platform where the chef adds his final touches to each dish, was closed. But Manager Davide Galluccio was kind enough to have the kitchen treat me to items from the dinner menu at the sleek adjacent Caffé overlooking the garden.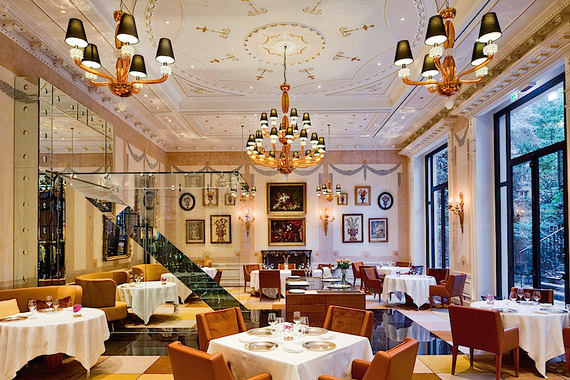 The meal was a marvelous array of inventive, delicate dishes, from antipasti like a Piedmontese beef tartare and porcini salad to a creamy foie gras terrine with caramelized figs and brioche. Around the holidays no pasta is more welcome in Italy than pumpkin tortello with buffalo milk cheese and baby onions braised in wine. Paccheri pasta came in a scorpionfish soup with caramelized tomato.
Milan may be landlocked, but its chefs willingly pay for the best seafood, as shown in a dish of blue Breton lobster with crispy Parma ham and baccalà cooked with corn, onions and zucchini flowers. An Asian influence is evident in a crisp duck breast with green tomatoes and tender bok choy.
Sommelier Matteo Ghiringhelli, 27, loves nothing more than to match them with your meal.

For Christmas Eve, the restaurant will serve an 8-course dinner with three wines at €120 per person (€45 for children)
HOTEL MILANO SCALA
Via dell'Orso, 8
39 02 87096812
hotelmilanoscala.it
For those who wish to stay at something less than the five-star level, I recommend the four-year-old, four-star Hotel Milano Scala, which proves how smaller boutique hotels have also upped their game with a higher level of style and service from a decade ago. With 52 rooms and 10 suites, many with terraces, the Milano Scala offers amenities and conveniences requisite to business travelers--complimentary WiFi, pillow menus, online international newspapers, and live soft music in the comfortable Foyer Library downstairs--all making the nice, quiet small hotel on a narrow secluded street a very convenient, moderately priced place to stay in the Brera district, near the Galleria Vittorio Emmanuele II, La Scala, and the fashion district.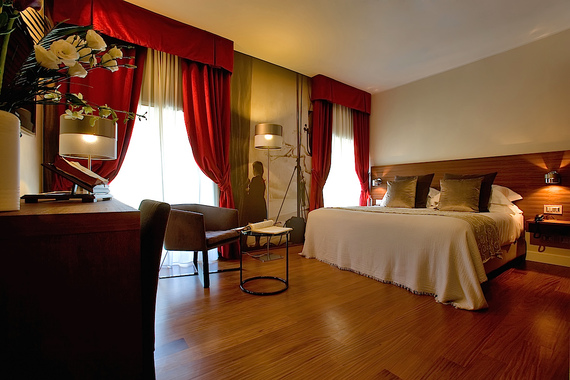 Indeed, music is the stylistic theme in the décor, so walls and rooms are done with motifs of musical clefs and historic scenes of the La Scala opera.
I also found the young staff and concierge extremely helpful and wholly affable. The restaurant was going through a transition when I stayed there, so I cannot report on the food, but the complimentary buffet breakfast in the morning was as lavish as to be found in higher class hotels.

Currently Hotel Milano Scala offers holiday promotions, with rooms for two people for three nights total of $739, $845, $1092, and $140.
Related