I've sat in international courtrooms to report on crimes against humanity during wars in Africa or the Balkans, environmental degradation and conflict in South America or armed aggression between Russia and Georgia. I've also reported on whether a Dutch politician had the right to compare Islam with Nazism under laws protecting free speech.
But today I sat in a Dutch court, not as a reporter, but in solidarity with 18 Greenpeace Netherlands activists facing criminal charges over a September 2012 protest at Shell petrol stations as part of Greenpeace's Save the Arctic campaign. It's an issue that deserves the same attention given to the human rights cases I once reported on.
Climate change is melting the Arctic sea ice at an alarming rate. Only this week, a climate report from the National Oceanic and Atmospheric Administration (NOAA) said 2012 was among the 10 warmest years on record. Arctic sea ice plunged to its lowest level ever last year, 18 percent lower than the previous record in 2007, and NOAA warned the sea ice is changing at an unprecedented pace due to climate change.
But Shell and other oil majors such as Gazprom and Rosneft are eyeing the sea ice melt as a business opportunity. Rather than viewing the melting ice as a warning they should invest in climate-friendly renewable energy, the oil majors are taking on extra risks in search of profit and bigger reserves by drilling for oil in one of the world's most hostile environments.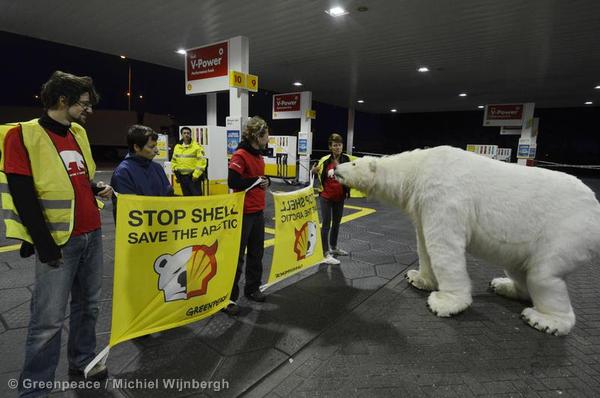 This is folly of the gravest kind. Climate change endangers the future of billions of people and the World Bank warned in June that we're on track to unleash devastating impacts from global warming within a generation. The bank warned of heatwaves, intense cyclones and food shortages -- primarily affecting developing countries and those least prepared to deal with them.
The International Energy Agency has also warned that to keep global warming under the 'acceptable' limit of 2 degrees Celsius, two-thirds of the world's proven fossil fuel reserves must stay in the ground.
This is why these 18 activists did what they did last September. They took action and blocked 72 Shell fuel stations in the Netherlands for several hours by locking gas pump handles together with bike locks.
They did so to send Shell and the rest of the world a signal that enough is enough, that it's time to turn back, to draw a line in the ice and say there is another way forward.
In reply, Shell sued both Greenpeace Netherlands and Greenpeace International asking for a global court order banning any protests within 500 meters of any Shell property worldwide on pain of a 1 million euro fine.
Shell lost and the judge set an important precedent, recognizing that civil disobedience and direct action are important in democracies. The judge ruled that the action was not disproportionate, given the public interest involved in the issue and Shell's refusal to listen to other forms or criticism of its Arctic drilling.
And today, we are in court again in solidarity with the activists, hoping the criminal court will agree that if it's lawful for Greenpeace Netherlands to take an action like it did, it should be lawful for the individuals too and acquit them.
These activists have voiced the concerns of the 3.5 million people who have joined the Save the Arctic campaign. They are backed by those who believe that history will show we were on the right side, the side that brought us in from the cold and left the Arctic intact -- pristine and frozen. It would be a crime not to.
Calling all HuffPost superfans!
Sign up for membership to become a founding member and help shape HuffPost's next chapter