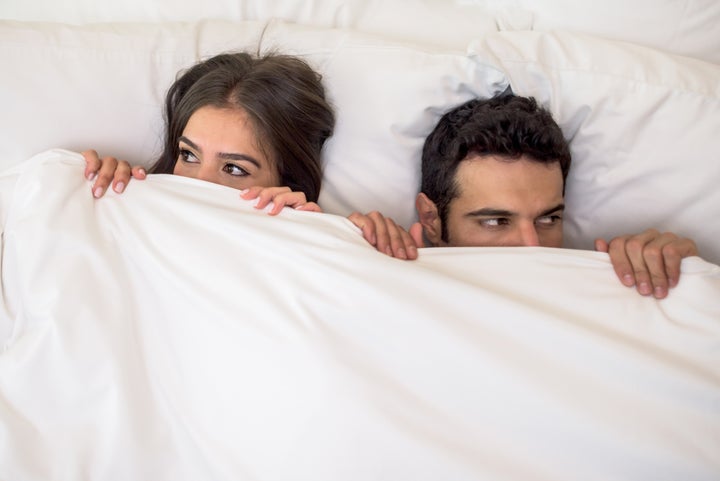 The U.S. is backsliding on progress against sexually transmitted infections, according to a new report from the U.S. Centers of Disease Control and Prevention.
There were 1.5 million cases of chlamydia reported in 2015, a six percent increase from 2014. At 395,000 cases, gonorrhea is up 13 percent from 2014, and at 24,000 cases, syphilis is up 19 percent from 2014.
Young people ages 15 to 24 make up about two-thirds of all chlamydia cases and half of all diagnoses for gonorrhea. Gay and bisexual men make up the majority of syphilis cases.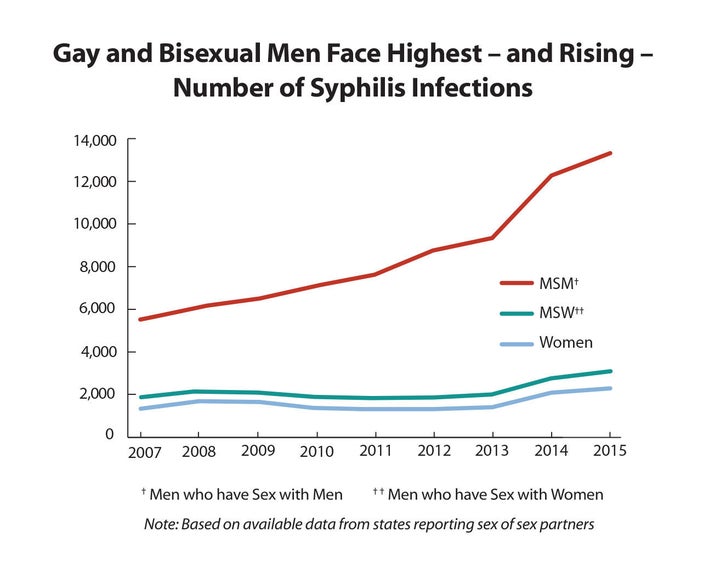 These conditions are dangerous but preventable
All of these conditions are preventable with safer sex measures like monogamous sexual relationships and condom use. While they're also all generally curable with antibiotics, they may not be for long: Rising rates of antibiotic resistance mean that doctors around the world are finding it more difficult to find effective treatment.
STDs that go undiagnosed or untreated can lead to infertility, chronic pain and an increased risk for HIV, according to the CDC. The trouble with spotting these bacterial infections is that they can be symptomless or have symptoms ― like strange discharge, burning during urination, sores or pain ― that can be mistaken for other conditions. This makes regular screening an important part of STD prevention.
Rising STD rates reflect our national spending priorities
The increase in STD rates is directly attributable to a decrease in funding for health clinics that can screen and treat people, as opposed to any recent change in sexual behavior among certain demographic groups, says Dr. Jeffrey Klausner, an HIV and infectious diseases expert at the UCLA School of Medicine and Public Health.
"Historically, when we've invested in prevention and control, we've been able to greatly reduce infections," said Klausner. For instance, venereal disease control became a national priority during World War II because STDs were disabling soldiers. During this time, doctors discovered the cure for syphilis and the army embarked on a major public health campaign that included condom distribution and STD education.
Unfortunately, the U.S. hasn't been able to keep up with this baby boomer-era progress. From the CDC report:
Not that long ago, gonorrhea rates were at historic lows, syphilis was close to elimination, and we were able to point to advances in STD prevention, such as better chlamydia diagnostic tests and more screening, contributing to increases in detection and treatment of chlamydial infections. That progress has since unraveled. The number of reported syphilis cases is climbing after being largely on the decline since 1941, and gonorrhea rates are now increasing. This is especially concerning given that we are slowly running out of treatment options to cure [the bacteria that causes gonorrhea].
Per-capita public health spending has been declining since 2008, according to a 2015 analysis. After adjusting for inflation, researchers found that per-capita public health spending rose from $39 in 1960 to $281 in 2008. Since then, spending has fallen 9.3 percent.
The CDC also identified budget cuts to state and local health clinics as a major factor in the high rates of STDs. In 2012, budgets were cut for 52 percent of state and local STD programs, which means fewer people could get STD screening or treatment. That same year, 21 local STD clinics closed.
"STD rates are rising, and many of the country's systems for preventing STDs have eroded," said Dr. Jonathan Mermin, director of CDC's National Center for HIV/AIDS, Viral Hepatitis, STD, and TB Prevention in a statement. "We must mobilize, rebuild and expand services ― or the human and economic burden will continue to grow."