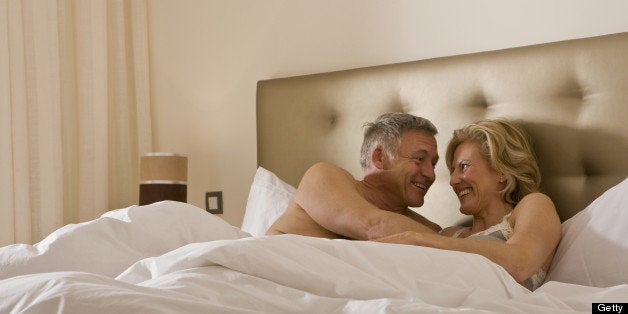 STDs are on the rise for people 50+, so if you think you can't get a sexually transmitted disease, think again.
Quiz question: Single, sexually active Boomers and seniors should use condoms:
___ A. Never—we can't get pregnant.
___ B. If our partner tells us he/she has an STD.
___ C. Always.
___ D. I don't want to think about this.
If you answered A, B or D, you're wrong! The correct answer is C. "Always". Before you shake your head in disbelief, here's why:
Online dating and medications like Viagra have been a boon to the 50+ community over the past several years. People over 50 are more social than ever and more are having sex! That's the good news. But with this change come issues. People over 50 are getting STDs more than ever before. Incidences of syphilis and chlamydia in adults aged 45 to 64 tripled between 2000 and 2010, according to the Centers for Disease Control and Prevention (CDC). In areas heavily populated by retirees, the STD rates are even more dramatic.
Just because we're older and our bodies aren't in the phase of getting pregnant doesn't excuse Boomers from the need to protect our sexual health. We're not immune to STDs, nor are we resistant to them. In fact, post-menopausal women are more vulnerable to STDs than younger women.
What can you do to protect yourself from sexually transmitted diseases if you're not in a long-term monogamous relationship?
If you're dating someone new, you can always ask them about their sexual health. Yes, it's sometimes difficult to bring up the topic, but it's worth talking about. However, the person might not even know if they have an STD. According to the CDC, an estimated 20 to 25 percent of HIV-positive people are not aware they are infected.
The best thing to do if you're single and sexually active? Just what the quiz question above suggested: Use condoms. A study conducted by Indiana University and published in the Journal of Sexual Medicine looked at the sexual habits of 5,865 people from 14 to 94. It revealed that 91 percent of men over 50 did not use a condom when they had sex with a date or casual acquaintance, and 70 percent didn't use condoms with a sex partner they had just met.
Although women may be more careful than men, a University of Chicago survey of single women ages 58 to 93 found that almost 60 percent didn't use a condom the last time they had sex. But a condom, whether it's a traditional male condom, or a female condom is the only real protection.
As Debra Herbenick, associate director of the Center for Sexual Health Promotion at Indiana University and a member of the faculty at the Kinsey Institute advises: Just say, "No glove, no love!" Ageless sexuality advocate Joan Price is the author of "Naked at Our Age: Talking Out Loud about Senior Sex" and "Better Than I Ever Expected: Straight Talk about Sex After Sixty." Visit Joan's zesty, award-winning blog about sex and aging, where she continues to talk out loud about Boomer/senior sex, partnered or solo. Naked at Our Age won Outstanding Self-Help Book 2012 from the American Society of Journalists and Authors and Best Book 2012 from the American Association of Sexuality Educators, Counselors, and Therapists.
Calling all HuffPost superfans!
Sign up for membership to become a founding member and help shape HuffPost's next chapter
BEFORE YOU GO
PHOTO GALLERY
Most Common Sex Myths About Boomers