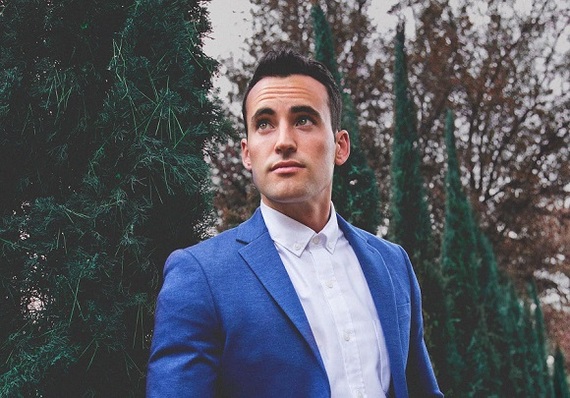 Photo By George Flattery.
Cameron Ernst's Website
Cameron's Twitter: @cameronernst
Red & Blue music video. Vagabond music video.
A serious goofball? A goofy, serious kind of guy? Read this interview with musical artist Cameron Ernst and let me know what you think of him! Because, you know, I always need help in that department.
Your latest album is called Steadfast. What exactly does that mean and why'd you choose that title?

"Steadfast" is the title of the last track on the album. The song is about an unwavering bravery and determination to fight to the end and believe in yourself. "Steadfast" is a word I latched onto right before writing the song. I was drawn to the idea of constant strength and resilience despite the circumstances. It made sense to call the album that because it was the overarching theme in all of the songs.
Describe yourself from an outsider's perspective.
This is hard to do considering I know myself pretty well. New people that I meet tend to tell me that I have a positive vibe and energy, although I'm mellow and a bit mysterious. I think my best friends would say that I have a big heart, I can be a goofball, and I'm passionate about my work and nurturing the relationships in my life. I can come off looking serious all of the time - I think it's just my dark brows though (ha). Get to know me, and you'll find a happy-go-lucky, chill kind of guy.
You recently played in Dallas at the Art for Advocacy @DallasCAC event. Tell us how you got involved with them.
I was recently featured in FD (Fashion Dallas) magazine, and Dallas Children's Advocacy Center heard about me through that and reached out. The event was a benefit for their organization which seeks to improve the lives of sexually and physically abused children in Dallas. I'm all about using my music for a bigger purpose, and it was an honor to perform at an event with such a great cause.
What's your favorite 3-D movie and why?
I'm not the biggest fan of 3-D movies (I feel like it doesn't enhance the movie that much - is it just me?), but I just saw The Martian in 3-D. I'll admit, it was a nice added touch because a lot of it takes place on Mars and in space. Side note: I'm so giddy to see Finding Dory. 3-D or not, I'm probably going to pee my pants from happiness.
How did you decide on your image as an artist?
I try to let my own style and interest in fashion have an influence on my style as an artist. For this album, I looked at all of the songs and tried to translate the overall feel into my wardrobe. In my notes on the aesthetic for the album, I wrote "clean, classic, polished with a modern, cool twist of pop." So I went with bright colors that were slightly muted mixed with a preppy and somewhat sophisticated look. I have a lot of fun with this part of being an artist. Especially when I get to collaborate with other people, like my good friend George Flattery who did the photography for the album. My vision combined with his talent and eye produced the album cover photo - the beauty of collaboration!
You weren't athletic as a kid. What were your strengths and weaknesses when you were growing up in Andover, Kansas?
It's true, I wasn't the most athletic kid growing up. I tried out a bunch of sports but never excelled in them. I used to be really insecure about that, but as I've gotten older I've learned that being a sports guy just isn't me - and that's okay (although I enjoy attending sporting events from time to time). I would say that creativity and leadership have always been strengths for me. I was really involved in school between band, theater, newspaper staff, and student council. I was also a 4.0 student through high school and took my academics pretty seriously. I did play tennis, so I wasn't completely nonathletic. A big weakness growing up was a fear I had of what other people thought of me. I think a lot of young people struggle with that, and to be honest, it's something that I still have to fight off.
Why did you decide to go into music? Is it something you always knew you wanted to do, or did you need to have a backup plan?
I grew up doing a lot of musical theater but didn't have the desire to go to New York for Broadway. Acting in film and television enticed me (I still have that itch from time to time), so I went to USC to study theater. I ended up double majoring with a communication degree as well (you can think of it as a backup plan or just getting my money's worth in college). However, I had been singing and songwriting as a hobby since high school, and I had the realization towards the end of college that it was my true passion. I interned at Warner Brothers Records my senior year to learn about the music industry and see if there was a specific type of industry job that appealed to me. I'll never forget one of the assistants telling me "Don't work here and try to be an artist. If you want to be an artist, go be an artist."
Do you ever collaborate with others for your music?
Definitely! Even though a majority of the songs I release are written by me, they wouldn't be the same without the producers I've worked with. On the Steadfast album, I loved collaborating with producer and songwriter Rob Kolar (frontman of the band He's My Brother, She's My Sister). We co-wrote "Red & Blue" together which was sort of the first step towards making this album. While I love co-writing, I tend to release the music that I write on my own because there's a voice and a story in the song that is solely mine. I connect with those songs the most as an artist. That being said, I think co-writing stretches me as an artist and a writer. "Red & Blue" is a definitely a song I felt strongly about which is why I included it on the album.
What's the one thing someone can say to you that will literally make you grab your heart?
I love hearing about people pursuing their passions and finding immense joy in it. When someone lights up from talking about what they're passionate about, it really touches and inspires me.
You seem close your family. How have they impacted you as an artist?
My family has definitely helped shape me into who I am today. I think their unconditional love and support for me has affected how I interact with others, which ends up finding its way into my music and career.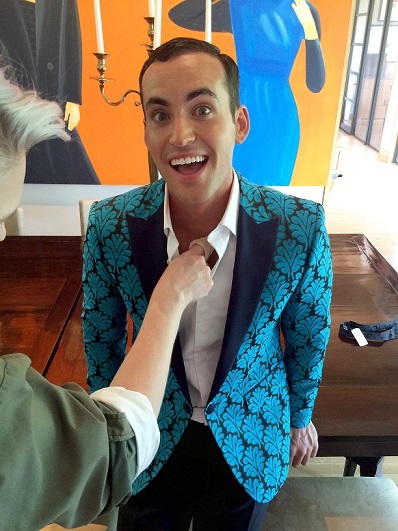 Anything else you'd like to say?
I'm playing a show in Los Angeles on December 12th (info at CameronErnst.com) with a talented artist and dear friend, Titus Makin. Also, I'd love for you to check out my music videos for "Vagabond" and "Red & Blue", and stay tuned for more music videos for songs from the album!
Calling all HuffPost superfans!
Sign up for membership to become a founding member and help shape HuffPost's next chapter