Recently, a classmate from my days at the California Culinary Academy, Greggor, called to say his parents were downsizing to a retirement home in Hawaii. They were shipping just one container of items across the Pacific Ocean. Gregg was orchestrating the move and wanted to know if I would like his mother's china. They just don't use it anymore. Turns out the china had actually been his grandmother's one hundred year-old set of classic Limoges. Creamy off-white bone china with painted 24 carat gold trim. It took only a second to say yes.
The china was delivered in four huge plastic tubs. We dubbed Gregg's car The China Clipper. There were twelve complete place settings. Each setting had a dinner and dessert place, fruit and soup bowl, and a highly stylized coffee cup with saucer. It was simultaneously delicate and regal. I had to admire every single piece as I unpacked. Included were several different shaped tureens, one for vegetables, one for soup, two serving platters, and a frilly sugar bowl and creamer. Every pristine piece was laid out on my dining room table for a week. I just wanted to look at it. When my husband asked, "Are we going to use it?" I kept saying, "Not yet."
It made me wonder how in this earthquake state these pieces had possibly survived, and of the countless family holidays and celebrations the china had been used for. But it wasn't until I found the butter dish, a round covered dish with a china screen that allows the butter to be set on ice, and as the ice melts the fancy butter curls stay dry and chilled, that I realized I was making room in my cabinets for pieces of history that served a world long gone.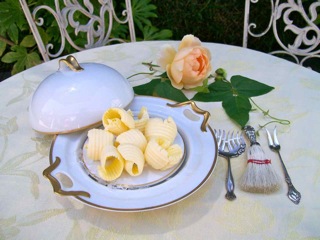 I decided I had to make a meal worthy of this beautiful china. It took me a while to decide on the menu but I kept seeing rich, gold tones in my imaginings, and I remembered Steak Diane. A dish when done right is elegant, marries classic tastes, and was created in a world that is also long gone. A perfect dish for my china.
I decided to make the Steak Diane as close as possible to what they served at Perino's. Steak Diane, often cooked tableside, is a boneless rib eye steak or filet mignon, cooked rare with a simple pan sauce and brandy flambé. Please don't forget the flambé, as that is the best part of the show! Apparently, it was one of Cary Grant's favorite dishes. For those of you who don't know who Cary Grant is ... think George Clooney in a tuxedo. It works for me.
I'm old, not dead.
Perino's was closed in 1986, but it's dining room remained intact for film shoots until 2004. I worked as a food stylist on several films shot there. The pink fabric walls and fancy banquettes transported everyone (actors, crew, and eventually the audience) to past decades.
Cue the music. Mostly crew walked around repeating phrases like, "They just don't build classy places like this anymore."
Please use your best dishes, and if you don't have nice dishes, keep the lights low. Make a small limestone salad or green beans with toasted almonds for a side dish. Spend twice as much money as you usually spend on a bottle of wine. Give yourself permission to splurge and eat like it's your last meal.
Almost Like Perino's Steak Diane

When reading a la Diane in a recipe title it is thought to have been named for the Greek goddess Diana, known as the huntress. Originally, this recipe may have been for game or venison, but morphed into steak.
You can use fresh white button mushrooms, Italian criminis or shiitake. Or a mixture of all three.
Makes 4 servings
Ingredients:
4 (4 ounce) beef tenderloin filets, cut about 2 inches thick
4 cloves peeled garlic
Sea Salt and finely crushed peppercorns
2 tablespoons unsalted butter
6 teaspoons minced shallots
2 1/2 cups (8 ounces) assorted, quartered mushrooms
1/2 cup of brandy
4 teaspoons Dijon mustard
1/2 cup half and half
1 cup each (boxed) beef stock and dry red wine reduced by half*
4 teaspoons Worcestershire sauce
1 teaspoon each minced parsley and chives
Method:
Rub both sides of each steak with one clove of garlic.
Salt and pepper each steak on both sides.
Melt the butter in a large skillet over medium heat.
Place the steaks in the pan and cook for one minute.
Turn steaks and cook for one minute on the second side.
Remove steak from pan to a plate and cover with aluminum foil, keeping them warm.
In the same skillet, add the shallots and the mushrooms, cooking until soft, about 2 -3 minutes.
Remove the pan from the heat, pour in the brandy and with a long match, ignite the brandy. When the flame has burned out, put pan back on the heat, add the mustard and half and half. Stir together. Add the reduced stock mixture.
Simmer for 2 minutes.
Add Worcestershire sauce.
Taste and adjust salt and pepper.
Return the filets and any meat juices to the pan.

Plate steaks coated with sauce and garnish with parsley and chives.
* Add broth and red wine to small saucepan and simmer, uncovered, heat until the liquid has reduced to half the original amount. Approximately one cup of the liquid will be left.
Denise Vivaldo is the author of seven cookbooks, all available on Amazon.com. She would like to publicly thank Pat and Bob, for trusting her to take care of their family's fine china. Thank you, always.
Calling all HuffPost superfans!
Sign up for membership to become a founding member and help shape HuffPost's next chapter