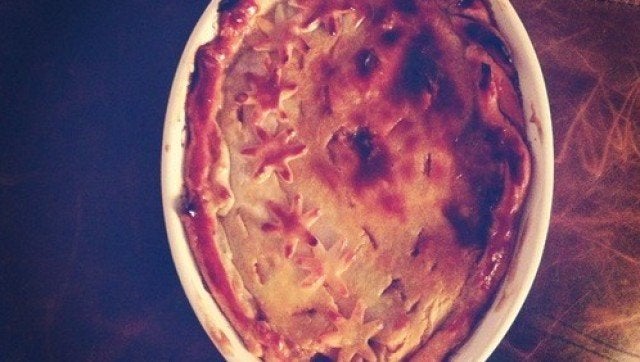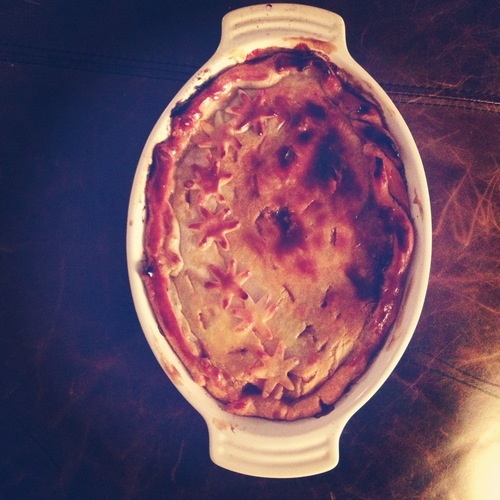 I love kidneys. Particularly for breakfast, sautéed in a knob of butter with a splash of sherry and then resting on a crisp English muffin.
But that's not this recipe. I found a version of this recipe in an old book my father gave to Mummy in 1971. Make the dish a day or so ahead to let all the flavors settle, and then bake the pie when you're ready to serve it. It's a perfect meal for the chilly, bone-numbing month and makes a fantastic leftover.
1 12oz can of tomato paste
1 tablespoon of Worcestershire Sauce
1 package of puff pastry (or in a bind you can just use ordinary pastry crust)
Remove the fat and white bits from the kidney and soak in salted water for about an hour. Afterwards, dry the kidney and cut into about 1/3 inch slices. Mix up the flour with a dash of salt and pepper, and now roll the kidneys and the beef in the flour, just coating the meats' surfaces.
In a pot, melt the butter and sauté the shallots for a moment. Add the kidneys and brown lightly on each side. Remove from the pan for a moment. Now sauté the beef in batches so that each side is slightly browned sealing in the flavors. Once that is done, return all the meat to the pot, add the bouillon, the tomato paste, the vino and simmer for about an hour and a half.
Oh my. The smell is going to be just heavenly!
Add the mushies and the Worcestershire and simmer for another 15 minutes. If the liquid is too runny, you can add a little flour or just simmer down for longer.
Turn the oven on to 450F.
Grease up the inside of a deep baking dish and add the meat mixture into it. Let it cool briefly. Cover with pastry.
Make sure you make vents to allow the heat to escape from the pie. As you'll often have to roll out the pastry (if you don't have a roller, a wine bottle works just finely), you may find you have leftover pastry bits. I like to make them into shapes to decorate the top of the pie. But no need to be so schfancy if you can't be bothered. (see photo above).
Bake the pie at 450F for about 10 minutes. Then lower the oven to 375F and bake for another 15 minutes.