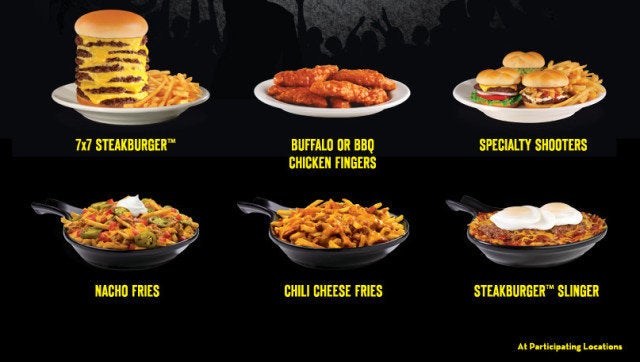 Looking to take on Denny's, McDonald's and every other kid on the late-night block, Steak 'n Shake has launched an audacious new AllNighter Menu available between midnight and 6 a.m. while also making its full breakfast menu available now from midnight to 11 a.m. (at participating locations, of course).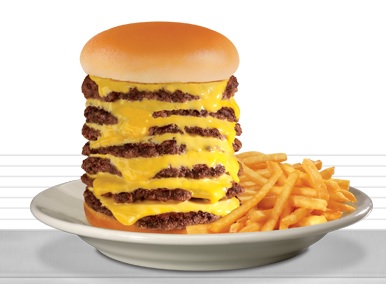 The attention grabber on the AllNighter Menu is the 7x7 Steakburger, a $7.77 tower of seven Steakburger patties alternating with seven slices of American cheese. While Steak 'n Shake's menu calls the burger "The Ultimate Challenge," nutritionists are likely to call it something different. The 7X7 weighs in at 1,330 calories (880 from meat), nearly double the 770 calories in Steak 'n Shake's next highest burger, the Grilled Portobello 'n Swiss Steakburger.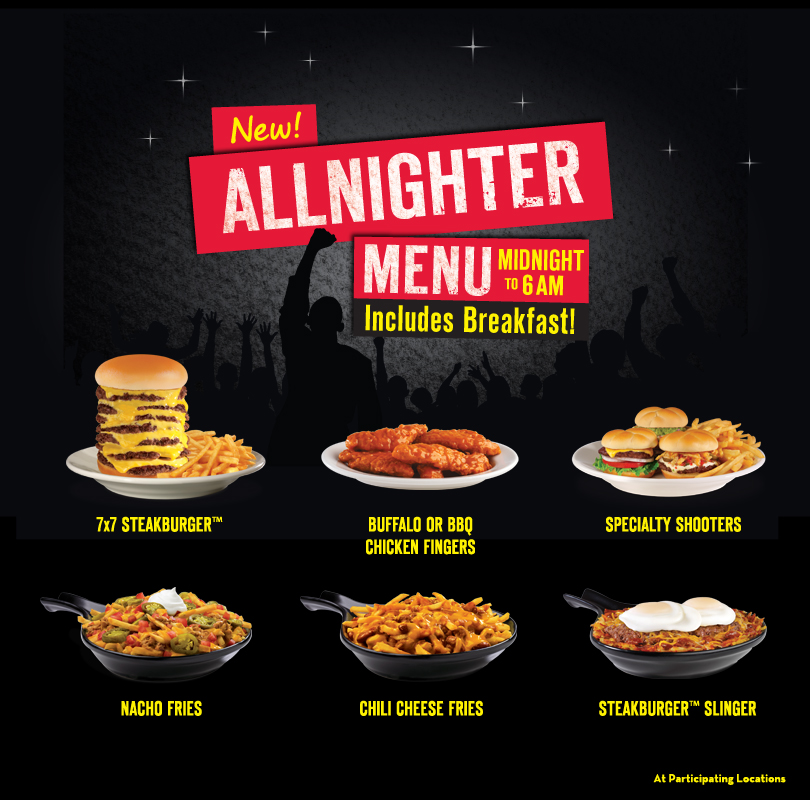 The 7x7 Steakburger also packs 98 grams of fat, 290 mg of cholesterol, 34 grams of carbohydrates and 4,490 mg of sodium. Over-the-top, stacked burgers are fairly common features at independent burger joints and smaller chains: BurgerBusiness.com recently broke the story about the nine-patty Triple Triple Burger joining the Jake's Wayback Burgers menu on March 1. But major burger chains generally have avoided promoting more than triple-decker burgers.
Steak 'n Shake goes small as well as big on the AllNighter Menu. Specialty Shooter mini burgers are available in All American, Jalapeňo Crunch, Guacamole or Gorilla (grilled in mustard and topped with American cheese). The minis are priced (with fries) at $1.49 each or $4.99 for three. Other items are Buffalo or BBQ Chicken Fingers ($5.99); Nacho Fries ($4.99); Chili or Bacon Cheese Fries ($4.79). Also on the late-night menu is an item that simultaneously appears on the breakfast menu: The $5.99 Steakburger Slinger Skillet has hash browns topped with Steak 'n Shake's chili, two Steakburger patties, shredded cheese and two eggs. Need more? It comes with choice of buttermilk biscuit, toast or bagel.
The breakfast menu also has other $5.99 skillet dishes (Country Skillet, California Skillet, Portobello 'n Sausage Skillet) that Steak 'n Shake has added in the past year plus the recently added 99¢ Breakfast Tacos.
Rival diner concept Denny's also used the AllNighter name with its 2009 introduction of a "Rockstar" late-night menu. It since has opened small-scale Denny's AllNighter units on a few college campuses (including Cleveland's Case Western Reserve University and Auburn University in Alabama) via a deal with contracting giant Compass Group and its units Bon Appetit and Chartwells.
IHOP, another major all-night diner chain, is focused on its new Griddle Melts breakfast sandwiches and its "Everything you love about breakfast" marketing campaign, which signals that it's not attacking late-night business.
As BurgerBusiness.com reported last month, McDonald's is testing a compromise late-night menu in Rockford, Ill. The test menu combines "best of" elements of both lunch and breakfast menus, offered between midnight and 4 a.m. (after which units go breakfast-only). It's one possible solution to extending McDonald's breakfast hours.
Related