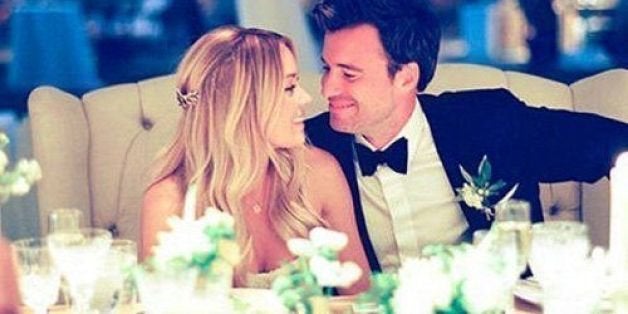 There is something magical about celebrity weddings that seems to capture the country's attention. Maybe it's all the famous guests, the incredible fashion or the over-the-top receptions, but they are exceptionally popular or they wouldn't continually grace the covers of our favorite celebrity gossip magazines. If you have ever felt like you wanted your wedding to feel like one of these celebrity weddings, consider adding any of these steal-worthy details into your own to add a little celebrity sparkle.
Lauren Conrad & William Tell: Loveseat for the Newlyweds
If there is one photo that pops up on almost all of my client's Pinterest boards, it's Lauren Conrad and William Tell sitting on a fabric tufted loveseat at their wedding reception. There is something about it that just looks cozier and more romantic than chiavari chairs or any other individual seating options. As rental companies have loveseats in styles ranging from modern to vintage, you can find one that will perfectly match your wedding reception décor and channel your inner LC.
Neil Patrick Harris & David Burtka: Fireworks
Neil Patrick Harris and David Burtka's wedding in the Italian countryside near the city of Perugia was intimate and spectacular by all accounts. The couple had arranged for fireworks to explode over the dance floor at the peak of Kelly Clarkson's A Moment Like This during their first dance. If the idea of fireworks excites you too, talk to your planner or local fireworks company to see what options are available in your budget from a full fireworks display to having your getaway car drive through a tunnel of remote controlled sparklers.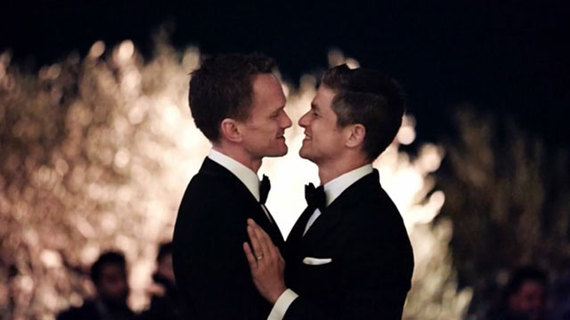 Photo courtesy of Danielle Levitt
Piper Perabo & Stephen Kay: New Orleans Second Line Brass Band
Piper Perabo and Stephen Kay's NYC wedding proved that you don't need to be in New Orleans to incorporate a New Orleans-style second line brass band into your wedding. The Second Line includes wedding guests walking and twirling parasols or handkerchiefs in the air along with a jazz-playing brass band. If you met your fiancé on Bourbon Street or in class at Tulane or if you got engaged at Mardi Gras, then adding a Second Line as guests walk from your ceremony to reception (as long as it is only a few blocks away) is a fun and memorable idea that your guests will love. Most local entertainment companies can get you a quote on a brass band and it's pretty affordable since they will be performing for less than an hour.
Olivia Palermo & Johannes Huebl: Non-Traditional Wedding Dress
Olivia Palermo, who is often considered the best dressed New Yorker, stayed true to form by wearing a non-traditional wedding day look designed by specifically for her by Carolina Herrera. Palermo wore a simple cream cashmere sweater and chic white shorts with a full tulle skirt overlay. While you might not have Carolina Herrera's number on speed dial, you can still create a look that is totally you. It is no longer a requirement to wear white, ivory or any other version of cream favored by traditional brides for decades. Champagne, blush and even black, red or blue are making more and more appearances at Bridal Fashion Week.
Nate Berkus and Jeremiah Brent: Let Your Venue Shine
Nate Berkus and Jeremiah Brent were married at the gorgeous New York City Public Library - yes, the same place Carrie was supposed to marry Big in the Sex and the City movie. The venue is so incredibly spectacular that Berkus and Brent opted for beautiful but understated décor elements to really let their venue shine. The lesson here is to select a venue that complements the aesthetic of the wedding you are planning instead of having to hide the walls behind pipe and drape. When you select a stunning venue that fits your style, you might save a few dollars in the long run by spending less on flowers and décor.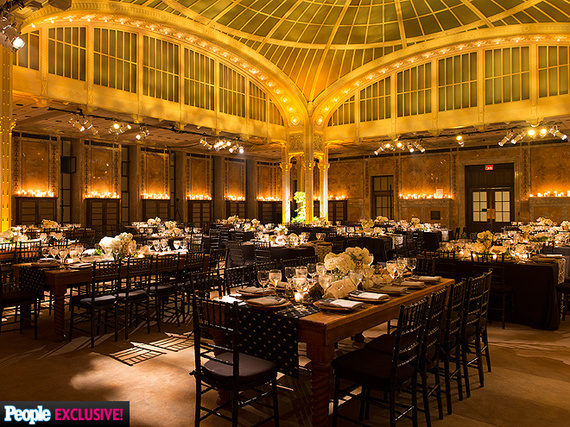 Photo courtesy of Genevieve de Manio and People Magazine
Molly Sims: Mis-matched Bridesmaid Dresses
If the Lauren Conrad loveseat if the most pinned wedding image by my clients, the Molly Sims mis-matched bridesmaid dresses is second! Sims decided that she didn't want her bridesmaids to look like traditional bridesmaids and opted for custom designed dresses to flatter each of her friends. The good news is you don't need to have your bridesmaids dresses custom made to achieve a similar look. Work with your local bridal or bridesmaids salon to select dresses that look great together and complement your girls. Stores like J. Crew also have options available that you can order online and try on at home.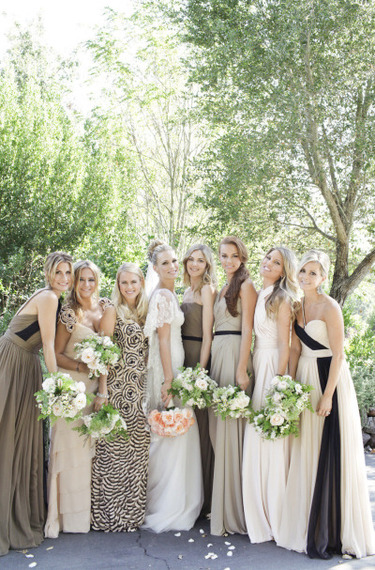 Photo courtesy of Gia Canali