 The company has dabbled in unbranded projects before, namely Roy Street Coffee And Tea in Seattle. It's here that Starbucks began experimenting with trendy poured coffee, offering Pacific Northwest regional beer and wine selections and local-sourced baked goods.
Absent from Roy Street are the famous mermaid decals and frappuccino machines. The only indication that the place is owned by Starbucks is a subtle "inspired by Starbucks" sign out front and on some cafe materials. The space's decor is rustic urban chic, with many design aspects made with reclaimed wood and furniture from vintage and antique stores.
But, Starbucks spokesperson Zack Hutson told The Huffington Post that the Roy Street store, which opened in 2009, is "really more of a learning lab for the company to test new things." The Roy Street and Herald Square locations are "two very, very different things," he stressed. "I'd hate to tie them together, because they're both two totally different customer experiences."
Hutson was largely unwilling to discuss why Macy's would enlist Starbucks to build a non-Starbucks cafe instead of working with another company. Instead, he repeatedly emphasized that the unbranded store would provide a "unique experience" to Macy's shoppers and that it in no way should be compared to other "stealth" locations.
Unlike Roy Street, the unbranded Starbucks in the Herald Square Macy's -- to be called The Herald Square Café -- won't even have the "inspired by" tagline. Instead, Hutson said it'll be more like a cafe than a coffeeshop, offering wine, Champagne and chocolate -- things that are "different than anything we've done before."
Coffees from Starbucks' "exotic and rare" Reserve line will be made with the Clover Brewing System (Starbucks owns the patent). The system, which debuted in 2007, uses a French press-like method with a vacuum that separates the liquid from the grounds.
The closest Hutson came to explaining the reasoning behind the new project was noting the two companies have a longstanding 12-year relationship, and that "it made sense." The cafe, he said, will be targeted at Macy's shoppers, which Starbucks evidently has experience serving -- the building is already home to five Starbucks locations. The new shop will be located near the women's shoe department, on the second floor.
Hutson also mentioned that the project has several partners involved, but would not reveal them.
An application filed with the State Liquor Authority a few weeks ago for "Coffee House Holdings, Inc." d.b.a. Herald Square Cafe is our first glimpse of the future. Coffee House Holdings is the subsidiary the corporation uses when it opens its one of its non-branded or "mercantile Starbucks." Details are otherwise scarce.
But Hutson vehemently denied any plans to open similar stores. There are, he stated, "no plans to duplicate." Time will tell.
Take a look at two other examples of "stealth" Starbucks in the gallery below.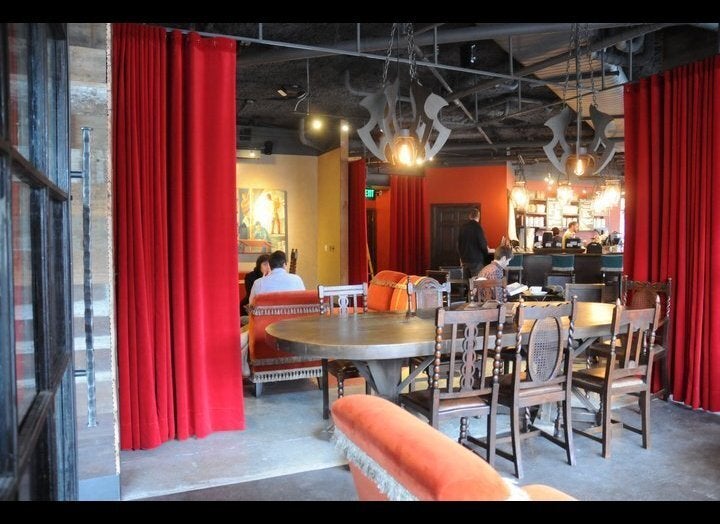 'Stealth' Starbucks
Popular in the Community