My wayward schlong dislodged from my dripping swim trunks and landed on the funky, wet, locker room floor like a freshly caught fish flopping and struggling for its last desperate breath on the bottom of a well-worn rowboat. It was 2012, early in my medical transition, and I was still getting the hang of being a gender-gifted swimmer with a new body and gender presentation. I glanced at the black Durafast trunks in my hand, then bugged at the sight of my silicone packy, which was strewn, balls out, on the floor. Furtively scanning the area and relieved that no one was near, I quickly grabbed and concealed my errant junk, and made a mental note, That can never happen again.
When I'm in the men's locker room, I get dressed the same way every time, like a trans person. I don't engage with anyone until I've changed from my junk-packed trunks to my underwear, pre-packed with its own set of genitals and jeans. Then I put on my socks and sneakers before I even entertain a thought about deodorant or a shirt. If there's going to be an ass-kicking in my future, I need traction on this slippery floor so I can run. I am there at the pool three of four times a week, basking in the sweet serenity of that inviting, delicious weightlessness, against the backdrop of the ever-present, insidious threat to my destruction as a human being.
On any given day there may be several muscular men twice my size who stand but two feet away from me in this tiny, postage stamp of a locker room. Like the Terminator's visual statistical feed, I am constantly getting an assessment of the capacity and activities of every one of them: their strength, their state of mind and their readiness to leave. I know exactly where they are in their process of getting ready, how likely they are to turn their backs and for how long and when they are likely to be in my personal space or facing me. I am an undercover agent, skilled at getting a read without ever looking like I'm checking them out. And like a stealth trans Houdini positioned an arms' length from danger, I get my junk-packed underwear and swim trunks on and off in a blink, carefully covering myself with a casually placed towel and pretending I'm not stressed every time.
After all, I've got other things to worry about, like getting home quickly so I can send my kids off to school in the morning, or watching my sleeping baby in the afternoon while my wife picks up our older kids. I'm a busy dad just trying to get my swim on.
I began to contemplate genital surgery after I had been on testosterone for a year and was consistently perceived as male. It became a daily thought, this ongoing desire to claim my body as male and to feel the liberation of congruence. I wondered what it could be like to have a body that would go unnoticed among men in the locker room; I fantasized about one day going for a swim without concern for my emotional and physical safety.
In a timely confluence of the changing landscape of access to care for trans people in California, cutting-edge technology and new medical expertise, I was able to get phalloplasty (surgery to create a penis) in July 2014. I knew that most trans people did not have access to transition-related surgery that was covered by their health insurance, and I was grateful for the opportunity to be part of this first wave. In 2014 it was a new day for trans access to care in California.
That was two years after my January 2012 top surgery. As preparation for phalloplasty, I needed to have a complete hysterectomy three months prior. When I went to the initial consultation with the surgeon who would perform my April 2014 hysterectomy, she asked me if I exercised. I told her I was an avid swimmer, that I swam three or four times a week. She studied my chest and shoulders and said, "Let me guess your stroke." I thought to myself that this friendly assessment was way better than people trying to guess my racial heritage or my gender. She said, "Fly? Crawl?" and I responded, "Freestyle and breaststroke."
A couple of weeks later, I was staying at a conference hotel in Southern California, splashing in the pool at midnight with a colleague who was teaching me this new stroke. We laughed as I floundered, until I managed to stretch my arms wide over my head, pulling back awkwardly but determinedly as I swam across the pool. It was time I learned the butterfly, because the pool is the center and soul of my transformation.
After eight weeks of recovery from my July 2014 phalloplasty, I returned to the pool, just in time for my birthday. As I changed in the locker room before my swim, I felt at peace, relieved that I didn't have to worry about exposing my body, or constantly determining my proximity to danger. I could let it all hang out and be much more relaxed and friendly now in my new birthday suit. I joked around without timing my movements against others, looking over my shoulder or chasing my wayward schlong across the funky, wet floor.
And when I exited the locker room in my tight black, Durafast swim trunks, with no carefully placed accessory to manage or worry about, I felt elated to dive right in and feel the cool embrace of my old friend. This time it was just me, all of me.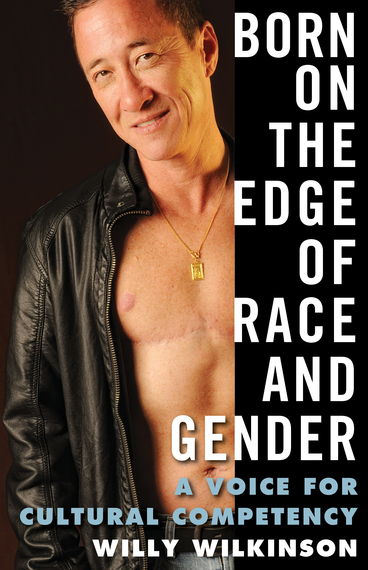 Born on the Edge of Race and Gender is the #1 new LGBT release on Amazon! Book Launch Party, Saturday, December 19, 6pm, Laurel Bookstore, 1423 Broadway, Oakland at 12th St. BART. Free parking at Clay Street Garage, 1414 Clay St., across the plaza from the bookstore.
Popular in the Community