"The important thing is to never stop questioning." —Albert Einstein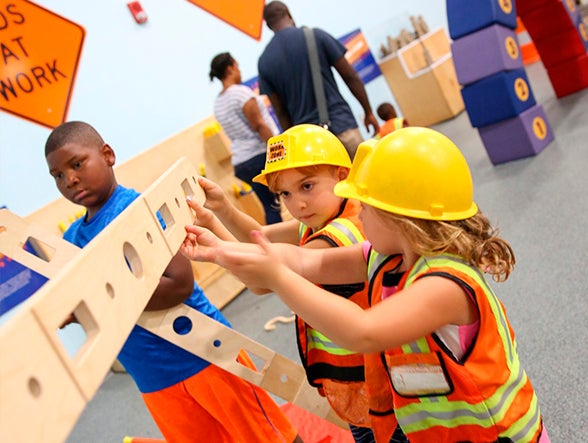 When I began teaching in the mid-1970s, I was taught in my undergraduate studies to incorporate elements of different subjects into my teaching to help children make connections among the ideas they were learning.
What did that look like? If we were learning about buildings, you would see students in my early childhood classes building with blocks; measuring how high their structures were with measuring tapes and drawing what they had built; documenting their work and building over time; and then reading about buildings in their community or around the world. They would paint buildings, draw them, talk about them, and pretend to be builders, carpenters, architects, masons. Our learning centers would change to match the curriculum themes and interests of the children.
Language development and literacy instruction revolved around vocabulary related to their current project, such as the names of the tools, the sizes, colors and parts of the buildings, and words related to building shapes, like rectangle, side, angle, and symmetry. And we also talked about the people who lived or worked in buildings, jobs and money, and connections to other ideas in social studies (food, health, transportation).
I'm disappointed when I see that some of the wonderful early childhood education practices like those I was taught have been replaced by other activities that, while they may help children learn information and skills, don't provide these very important opportunities to make connections that truly empower children to question, think, collaborate, and create.
On the positive side, though, I am encouraged to see a new initiative in schools across the country today called STEM or, sometimes, STEAM. It refers to units of study that combine ideas and skills in Science, Technology, Engineering, (the Arts), and Mathematics. This idea of interconnecting content takes us back to best practices for educating young children, incorporating thinking and, yes, play! This is play that is creative and bolsters student confidence, engagement, and enthusiasm for learning.
What is STEM, or STEAM? It is a philosophy. It is science and technology, interpreted through the actual design of something using engineering and the arts, all described and planned using mathematical elements.
Here's another way to think about STEAM:
S(cience): A way of thinking
T(echnology): A way of doing
E(ngineering): A way of building
A(rts): A way of creating
M(athematics): A way of measuring
What is expected of students and teachers is to take those ways that we think, do, build, create, and measure and use them together to be critical and creative thinkers.
What does this mean for families? It means that as parents you can provide the first foundation for your children's experiences by giving them opportunities to think, do, build, create, and measure.
Observing weather
Observing living things for similarities and differences and patterns of growth
Exploring balance, weight, gravity, motion, and momentum with small toy cars and ramps or in outdoor play structures (swings, motion rides, balance beams)
Noticing cause/effect relationships in physical and chemical changes, as in cooking and making clay pots
Using apps to design and create
Using digital devices to search for information and to communicate
Taking and manipulating pictures
Creating with blocks or other "open-ended" materials" like spools, straws, craft sticks, play dough
Playing with construction toys
Making things with child-friendly household tools and materials
Working in a variety of media
Learning about colors and shades of colors
Using art apps
Measuring and documenting changes over time
Sorting information
Creating and extending patterns
Making pictographs and bar graphs
I like to set the stage for these learning activities by reading a book. There are many wonderful choices. Then talk to your child about what project you could do related to what you read, gather the tools and materials needed, create a design, and build!
If You Find a Rock by Peggy Christian and Barbara Hirsch Lember
This book is full of pictures of all kinds of rocks, found in all kinds of places. It will help children appreciate the beauty and surprises in the natural world that's all around them
Rocks
Play dough
Paper
Crayons, pencil, markers
Ruler or stacking blocks to determine height
After reading the book, ask your child: Do you think we could make a house out of rocks? Why are rocks good for that? (They're strong.) What kind of house should we make? (A little cabin, to start with.) Should we use big rocks or small rocks? How can we hold the rocks together? (Make play dough.) What should the cabin look like? (Draw a picture.) How tall should it be? (Use a ruler or stack of same-sized blocks to decide that height.) How many rocks do you think we'll need? Should we try to get rocks of different colors or the same color? Where can we find them? (Collect them, build, then take that apart and use what you learned the first time to build a better cabin the second time.)
Cuckoo is a Mexican folktale about a bird that is considered vain and does not help the other animals with the work of gathering seeds for the winter. When a fire threatens the crop, Cuckoo surprises everyone with her help. The book contains geometric illustrations and bright, vivid colors reminiscent of the art forms of Mexico.
Tag board
Many colors of construction paper
Glue
Scissors
After reading the story, ask your child to help you make your own bird. Ask: What are parts of the body of a bird? What shapes could you use to make the bird? How many shapes do you need to make the bird? How can you make the eyes, beak, wings, talons, and the body of the bird using simple geometric shapes? Can you plan it? What colors could you use to distinguish parts of the bird? Will it be flat (2D), or will it stand up and have space inside (3D)?
STEAM activities are great for weekends or any day you have some time! Once you've made something, leave it up over time so that your child can build and add or try different designs. You can take pictures of your child working on STEAM activities and write captions with him or her. You're not only using Science, Technology, Engineering, Art, and Mathematics to create things—you're also creating memories!
Popular in the Community