It's the one-two punch that's been dazzling visitors to the Universal Parks & Resorts ever since The Wizarding World of Harry Potter – Hogsmeade first opened back in June of 2010. Combining immersive theming with a top quality dining experience that's set in a specific world.
And what with all the people who now line up at the Three Broomsticks so that they can then knock back a Butterbeer with their lunch (Not to mention all of those "Simpsons" fans who wait for an empty stool at Moe's Tavern so that they can then quaff a Duff), back in 2013, the folks at Universal Orlando turned their eyes to CityWalk and wondered. Could they do something similar outside of their two Florida theme parks? Add a new offering to Universal Orlando's nightlife, retail & dining complex that was more than just a restaurant? Create some sort of immersive dining experience that then served up a story along with your entrée?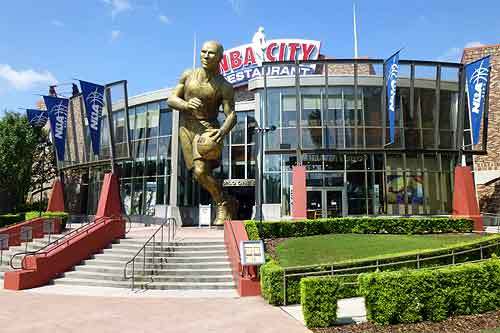 Question One was where exactly would Universal Orlando build such an establishment? After reviewing CityWalk's current assortment of offerings, all eyes eventually settled on NBA City. Even though this waterfront eatery had twice been voted "Best Theme Restaurant in Orlando" by the Orlando Sentinel … Well, what with the October 2015 opening of the NBC Sports Grill & Brew, CityWalk would then have two sports-themed restaurants. And since NBA City had occupied this primo piece of real estate (i.e., it was the very first eatery that Guests would encounter upon exiting Universal's Islands of Adventure) since August of 1999, this restaurant seemed like the most likely candidate for reinvention.
Having finally settled on a location for this new immersive dining experience, Question Two then became "What should the theme of this restaurant be?" Universal Orlando once again looked over all of CityWalk's offerings and then decided that – since chocolate was something that most people crave – this might be a flavor that resort guests would favor.
"That's really how this idea was born," explained Ric Florell – senior vice president & general manager of Resort Revenue Operations at Universal Orlando – at last week's grand opening of the Toothsome Chocolate Emporium & Savory Feast Kitchen. "We wanted to take this crave-able food – which we know as chocolate -- and then build an entire restaurant experience around it."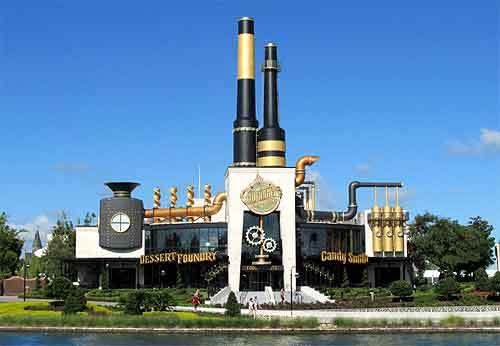 But that then necessitated creating a specific world which this immersive "Potter" -esque environment could be set in. So the teams at Universal Creative & Entertainment toured the 17,500-square-foot building that NBA City was housed in. And what they saw there reminded them of a factory. And not just any factory. But one from the 19th century industrial steam-powered era.
So when NBA City officially closed its doors back in August of 2015, down came that 33-foot-tall statue of Logoman which had stood in front of this upscale casual restaurant for 16 years. "And what replaced Logoman at this eatery's entrance ?," you ask. A giant pair of metallic cogs. Which then draw your attention to those two huge smokestacks that have been added to the top of this structure.
And given that those faux 19th century smokestacks belch steam all day long, is it really such a surprise to learn that the interior of Toothsome's Chocolate Emporium & Savory Feast Kitchen is a celebration of steampunk? Everything from the wall-sized projection screens (which then give you a glimpse of the fanciful factory floor where ingredients are delivered by dirigible) to the elaborate wardrobe that the waitstaff wears to those teeny tiny edible cogs which decorate many of the confections that are on sale in this restaurant's retail section. Everything has been carefully chosen to reinforce the idea that – when you enter this eatery – you're stepping into a very specific world.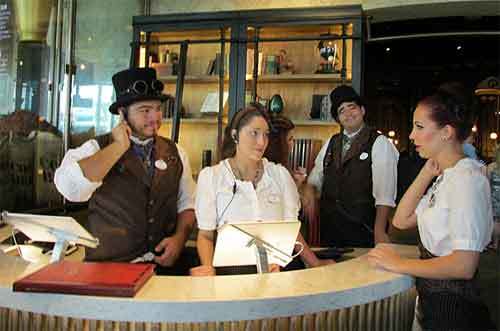 And – of course – you need characters to people this world. Which is why Universal Entertainment invented professor / doctor Penelope Tibeaux-Tinker Toothsome and her robot companion, Jacques. These two can regularly be seen making the rounds at this two story restaurant.
If you'd like to learn Penelope's backstory, you can find it on the first page of Toothsome's library book-style menu. Here, you'll learn that this inventor / chocolatier had been traveling the globe via airship in search of new flavors. Only once Penelope returned home to London to share all of her new discoveries with her family, she discovered that her parents had now gone off in search of her. Leaving behind a note which read:
We have set out to join you in your adventures. Surely the world isn't so big that we can't find you. We shall look for you wherever chocolate can be found.
Thomas & Violette Toothsome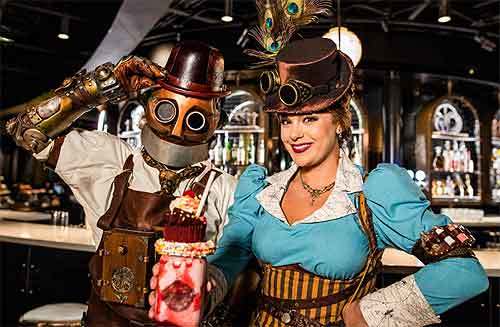 That's actually why the steampunk-inspired restaurant wound up being built in CityWalk. Penelope wanted her " … fully industrialized, state-of-the-art chocolate emporium" to be located in a place that people from around the world already visited (i.e., the Universal Orlando Resort) with the hope that her parents would eventually learn of her whereabouts and then come reunite with their adventurous daughter.
And once the Toothsomes finally find Penelope, they are definitely in for a feast. Thanks in large part to Steve Jayson, vice president and corporate executive chef at the Universal Orlando Resort. More importantly, the mastermind behind those memorable meals served in the Leaky Cauldron & the Three Broomsticks over in The Wizarding World of Harry Potter. Not to mention of all of that "Simpsons" -inspired fare that's found along Fast Food Boulevard in Springfield.
"When our creative department originally came up with this concept – a beautiful restaurant with a steampunk feel to it which celebrated chocolate – I thought it was a great idea. I mean, everybody's got a sweet tooth," Jayson said during a recent interview. "But given that the menu for Toothsome is pretty extensive – we're talking almost 75 items. Soups, salads, different types of gourmet burgers, entrees, shareable appetizers – any place that we could put a little subtle flavor of chocolate which made sense, we incorporated that into those dishes."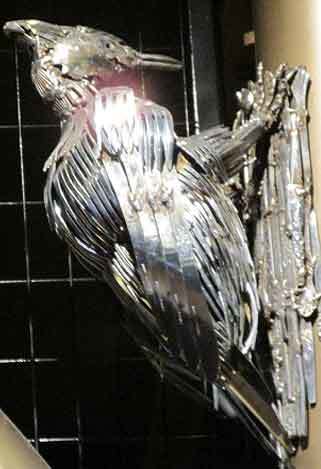 That means – if you're an adventurous chocoholic – you can try things that Chef Jayson's team created specifically for this venue like a fire-grilled pork chop with a bitter chocolate mole sauce. Or – better yet – this restaurant's pork belly sliders which are served on a pretzel bun which is topped with a chunk of chocolate-dipped bacon.
"Mind you, if you only want dessert, we also have 13 milkshakes, a half dozen ice cream sundaes and another half dozen specialty chocolate desserts that were created especially for Toothsome," Chef Jayson continued. "You can get those inside the restaurant or out in our foundry area. And directly across from the foundry, there's this beautiful chocolate shop where you can buy all sorts of neat gourmet items like truffles & macaroons and rich, decadent treats like chocolate dipped strawberry cheesecake on a skewer."
Just to be clear here: Even if you're not a chocoholic, you're sure to find something that you'd like on the menu at Toothsome's Chocolate Emporium & Savory Feast Kitchen. Chef Jayson made sure that the "Savory Feast" side of things was well represented by incorporating dishes like his Blue Plate Burger. Which is a half-pound patty topped with some garlic mashed potatoes and a slide of grilled meatloaf. Or – better yet – this restaurant's Tour De France Burger. Which also feature a half-pound patty. Only this time it's served on top of some brioche toast with French Brie and a sunny side up egg on top.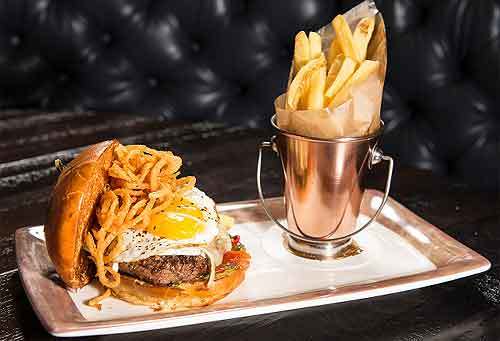 In-between noshing on Toothsome specialties like its signature warm chocolate almond bread (which is served with a salted caramel butter), be sure to scope out this restaurant's whimsical décor. Which includes items like a menagerie of animals which have been sculpted out of knives, forks and spoons.
Given the crowds that turned out during this new CityWalk venue's month-long preview period, it's clear that the Toothsome Chocolate Emporium & Savory Feast Kitchen is already a hit with tourists & locals. But what surprised Universal Orlando officials was how quickly another specific audience segment embraced this elaborately-themed eatery.
"The other night, we had 30 steampunk fans show up in full garb," said Gabriel Orozco, the restaurant's general manager. "The leader of the group explained that he had previously visited Toothsome during previews. And this guy had so enjoyed the food & the décor that he then invited all of his friends to come along the next time he visited the place. So – for all of these steampunk fans – this was just a fun night out."
Popular in the Community