Originally published on Turnstylenews.com, a digital information service surfacing emerging stories in news, entertainment, art and culture; powered by award-winning journalists.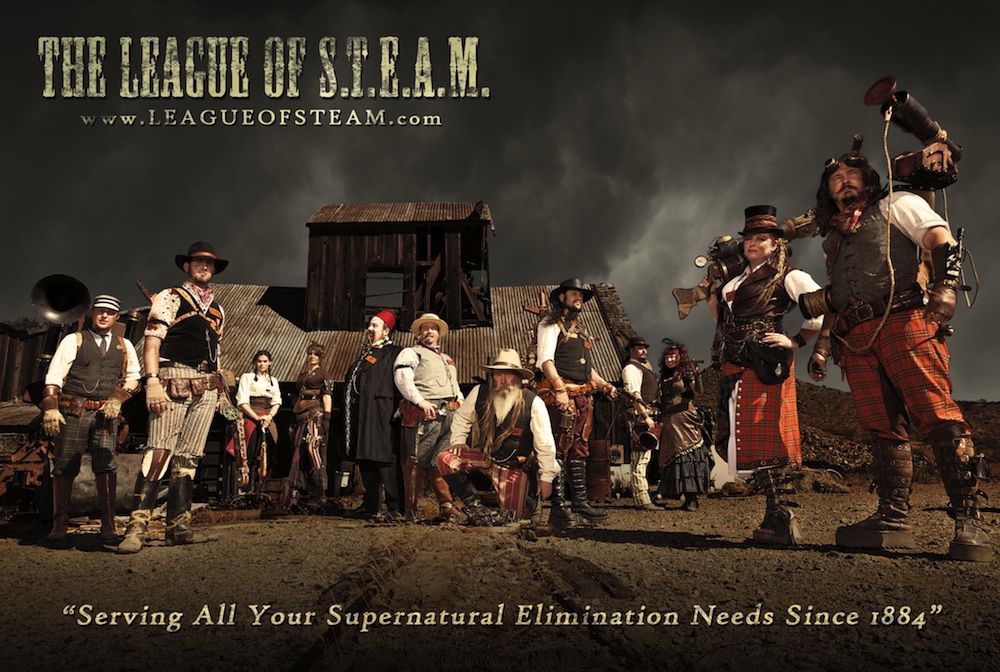 If you were trying to find a cadre of paranormal investigators from the 1880's, the dining room of the Burbank, California, Panera just might be the last place you'd think to look. Yet it's here, gathered around a cluster of thrown together two-tops that nearly half of the performance troupe/rising web stars of the League of S.T.E.A.M. and I have chosen to meet. At a glance it might look like a gathering of geeks (myself included) come to talk about their latest exploits in the elaborately constructed shared fantasy world they've devised. The observation wouldn't be so far off the mark, only the folks I'm talking to are some of the most talented and accomplished costumers and prop makers in the vibrant L.A. costuming scene.
The League, a 12 person collaborative whose eponymous web series made its fundraising goal for a second season on Kickstarter this week, are practitioners of the arcane art of transmedia: the hot buzzword in Hollywood that the studios are still trying to wrap their heads around.  In fact the web series -- ultra short monster hunting videos that show off the team's elaborate gadgets in a cartoonish parody of shows like Ghost Hunters -- is a byproduct of the troupe's live performances. Not that the member of the League set out with a dream of becoming the preeminent steampunk (Victorian era science fiction) performance troupe. They just wanted to look cool at a party.
"There's a giant awesome costume party done every year called the Labyrinth of Jarreth," Nick Baumann, whose Crackitus Potts character is the Crocodile Hunter like front man of the web series, tells me. "Sean Strider, the organizer of that, became a good friend of ours and he just knows how to put on a kick ass party. It's a party based on the movie [Labyrinth]."
"But it's hosted here in LA," Andrew Fogel, who handles the PR for the troupe and plays Baron Von Fogel, "so it attracts a lot of internment industry professionals in costuming and make up and all of that. The level of quality of the costumes that you see there is just outstanding."
REAL LIFE. REAL NEWS. REAL VOICES.
Help us tell more of the stories that matter from voices that too often remain unheard.