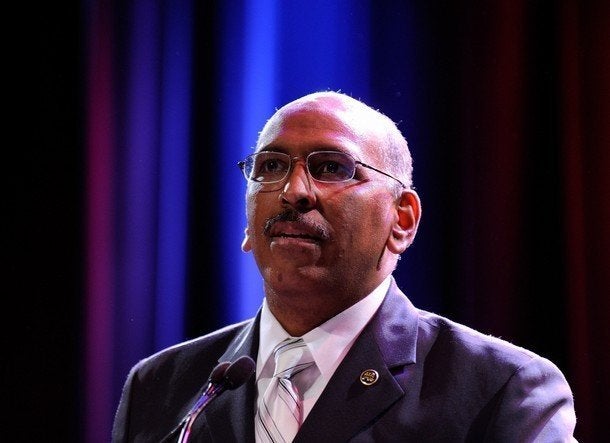 News that the Republican National Committee had just over $5 million cash on hand for the stretch run of the 2010 elections has sparked operatives in the party to start pinning blame for a potentially underwhelming outcome on Chairman Michael Steele.
There was little doubt that the RNC was struggling to recruit donors. For months now, the storyline following Steele is that his occasionally embarrassing histrionics were turning off traditional sources of funds. But Friday evening's filing produced what one operative described as a "sobering" moment. It also intensified the private -- though increasingly public -- blame game aimed at making sure Steele is the one to take the fall should things go wrong. In an election in which the Republican Party stand to make massive gains, the refrain goes, depleted coffers at the RNC could conceivably end up keeping Congress in Democratic hands.
"The bottom line is the chairman of the party has two functions. First and foremost is to raise money and secondly is to drive a message. [Steele] hasn't done either," said longtime GOP hand Ed Rollins, who ran Ronald Reagan's first presidential campaign. "At the end of the day if we come up short in some of these races, Steele is going to get the blame... obviously as the party chairman he needs to put the money into races and these state parties and he doesn't have it."
As an example of his trepidation, Rollins offers up New York. The state GOP, he notes, has a piggy bank that's close to empty (the State Republican Committee has just over $100,000 cash on hand; the New York Republican Federal Campaign Committee has just $94,000 left in cash on hand). The party's gubernatorial candidate, Rick Lazio, has run a less than vigorous campaign, hasn't drawn out many donors, and won't be able help get out the vote for other Republicans. Into that void, the RNC, among others, is expected to step.
But "now we don't have the resources to do that," said Rollins. "The New York Republican Party was promised $400,000 by Steele and they won't get that."
The likelihood of future penny-pinching extends beyond the Empire State to places like Florida and New Hampshire. As another GOP operative lamented: "Basically, I would be concerned about any state that doesn't have a Meg Whitman or Linda McMahon type figure [self-financed candidates running for Governor] or isn't an early presidential primary state where someone like [Mitt] Romney might throw money at the state party."
RNC defenders say the dire forecasting is not only counterproductive (turning down enthusiasm at a time when it is needed) but also misplaced. Doug Heye, a spokesman for the committee, pointed out that its get out the vote operations and aid to states were already outpacing previous efforts. To date, Heye noted, the RNC had made more than 5.7 million voter calls made and identified more than 465,000 additional voters. In 2008, those numbers were 1.86 million and 188,000 respectively.
The RNC also has more than 290 field offices opened up for 2010 and has sent $4.3 million to "state and other party committees" (including $1.47 million in the month of July) -- roughly $800,000 more than the DNC. The RNC also has more cash on hand today than it did at this point in the 1994 elections -- the cycle to which this one is most often compared.
But that doesn't quell the anxiety of party officials. Last week, the RNC re-assigned members of its new media team, sending several officials out to work in specific states and on specific races. It did not go unnoticed that the committee didn't bring anyone on board to replace the departed.
"Chairman Steele got elected on a platform by saying new media would be at the forefront and for a while it was one of the top two divisions," said one Republican source with direct of the re-structuring. "For them to be in a situation that they no longer have the money to fund one of the chairman's favorite divisions says a lot. They are just broke."
"That's the situation here," the source went on. "They won't have the bodies... And if the reason we don't get the majority is because of money, if we look back and voter contact is the single most reason we couldn't get these marginal independents out to vote, I will have no problem saying blame the RNC."
Meanwhile, Reid Wilson, over at Hotline noted last week that while the DNC isn't exactly lapping its counterpart on the fundraising circuit -- and other Republican committees were doing well on the financial front -- the Democratic Party as a whole has thrown approximately three times as much money into key states throughout the country.
For Heye, such comparisons are inherently unfair. One of the hurdles the Republican Party faces is that it doesn't have control over the elected office. Big money tends to gravitate to political power. Democrats can trout out the president, the speaker or the majority leaders for major fundraisers. The GOP doesn't have that luxury.
But a lack of star power is not a wholly convincing explanation. In 2006, when Democrats were in the same position Republicans are now, the DNC had $11.3 million cash on hand with no debt. They benefited from the same type of voter enthusiasm that Republicans have now. And while then chairman Howard Dean was considered a firebrand of sorts, he didn't have the same confidence-shattering effect on donors like Steele.
"It should have been an easy year to raise money if it had been done in a responsible way," said Rollins.

Calling all HuffPost superfans!
Sign up for membership to become a founding member and help shape HuffPost's next chapter